Koby Israelite
Blues from Elsewhere
Asphalt Tango (www.asphalt-tango.de)
This records has lots of Elsewhere, a little blues, plenty of accordion, hardly any restraint, and it made my list of favorite recordings in 2013.
I remember when this record arrived in my mailbox. It looked interesting, but I set it aside. It wasn't long before I heard a track, "Crayfish Hora," on RootsWorld Radio, and I moved the CD to the top of my listening pile. It didn't take me long to start playing tracks on my own radio show. Every time I did, literally every time, listeners would call me or email me or stop me on the street to tell me how much this like this wild accordion music. Every time.
There's a little bit of blues on this record, a whole lot of klezmer, and some plain old rock and roll. There's the aforementioned accordion along with Nashville-style guitars, twangy jaw harps, soaring clarinets and saxophones, and a fair share of banjos, mandolins, and bouzoukis. Most of these are are played by Koby Israelite himself. Instrumentation and styles change throughout the album, and even within individual songs. Labeling this music seems impossible. And irrelevant.
There are some great originals on this record, with some of the snappiest song titles I've come across in quite some time. "Johnny Has Cash No More." "Accordion Is The New Guitar." "Why Don't You Take My Brain And Sell It To The Night?" As great as these originals are, it was the cover tunes that really set my radio listeners on fire and kept them urging me to play more. Both Led Zeppelin's "Kashmir" and Bob Dylan's "Subterranean Homesick Blues" stirred up the airwaves in all the best ways. The latter sets a new standard for Dylan covers, and the vocals by Annique help makes that song the highlight of the album, and the best introduction to these Blues from Elsewhere.
In the end, genre labels don't matter. Starting points don't matter. What matters is that you dig up this record and listen to it. Don't set it aside like I first did. Listen and let it set you on fire like it did my radio audience. I'm still smoldering. - by Greg Harness
© 2014 RootsWorld. No reproduction of any part of this page or its associated files is permitted without express written permission.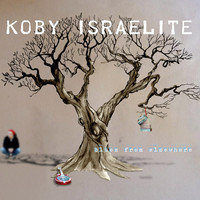 Listen