Kobo Town
Jumbie in the Jukebox
Cumbancha Records
To discover a band of Trinidadian-Canadian origin at a summer music festival in Germany is no doubt emblematic of the promiscuous, now-global circulation of popular culture, ideas, commodities, capital and labor. Nuremberg's 2007 Bardentreffen Festival was my first introduction to Kobo Town, a clever, energetic, razor-edged ensemble whose first CD, Independence, dragged kaiso (aka calypso), kicking and screaming, into the global 21st century.
Folk roots run deep in the music of the English-speaking Caribbean, where jumbies (an elusive category of tricksters, jokers and malevolent spirits) still animate oral lore. For Kobo Town, kaiso embodies the "jumbie in the jukebox," penetrating no-nonsense popular sensibility that zeroes in on human foibles and the boundless human capacity for pretense, megalomania and self-deception. Take "Joe the Paranoiac," whose Chicken-Little subject runs for cover as "the walls are tumbling, the ground is shaking and the sky is falling down," certain that his neighbor belongs to a sleeper cell, the local Sunday school is a terrorist training camp, and his moldy cheese an anthrax vector. More darkly:
If you hesitate to believe
He will declare you and them to be in league
And from then on watch your tail
Or you might be going to Guantanamo on a holiday."
Other songs reflect upon the history of labor organizing in Trinidad, the economic forces that have sent so many islanders abroad, homelessness, the patent injustice of local judicial process, "poverty tourism" and nostalgic longing for a kinder, gentler time and place that exist, perhaps, only in popular memory.
It was little surprise to hear from Belizean producer Ivan Duran that over the past few years he's been working on a new CD with Kobo Town's musical director and composer, Drew Gonsalves (lead vocals, acoustic and electric guitars, cuatro, percussion), born in Trinidad and raised in Toronto. Duran has a history of producing first-class Caribbean Central American artists including Andy Palacio, Aurelio Martínez, the Garifuna Women's Collective, Leroy Young "The Grandmaster" and Belizean brukdown tradition-bearer Mr. Peters. Jumbie in the Jukebox opens new and revealing territory for Duran, whose penchant for identifying truly unique regional roots talent deserves far wider recognition.
Gonsalves observes that the calypsonian "is a singing newspaperman commenting on the events of the day, with an attitude halfway between court jester and griot." Indeed, as "Kaiso Newscast" declares
Kaiso better than Fox News or CNN
Because calypso don't pretend
To inform without comment
Or separate fact from argument
It don't hide behind stats and figures
And admits its sources are gossip and rumour.
With a top-notch ensemble (guitar, trumpet, trombone, bass clarinet, keyboard, bass, drums, congas, percussion, backing vocals, sound treatments), Gonsalves' voice and material—plaintive, pensive, provocative, witty, world weary—project a potent vision and social critique.
Wry wisdom interweaves the sonic threads of Jumbie in the Jukebox, a deft poetic chariot, swinging low and wide from start to finish, conveying a popular moral sentiment of social justice. In any case, time is relentless, "Tick Tock Goes the Clock" reminds us rhythmically, as (per Gonsalves) "every album needs to finish off with a long-winded apocalyptic diatribe peppered with muted trombones and allusions to dead English poets... [along with] Derek Walcott, Linton Kwesi Johnson and the Book of Revelations… crashing together in the lines of this song, which is as much about the present as it is about the end of history and the final consummation of all things." Behold a good-humored, thoroughly cosmopolitan kaiso-mento-reggae-dub poetry mashup, danceable too, uncompromising music for compromised times.
Listener, consider yourself forewarned. - Michael Stone
The band's web site: www.kobotown.com
Some live performance video: www.youtube.com/user/kobotown
© 2013 RootsWorld. No reproduction of any part of this page or its associated files is permitted without express written permission.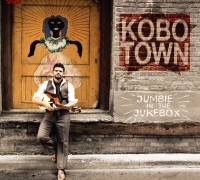 Listen to the audio review