African Rhapsodies, a collaboration with the BBC Concert Orchestra, is a big and very successful step for kora player/composer Seckou Keita and bassist/arranger Davide Mantovani.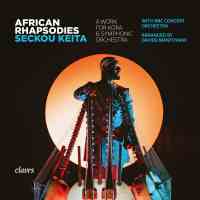 Keita is a griot, kora player and singer from Casamance in Senegal, and a UK-resident since 1999. He has risen to prominence not only because of his ability and creativity, but also because of his enthusiasm to work with musicians from other disciplines. Some of his most fruitful and long-term collaborations have been the AKA Trio (with Italian guitarist Antonio Forcione and Brazilian percussionist Adriano Adewale), the duo with harpist Catrin Finch, and his Seckou Keita Quartet. Bassist Mantovani, a kindred questing spirit, has been a member of SKQ since its inception two decades ago.
Keita, with his traditional background, skill and compositions and Mantovani's great abilities as arranger, bring to orchestral music a beautifully different set of musical ideas. No straightforward orchestration of kora melodies, the album is a series of full concerto integrations of kora and orchestra in which melodic lines and excursions come from both sides, so that they are no longer two, but a unified whole.
The sound of a kora is somewhat akin to a concert harp, but with a more rounded richness of resonance, particularly at the bass end, resulting from its very different construction, playing techniques and tuning (in which Keita has made a number of developments).
In the opener, "The Future Strings Variation," plaintive French-horn and trembling strings widen into full slow orchestral chords, before the pace picks up with the entry of the kora, which becomes the focus in a piece evocative of a film score to a sea voyage sequence. Indeed the whole album has the feel and stature of a prime selection of big title themes from major films.
The joyful "Simply Beautiful Miro" ('miro' is thought in Mandinka) is more obviously African, featuring magnificent, ecstatic singing and cello from the brilliant Abel Selaocoe from South Africa, with whom Keita has collaborated at various times during the last few years, and also, on percussion, Keita's brother Suntou Susso.
The warm orchestral opening of "Tatono's Path" (titled after the nickname of Keita's grandfather, who taught him to play) moves to reflective kora in a very identifiably Senegalese style of repeated rippling phrases, whose motifs are echoed and backed by surging orchestral waves.
In the winding "Ode to Kanou" ('kanou' is the Mandinka word for love), Keita's own soft, attractive vocals feature, floating over orchestral sweeps and stabs and Susso's percussion.
There are four traditional kora tunings. Tuning up distractedly while looking after his then infant daughter, Keita accidentally found another one, and it opened up a whole panorama of new possibilities and ideas, the first fruit being "Tamala's Caravan Trail," the first version of which appeared on his 2000 debut album and is here reworked with the orchestra.
The quirky-appearing title "The Shadow Left By The Invisible Man" actually refers to Keita's search for the father who left when he was only three months old, and who the quest revealed had died. It begins with a slew of romantic strings, that settle for a moment as the kora solos, then alternate with and punctuate its delicate path like an unfolding story, before the two strands unite, the long-lined strings and winds surrounding and uplifting the kora's repeating plucked patterns.
"L'Epopée Mande-Arab," partly inspired by Keita's work with Anglo-Egyptian violinist Sami Bishai (check Natacha Atlas's recent work to hear his brilliance as an arranger and composer), is a journey from Senegal eastward to the Middle East, with a detour to South Africa as it takes in Abel Selaocoe's cello and his vocal that touches on the deep, guttural growling style we used to hear from Mahlathini. The orchestra slithers in an Arabic strings way, builds up speed and energy, then makes a swaying pause before chunky urgency under brass lines and a final serene homecoming.
Keita's own singing and Mantovani's plucked double bass come together in "Bamba, The Light Of Touba," the last of the ten tracks. It's dedicated to the Sufi Cheikh Ahmadou Bamba Mbacké, one of Senegal's most influential spiritual leaders at the beginning of the 20th century.
Keita and Mantovani, and the orchestra conducted by Mark Heron, deserve high praise for this glorious, gorgeous work. It's released on a classical label, and merits the cross-over success of, say, Jonathan Elias's 1999 "The Prayer Cycle." Keita's uncle Solo Cissokho, the late, great and much-missed griot kora player, singer and bandleader from Casamance, who himself was celebrated for crossing cultural bridges with Swedish fiddler Ellika Frisell and others, would be proud of him.