Melina Kana
Portrait
Network (www.networkmedien.de)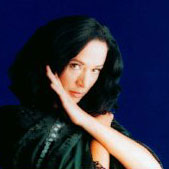 This collection of ten years of work from Greek singer Melina Kana is a fine introduction to the Thessaloniki Sound, the modern and even surrealist interpretation of traditional urban Greek music. Take for example, the lyrics written by Socrates Malamas on Kana's best known song "Na Valo Ta Metaksota" (I Will Wear Silk): "I want to wear clothes of silk in the wind/Before the factory, beside the garbage/I mingle with the workers/Tell the cats of my sorrows." Although there are times when the poetic allusions become impossible to fathom ("If only Procrustes were my friend/I would send him Misery/To lie on his bed/And cut off his feet" from the song "For Christina"), Kana's work embodies the literate lyrics sometimes found in Greek popular music.
The mid-tempo, orientalized instrumentation and melodies are what could be called neo-laiko or neo-rembetika, modernized versions of early 20th century urban Greek music. Since Portrait is taken from a decade's worth of Kana releases on the Lyra label, there are many different styles and accompanists. Particularly noteworthy are the tracks from Kana's album Lafira (The Spoils), a collaboration with the group Ashkabat from Turkmenistan. The CD is well packaged with good liner notes, and at nearly 70 minutes, the playing time is generous. - Aaron Howard
Comment on this music or the web site.
Write a Letter to the Editor
© 2000 RootsWorld. No reproduction of any part of this page or its associated files is permitted without express written permission.