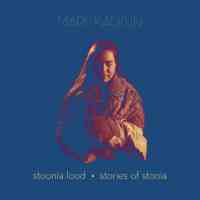 This feels like an album that's been gestating inside Mari Kalkun's imagination for years, finally emerging into the light, as the singer and instrumentalist shows her Estonian homeland in its deep, raw nature, an antidote to the plastic shimmer of the 21st century. Her songs are filled with air and space, lightness and the grace of nature, and in British folkie Sam Lee, she's found the perfect accomplice to bring it all to life.
This is her eighth solo record, and vocally, she's never sounded better, with the confidence of experience and the certainty of belief in what she's doing. On "Suur Tamm / The Great Oak" her voice grows from fragility to strength – from acorn and tiny twig to a grand tree – with a chorus of her own backing vocals blowing gently with subtle, twinkling electronics as a backdrop.
That song draws on ancient folklore for its inspiration, leading adroitly into "Maaimä / Mother Earth" with its feast of wriggling rhythm, while "Töistmuudu / Otherwise" builds to a wonderful avalanche of overdubbed voices that's almost overwhelming, before "Kui Kivid Olid Veel Pehmed / When The Stones Were Still Soft" come back to earth, neatly off-kilter with its surprising tube and tuba (and whistling) accompaniment. Unexpected, and yet…it fits somehow. It breathes.
The elegiac "Mu Välläkoolömisö Pääl Kiil / My Dying Language" moves with a stately, hymnal grace that becomes an archive recording of Runo singers before taking wing over a steady beat.
And, to close, there's the lullaby beauty of "Leelu" that gently extends its arms in a loving welcome and goodnight. Stoonia Lood is a magnificent achievement, and hopefully, with the global might of her new label. Real World, she'll find the broad audience this deserves.