W

aves of Algerians have been making France home for over 100 years now, escaping regressive Algerian politics or in search of better work opportunities. Whatever the case, it makes sense that the home of the colonizer would include among its population thousands of people representing the (formerly) colonized. Cities such as Paris, Marseilles, and Lyon have the largest concentrations of North Africans, and despite the racism these folks have felt in this country, they have been re-defining French culture for decades. Algerians are French, so it's natural that these cities became the focal points for musical recordings such as the tracks collected in Maghreb K7 Club, all of which are the product of Maghrebis living in Lyon.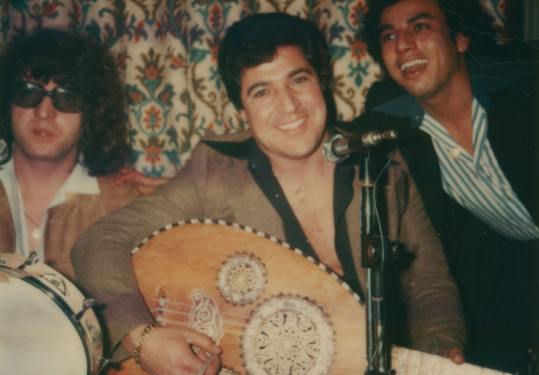 This collection allows tracks initially produced on cassette in the Guillotiere district of Lyon by the musicians dominating the area's scene at the time their first vinyl release. In fact, this place had been a hub for Algerian culture for years, so there was something of a musical synthesis taking place, which helps account for the wide-ranging styles here. Because, while the term Rai is often used to represent much late 20th-century Algerian pop, there's more to it than this. One listen to this collection proves as much.
| | | |
| --- | --- | --- |
| | | "" |
Heb Rabah El Maghnaoui's "Amayna Alik Anti" certain sounds like Rai, but check the digital handclaps and synth drones that form the track's chassis. Nordine Staifi's "Zine Ezzinet" is a straight-up dance track, with one guitar providing the percussive chord punctuations while another plays a distorted melody/lead. Bnat El Maana's "Hata La Lile Ya Moul Jalab Tayfiya" is equally danceable, though much more faithful to North African melodic structure, its repeated riff played on a synthesizer after each vocal line. It's infectious, and at only three and half minutes, much too short. Every track here shows off what happens when Chaoui rhythms from Algeria's Eastern Aures region slam into Rai from Oran, or when Staifi meshes with European disco.
There are grooves here that simply defy strict category, while retaining their deep-rooted connections to The Maghreb in general and Algeria in particular. There's something of a synth golden age being represented here too, as these were the years where cheap keyboards initially replicated hand drums, accordion melodies, or the woven patterns of the Gasba- the wood flute that has been at the forefront of so much Algerian traditional music. Whatever the case, this collection reflects what so naturally happens when groups of people of a common language and region work outside of that immediate cultural context. It shows urban France's role in help pushing Maghrebi pop culture forward. - Bruce Miller