Israel Kamakawiwo'ole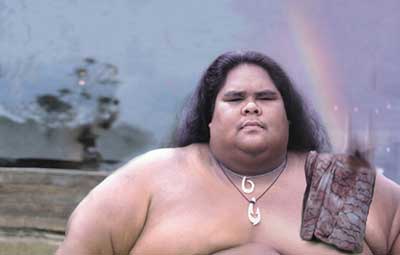 The legendary Hawaiian singer continues to inspire millions with his music
by Wayne Whitwam
Alone in IZ World encompasses his latter solo career that began in 1993 with producer Jon de Mello. Selections from this release are culled from literally days of recording tape: much of it spontaneous one-takes, studio demos, or Iz 'talking story.'

The new album contains some previously unreleased songs, a number of unplugged sessions—featuring just Kamakawiwo'ole and his ukulele, and new arrangements of some of his popular ballads. In addition, computer users will enjoy the multimedia enhancements when popping the disc into their CD-ROM drive: viewers are directed to family photos, press clippings, web links, or a screen saver.

"Mona Lisa," the album's opening selection, made famous by Nat King Cole, was literally a single-take as a studio demo version that Kamakawiwo'ole never finished. It abruptly ends on the final phrase: Kamakawiwo'ole forgets the closing lyrics, and stops, asking: "Should I call my wife?" Even unfinished, Kamakawiwo'ole's singing is beautiful, and it's clear that de Mello didn't wish to discard the song. Instead he adds some orchestration, and then combines the studio version with a homemade jaxbox version, making it sound like Kamakawiwo'ole is listening, and commenting, on a old phonograph recording of the same song. The whole effect creates a treasure from trash.

His songs, usually native Hawaiian selections mixed with ballads written by others, speak to two audiences: the native Hawaiian people and the rest of the world. Such a song, like "Starting All Over Again," a remix from his last studio release (1996) In Dis Life, was a favorite of Kamakawiwo'ole's, for it refers to personal life-altering events, like the loss of his mother and brother, but also the separation from his professional family to strike it out alone as a solo artist. The song has an undercurrent that speaks also to the Hawaiian people. Another song of hope, "Over the Rainbow," also appears here as it does on Facing Future
(1993), albeit with "What a Wonderful World" edited out.

This is clearly Kamakawiwo'ole at his best, without backup singers or electronic washes, singing in his beautiful falsetto, strumming the ukulele. Although the earlier versions that appeared on his previous albums are not necessarily dripping in heavy-handed production—for example on this release, Kamakawiwo'ole's cover of Collin Raye's "In This Life," "Kaleohano," or "Twinkle Twinkle Little Star"—an album abundant with unplugged selections like "Ulili E," "Panini Puakea," and "Henehene Kou 'Aka" truly stand out as songs worth hearing on repeated plays. The addition of a previously unreleased "Hanohano Wale No Na Cowboy" is a welcome treat, especially for buyers who are seeking out the artist after hearing "Over the Rainbow."

Although the singer's weight - approaching nearly 800 pounds - affected his live performances (he had to be fork-lifted onto stages), it also began to detract from his studio work. As he explains on the hidden track from Alone, the singer was limited in his performance by his need for oxygen. His chest wall size, in addition to the affects of his sleep apnea, began to stress his heart and lungs significantly. Such differences can be heard in his recordings from the last years of his life, like "In This Life" with the singer struggling for the higher notes (masked by the production), or his heavy breathing in "'Opae E." Compare these selections to his earlier solo work from Facing Future and my personal favorite, E Ala E (1995), or even in his early 20's singing lead in the Makaha Sons, where his strong presence is felt throughout the music.

For those unfamiliar with Kamakawiwo'ole, Alone in IZ World is a good place to start, showcasing a solo career that was larger-than-life and stronger-in-death. As with previous albums, lyric translations to Hawaiian songs are intentionally left off the liner notes. However, producer Jon de Mello adds written commentary to each selection highlighting their importance to his life. - Wayne Whitwam

In March of 1995, Hawiian singer Israel Kamakawiwo'ole (pronounced ka-MAK-a-vi-vo'-O-lay) held a news confererence of sorts from his hospital room at Queen's in Honolulu. He was a giant of a man, standing like a sumotori at 6'2", and weighing nearly 750 pounds. He was wrapped in a lavalava, his chest exposed, a cane at his side. He supplemented his need for oxygen, wearing a nasal cannula hooked around his ears.

Previously, the local press had stalked the hospital. Outside of his doctors no one was certain what brought Kamakawiwo'ole to the hospital that day. Perhaps it was his recurrent skin infections, called cellulitis, perhaps it was drug-related related (as it had been in the past), or perhaps he had a heart attack like his older brother, who had died at age 28. Rumors spread of his impending death as he was moved to the intensive care unit. But, in fact, there were not enough regular rooms on the general medicine floor. People had begun to think the worst when they saw the oxygen tubes and tanks. "They thought I was on my last leg. Not even," he said.  He was released from the hospital, and continued to perform regularly, often wearing that nasal cannula to keep him alive.  

Two years later, at the age of 38, Iz, as he preferred to be called, eventually succumbed to complications from his morbid obesity - the press statement calling it "respiratory failure." He lived his remaining days on a mechanical ventilator and died a hero to his people.  

On his death, the government of Hawaii lowered its state flag to half-staff, the singer's body lay in wake at the grounds of the capitol for thousands of mourners to pay their respects, only the fifth person ever to be so honored. A life-sized bronze statue is planned so that the singer can once again gaze over the Wai'anae Coast.  

Said Jon de Mello, Kamakawiwo'ole's manager and producer on Mountain Apple records, "Israel's death was a tremendous loss to the world at a time when the world was just discovering the Hawaiian culture and its music."  

Yet, in death, the singer's popularity and recognition has grown. Producing four solo albums during his lifetime—a live album and a recent release, Alone in IZ World, have been issued posthumously. He is best recognized for his simple rendition of the medley "Over the Rainbow / What a Wonderful World" from 1993's Facing Future with only his ukulele as accompaniment; the song appearing in movies such as "Meet Joe Black" and "Finding Forrester," and those syrupy commercials for eToys.com. Because of this sudden burst of fame after his death, he's been called the Bob Marley of Hawaiian music, a comparison that is no overstatement. While Alfred Akapa, Don Ho and Gabby Pahinui are honored as legends of modern Hawaiian music, Kamakawiwo'ole has transformed this island's industry. His recordings have been selling locally by the thousands, not just at specialty stores, but at Coscos and Walmarts.  With the new wave of interest in Kamakawiwo'ole, so also follows a wake of Hawaiian artists and styles.  

Iz embodied the Hawaiian spirit, if not its size (nearly half of native Hawaiians are obese, although in the Hawaiian culture this has long been considered a symbol of status). He was a man revered by his people. His throaty tenor ran rich with emotion, carrying a subtext (or kaona) of his strong pro-native political beliefs. But his spirit was playful, as languid as the summer trade winds: the vision of half-naked man treating a press conference like a backyard party, best embodies the personality of this laid-back performer that made him so accessible and loved by his audience.  

Suzi Mechler, vice-president of Mountain Apple records, describes the relationship between Kamakawiwo'ole and his audience. "When people discover his music they don't just become fans, they become advocates for Iz, his music and his family."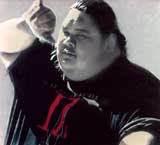 In 1974, at the age of 15, Iz began his singing career forming a group with his brother Skippy, Jerry Koko, his cousin Mel Amina, and Louis "Moon" Kauakahi. They took their name from both their Hawaiian heritage and their lower-class neighborhood of Makaha on Oahu. Called The Makaha Sons of Ni'ihau, their rich four-part vocal harmonies carried by Israel's lead tenor proved to be audience favorites at a time of resurgence of interest in national culture.
In 1982, Skippy, the group's leader, died unexpectedly of a heart attack. Mel Amina left the group, and John Koko returned after a hiatus, joined by his younger brother Jerry on upright bass. They continued to make music, their most distinguished album, and arguably their best, Puana Hou Me Ke Aloha, produced in 1984.
By the early 1990's, Israel left the group to start in a new chapter in his musical life, creating his own record label, Big Boy, with distribution by Mountain Apple. By now, Iz had already created a solo work Ka 'Ano'i on cassette, now CD (Discos Tropical), that allowed him to explore cross-over (hapa haole) genres like reggae and pop, that were left out of the traditional repertoire of Makaha Sons. Under the tutelage of producer Jon de Mello at Mountain Apple, Kamakawiwo'ole created Facing Future, with a larger-than-life spiritualized sound with studio embellishments that spoke directly to the Hawaiian minority, often in the native language.
However, Israel's sweetest sounds came without the heavy-handed production, just the singer and his ukulele. A perfect example is "Over the Rainbow/What a Wonderful World," that originally appeared with a full band on Ka 'Ano'i. On Facing Future and Alone in IZ World, Kamakawiwo'ole conveys a sense of hope and raw emotion that could never be obtained with a full arrangement. In this way, Iz reaches an audience beyond his native people.
The timing of the September, 2001 release of Alone in IZ World could not have been better planned. With the attack on the World Trade Center in New York, people were searching for hope for a better world, for a song that could reach deep inside to quell the demons of inner terror. On the day of the album's release nearly every station in Hawaii, 45 to 50 of them, broke format to play "Mona Lisa," Alone's opening track. One local Honolulu radio station, KINE, played all 13 songs off the album during the afternoon-drive show.
"They were overcome," said Hawaiian KINE radio veteran Randy Hudnall. "(Listeners) were calling about all the songs, but we got a lot of requests for 'Starting All Over Again' and 'Kaleohana,' too. I'm not sure when the last time was where I could play an entire album on the air, but (the station's management) let me do it."
The new album features remakes of many of his earlier songs, many of them unplugged, in addition to a few new ones. In addition, computer-users can enjoy the multi-media features of press-clippings, biography, screen-saver, family photos, and links to internet sites.
Says Israel's widow, Marlene Kamakawiwo'ole, "It's doing what he wanted to do in his life: get Hawaiian music on the map, on the Mainland. He always wanted to open the door for local music."