Banda Ionica
Matri Mia
Felmay (www.felmay.it)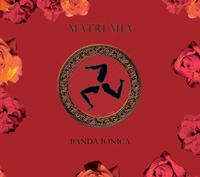 It's Good Friday in southern Europe, the saddest day of the year for this still very religious region. From Spain to Cyprus, people attend the processions that characterize the day. In the eastern regions, they are dedicated to Jesus. In the western part, to Mary and the patron saints. All over the region, however, marching bands proceed, playing a canon of instrumentals, usually versions of classical music or marches. Through this stylized melodrama the officials pay their tribute to the events of the day.
In a region where such stylized musical outings are reserved for very special occasions, this saddest of occasions is also a chance to enjoy something quite unique. It is truly a feast for the eyes and the ears, the way in which the procession (candlelit and nocturnal in the eastern countries, slightly flamboyant and colorful in the west) snakes around the streets and alleys. It is in the way you would first get to listen to the brass from a distance and then see the procession itself, or the way in which two processions that meet will synchronize their playing to create the right solemn atmosphere.

When you think about it, you wonder how it took so long for a band like Banda Ionica to materialize, as this music is truly like blood in the veins of the European south, as much part of its genome as close-knit families, religion, scorching summer sun and strong smells of thyme in the summer air. It is also one of the few cases where the much more solemn East acknowledges the West and adapts to that tradition.

By secularizing this tradition and adapting it to a number of subjects (from the solemn theme of a shipwrecked sailor's prayer and an affair that ended to the more peculiar one of a love paean to, most likely, a lioness) they manage to fill the other 364 days of the year with the power of that unique day. Instead of diminishing its cultural value, Banda Ionica, through their utmost artistic integrity and sheer mastery of the medium, manage to enhance it. Barovero and Paci, (alumnis of Mau Mau) show that great musicians can always give expression to their artistic spirit, no matter what the medium they use.

Matri Mia is augmented by a number of collaborations that point to Banda Ionica as a group of musicians who know their medium well enough to experiment. Macaco el Mono Loco presents one of the highlights of the record early on, while Arthur H's ode to Ra�ssa offers the necessary relief. Cristina Zavalloni covers "Mi votu e rivotu," a traditional song already covered to perfection by Rosa Balestreri. Halfway through, however, she adds a new part sung in German that shows the influence of her collaborations with Berio and remind us of Kurt Weill.

When it is all almost over, the musicians are heard leaving when the immaculate, ponderous, high camp cover of the "Lawrence of Arabia" theme, rechristened "Lorenzo in Sicilia," storms the room. In a record that is based on funeral music, this comment on Lawrence, who he was, the Arabian influence in Sicily and the pure power of ego, manages to express better than anything else what Banda Ionica stands for. - Nondas Kitsos

CD available at cdRoots