The Music Of Indonesia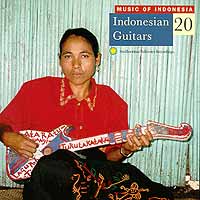 Sulawesi: Festivals, Funerals, and Work (Vol. 18)
Maluku: Halmahera, Buru, Kei (Vol. 19)
Indonesian Guitars (Vol. 20)
Smithsonian Folkways Recordings
It's easy to figure how Philip Yampolsky focused his time during the '90s. Just look at the recording dates on the Smithsonian Folkways Music of Indonesia series and you'll see the span of dates during which he recorded, produced and released this phenomenal 20-volume series. This set has done more than any other to open my ears to the possibilities for regional musical studies from around the world. Two things stand out with these productions. First, the music on all 20 albums presents a chance to expand one's appreciation and enjoyment of often-localized genres that otherwise probably never would be heard by western audiences. Second, Yampolsky raises the bar for anyone contemplating writing liner notes. We're talking 32 pages worth of fine print for each of volumes 18, 19, and 20. Every CD has contained a geographic, historic and musical overview that would allow a novice, no matter how unfamiliar with Indonesia, to glean insight and appreciation for these recordings. Each track is documented; credits, recording and performance data are provided for all of them. Not enough? Then head to the homepage (www.si.edu/folkways/Indonesia/indonesia.htm) where you can explore the supplementary material that could not fit on the album booklets. Do not miss this series!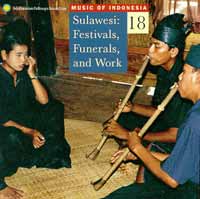 Sulawesi (formerly Celebes) is "an island of peninsulas" located between Borneo and the islands of Maluku (Molucca). A mountainous central ridge separates its four peninsulas into distinct provinces, with settled populations centered in the south and north. The recordings on Sulawesi: Festivals, Funerals, and Work were made in 1996-97 and sample the musical textures in each of these categories. Included are tracks from a Makasar Pakarena ensemble (part of a wedding celebration); the highland Kajang from the basing (mourning) repertoire; an excerpt from the celebratory simbong of the Toraja from the mountain region of south Sulawesi; a mixed chorus raego' funeral song of the Uma-speakers of remote central Sulawesi; a Kulintang gong ensemble from the Mongondow region; and agricultural songs of Minahasa.
"The Moluccas [Maluka] were what Columbus was looking for when he stumbled on America" and are best known in the west as the "Spice Islands." A tumultuous history of exploration, empire and forced migrations characterizes this province's thousand islands. Maluku: Halmahera, Buru, Kei contains representative recordings from each of the three general regions of the province, from north, central and southeast Maluku. Portuguese, Dutch, and Muslim cultural, religious and musical influences are scattered about the islands in varying degrees, and Maluku's longterm global trade has likely collected influences from everywhere else, as well. From Halmahera, a pair of tunes from the total repertoire are demonstrated, as are excerpts from the Muslim dabus ceremony, a ritual intended to demonstrate the practitioners' invulnerability. From Buru and Kei, the collection offers examples of male and female choral and solo singing, a pair of Jew's harp solos, tracks with flute and drum, and an example each of aten narrative singing and a sawat-genre gong ensemble.
It is with some regret that I review Indonesian Guitars, as it brings the Music of Indonesia series to a close with something wonderful. I've anticipated and enjoyed each new release as if the series would go on forever. Historically overlooked by musicologists, guitars, notes Yampolsky, "are everywhere in Indonesia." From electric rock and Hawaiian guitars to local homemade versions, the guitar must have a 400+ years history in Indonesia. Tracks on Indonesian Guitars come from Sumatra, Lampung, Jakarta, South Sulawesi, Sumba and Timor. Dazzling moods are invoked as the guitar finds its place in traditional, Muslim or pop musical styles. The jungga, a four-stringed wooden lute, shaped like a guitar, is included on these selections, as are amplified electric guitars that bring to mind the early days of western swing. By comparison, the acoustic tracks at times sound like Appalachian mountain banjo and at others like the open tunings of, say, Leo Kottke. These are just descriptions, though; the origins of these sounds are strictly Indonesian. Although probably the last of the series, this CD may prove to be the most "accessible" for potential cross-over audiences because of its subject, the globally ubiquitous guitar.
Philip Yampolsky's notes to this series conclude by restating "the problem, debated since the beginning of Indonesian nationalism in the early twentieth century, of what to accept as Indonesian culture." Although still missing many pieces, a musical picture emerges from the "bewildering diversity of societies and ways of life" that are Indonesia. Don't let it slip by you. - Richard Dorsett