Värttinä
Ilmatar
Northside (www.noside.com)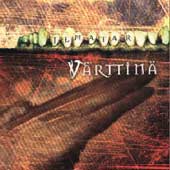 On their eighth album, this Finnish band has received an imaginative and controlled presentation worthy of their talents. Some of their previous work suffered from jarringly obvious rhythm tracks or facile attempts at clubby arrangements, but there is not a single weak link here. Värttinä (the name means "spindle") displays a humanistic drama and majesty that was always there in fits and starts. The four female lead singers and their accompanying musicians unfailingly deliver the called-for degree of vigor, tenderness, and lyricism. Everything is exactly where it should be.
All of the tunes are newly composed, but never waver from the Finno-Ugric rune songs (or runolaulo, an ancient form made up of intensely rhythmic 4/4 strophes with unrhymed but strongly alliterative lyrics) of Karelia that the band has championed throughout their career. Despite being built on ancient modes, this is not a throw-back but a glimpse of the future folk music at the moment of birth. The female vocal front-line dominates the mix. Their lyrical sweep and precise attack has never been better deployed as they chatter, keen, bark disdainfully or make soothing noises. There is a shrill, dissonant, almost Balkan edge to their singing, often grounded by a male vocal drone not unlike the inexorable basses of Russian liturgical music. The acoustic instruments form additional groupings and textures, as a Galician bass drum anchors ambient sounds, chiming bells linger around the edges of arpeggios, and fiddles make fateful, raking string chords straight out of "Eleanor Rigby."
Among the many highlights are "Milja," an enchanting lullaby, with a single vulnerably girlish voice backed by harp-like 10-string kanteles and other plucked instruments. "Äijö" describes a half-crazed old man who survives a snakebite via magic spells, judiciously applied rot-gut and sheer cussedness. His tale is told by women's voices alternating with a ferocious, growling male chant, and he returns to close the album with further curses and incantations. "Lieto" is an accordion-led instrumental that at times resembles Irish, Galician and even Medieval dance styles. "Sanat" is a reflective ballad that features a slouching bass line that Nina Simone would feel right at home with. French producer Hughes de Courson was the ideal choice for this project, as he is a longtime student of Eastern European music and well accustomed to working with neo-folk ensembles and massed voices. His empathy, taste and control of dynamics encourage Värttinä to take fresh risks and shine as never before. -Christina Roden
Comment on this music or the web site.
Write a Letter to the Editor