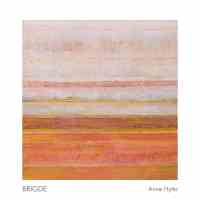 Composer and Hardanger fiddle-player Anne Hytta's latest album is a collaboration with the Telemark Chamber Orchestra, the instrumentation being limited to strings, apart from the addition of percussionist Amund Sjølie Sveen, listed as playing vibraphone and glass. This apparently refers to wine glasses, the playing of which Sveen turns out to be a specialist and that's the sound which begins and ends the opening track, "Age." With a tone similar to that of a glass harmonica we hear a six-note melodic motif, then repeated with added fiddle, and again twice more, each time with another instrument played at a lower octave, before we return to the solitude of the opening. The sound is sparse and ethereal and an indication of what is to come, but not the whole picture.
"Lårsk"
(excerpt)
"I enge" shimmers impressionistically, the melody pondering, conveying a feeling of uncertainty, while "Lårsk" is brooding with more than a touch of menace. The emphasis here is initially on the lower register developing into some strident ensemble playing, with pizzicato strings and vibes intervening a couple of times to offer some lightness, before the darkness returns and a sequence of bass notes leaves things hanging, not fully resolved.
"Villfar"
(excerpt)
Whilst most of the repertoire of the Hardanger fiddle consists of dance music, even in this there can be a dark, introspective quality, particularly in older manifestations of the tradition, as found in Telemark. It feels as if that is what Hytta is drawing attention to here, seeking a way to bring an equivalent into the orchestral writing and it works extremely well. Without being too literal about it, the unevenness of the rhythm in "Villfar" recalls the dance tradition in Telemark, particularly the telespringar.
While there is certainly a feeling of new ground being broken here, there have long been associations between the Hardanger fiddle and classical music. Being unique to Norway, it's perhaps inevitable that Norwegian composers began to take an interest in the instrument as Norway sought to establish its identity following independence from first Denmark, then Sweden. Edward Grieg wrote a series of piano pieces taken from transcriptions of Telemark fiddle tunes and later composer Geirr Tveitt based a whole body of work on Hardanger fiddle music, including two concertos for the instrument. Such ventures, however well-intentioned, can nevertheless seem like an attempt to elevate humble folk music to the status of art music, whilst in the process losing many of the characteristics of the music which made it so special in the first place.
"En perlemorsky glir forb"
(excerpt)
Anne Hytta, however is looking through the telescope from the other end. Using the characteristic devices of Hardanger fiddle playing, its ornamentations, phrasing and melodic details, as a starting point she invited the orchestra to collaborate with her. "The plasticity and malleability of these devices has always appealed to me and part of my motivation was precisely to explore these fine details and their elasticity in an orchestral idiom."
This is also reflected in the album's title, Brigde, which is an old Norse word meaning "transformation" and refers to the way the music becomes transformed through these playing devices. In bringing these characteristics into her orchestral writing Anne Hytta has produced something striking and fresh. The result is music which recalls the spirit of traditional playing but also creates a quite different sound world. Looking for reference points within concert music, there is perhaps some common ground to be found in the work of composers such as Györgi Ligeti and Krzysztof Penderecki, but this is nevertheless an album with a very individual and original approach.