Aidan O'Rourke
Hotline
Reveal Records ( www.RevealRecords.co.uk)
Fiddler and composer Aidan O'Rourke hails from Scotland, where as a boy he grew up near TAT-1, the world's first transatlantic telephone cable, laid in 1956. O'Rourke remembers stories told by his father of "a cable that connected the world," and it is this sense of childlike wonder and technological innovation that he brings to this suite of original music. Joining him are Phil Bancroft on tenor saxophone, Paul Harrison on piano and synths, Catriona McKay on Scottish harp, and Martin O'Neill on bodhrán and other percussion. The quintet produces a rich palette that, soaked up by the brush O'Rourke's deft composing, brings to life a mixed canvas of politics and social force, evoking a time when the Internet was hardly even a dream starting to tickle the minds of the world's communication innovators, a time when once-visual connections between nations were now becoming sonic. It only makes sense, then, that this exciting yet tense period should be commemorated in music.
O'Rourke makes of this project a true collage, splicing samples of early transmissions in "Tat-1." Something of a prelude, it introduces us to the radio drama about to unfold by weaving actual test conversations into instrumental lines, the latter of which creep in from all sides like vines in time-lapse video. That the content of these early transmissions is limited to trivialities like the weather is poignant, considering the cable will one day carry talk that may alter the course of world history.
Hence the title track, which refers to the hotline used between American and Soviet heads of state, and to the messages flying through TAT-1 during the wobbly period of its infancy. Here we get another overlaying of political sentiments, in both English (in the form of JFK's statement on the testing of nuclear weapons, delivered 2 November 1961) and Russian.
"Hotline" (excerpt)
As musician, O'Rourke is for the most part understated in these pieces, opting for atmosphere over virtuosity, although his occasional finger tapping affords a glimpse into his inner fire. His ensemble, for its part, eases into frame as fire burns through steel wool, following a glowing path through intricate networks of ideas and emerging with messages fully intact. The saxophone makes its breathy survey of coastline. Fingernail scrapings on wound strings add a touch of electrical current. These impulses and more combine to form a feeling of promise, of the simultaneous wonder and fear of invention, and of the dreams a boy once harbored looking out into the great unknown.
"Clarenville" is both another point of origin in the transatlantic cable's history and one of the album's most flowing passages. A somewhat mournful soliloquy from O'Rourke begins, soon accompanied by harp and saxophone. Like "HMTS Monarch," which names a vessel tasked with laying the cable, it blossoms with a feeling of industry and camaraderie.
"Clarenville" (excerpt)
"Gallanach Bay" concludes with a news report, tempered by doublings of piano and harp. The saxophone darts between them, trailing a percussive thread against an ambient synth. All of which serves to backdrop the album's most dynamic fiddling, windswept and free.
With its artful vocal sampling and keen eye for autobiography and history, Hotline is sure to please fans of Steve Reich's Different Trains. That said, the effect here is more about the melodies than their means, less about travel between geographies than a compression of distance between them. The interconnections are vast, moving like voices beamed through brine and current to reach your ears. - Tyran Grillo
Visit the artist online: www.aidanorourke.net
© 2014 RootsWorld. No reproduction of any part of this page or its associated files is permitted without express written permission.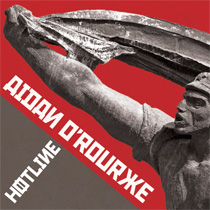 Listen