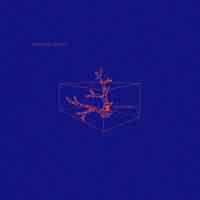 Conflict and ambivalence are at the heart of this delightful, surprising offering from musician Mar Grimalt. Espurnes I Coralls (Sparks and Corals) is fresh, personal, and hard to pin down.
When I think of Mallorca, I imagine from a tourist's view: a place of bright daylight, holidays and warm sunbaked spaces of leisure; a vacation. For singer and composer Mar Grimalt it conjures up images of industrial sand dunes, gravel and giant machines. She grew up on the island, and her family runs a cement factory, FCO Grimalt SAU. Apparently, Mallorca has quite a lot of the stuff, producing material used for tile, construction etc. She played in the gravel and sand mountains as a child but began to develop a more critical stance as she grew older. She says she is looking to honor the family's life's work, and to reconcile "the little doll that played in the mountains of gravel" with her need to break free of its hard-shell confines.
That may be, but the family business plays large in the album, with soundscapes and on-site samples from the family business in Felanitx, Mallorca. The whole album was recorded in July 2022 by Joana Gomila, Laia Vallès and Grimalt, layering and mixing spoken word, ambient noise and music into lush and unusual offerings. Mallorcan poetry wafts through the album, which means that words as much as music matters here. She has selected Damià Huguet's "La inutilitat," Miquel Bauçà's "Recull de versos," and the track "reset," which features words by Antonina Canyelles. Grimalt has written and sung since she was a child, and does most of the heavy musical lifting - composing, singing and playing classical guitar, pandero quadrat (a square tambourine) and a vintage Farfisa organ.
Ada Leonor backs up on voice, both sung and spoken, while Joana Gomila and Laia Vallès provide music production and post-production as well as live effects on "Recull de versos," periodically taking turns using modular synthesizers and Farfisa. Biel Carbonell chimes in with square tambourine in "Recull de versos," and Santi Careta is responsible for post production. Martí Hosta get credits for pandero arrangement in "Recull de versos," and Joan Grimalt is the voice of the introduction to "Vibrats i pretensats" and "Una capa de dubte." María de Lucas Pomar, Ada, Carlos, Juana Laia and Jan offer vocals for the introduction of "Una capa de dubte."
Grimalt trained in occupational and music therapy which comes through in the experimental, collaborative nature of the project. This is clearly a biographical, process-oriented aesthetic: mining a place and its memories, one's home and origins is very much part of today's "me search" aesthetic, autoethnography with autobiographical links and notes being de riguer in the rubric to justify one's artistic message. Culture, community background and origin stories abound and Espurnes I Coralls plays on that, but musicians and artists have often delved into the personal, the Proustian, to create works of art, and even if it is the guiding force, the results are abstract and oblique, not narrative.
There is an emphasis on big, solid, real-life machines. The sounds of mechanized manual labor contrasting with those made by the human body harks back to early 20th Century avant garde movements like futurism, suprematism, art of the Russian revolution and surrealism. The album evokes the period between the two world wars in Europe, with its focus on rethinking humanness, machines and the life of dreams. This is well-trodden stuff which seems quaintly out of synch with the behemoth silicon universes of AI, digitization, and globalization which dominate so much of today's contemporary music discourse. It seems old-fashioned, charming in comparison, evoking times of perhaps simpler worries. Perhaps this is a musical vacation after all? I found myself, after repeat listens, to be humming away with it all.
This record wants to be in your face and boundary pushing, something I find ambitious and laudable, but that's not its real strength. Its real gift to us is a focused, handmade intimacy that makes it shine and sparkle. It has a sonic clarity that rings out in ways that are both bracing and vulnerable. Espurnes I Coralls is a light-filled, refreshing summer keeper, in the best kind of way.