Gai Saber
Esprit de Frontiera
Ousitanio Vivo ([email protected])

Globalization brings its perils and its riches. One of the many critiques of globalization charges that minority cultures are eradicated by a vast tide of commercialized American crap. However, it is also worthwhile to note that a nation-state can marginalize cultures within its own borders.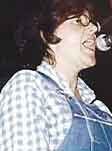 Gai Saber is an eight piece band devoted to preserving the culture of the Occitania region along the Mediterranean. The realm of Occitania goes beyond borders, embracing Southern France, the Aran Valley in Spain, and the Cuneo and Turin Provinces in Italy. What binds this community of 13 million is that half the population speaks the ancient d'Oc language. Gai Saber are part of an Occitanic language revival, immersing themselves in not only the songs and dances of the Troubadours of the XI-XIII centuries, but also modern Occitanic poets.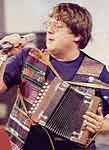 All of this translates into a unique musical experience. Because the Occitanic language spans the area of the Piedmont and embraces Celtic and Gallic influences, the women and men of Gai Saber play an interesting array of instruments: accordion, Celtic harp, and hurdy-gurdy are amongst the mix. But Esprit de Frontiera is far from a traditional affair. You will be thoroughly amazed at how modern the Gai Saber repertoire sounds.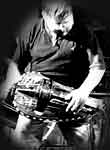 Esprit de Frontiera rocks hard, and the Troubadour songs meet inventive dance beats that combine traditional percussion (bodhrans, galoubet, tambourin) with electronic samples. The aim here is to ensure the popularity of Occitanic, and Gai Saber want you to move your ass. Chiara Bosonetto's voice is a wonder; one moment, she lingers over the beauty of songs that celebrate remote villages, and the next she is growling out lyrics in punk-like fashion. Adding to the potency is the superb hurdy-gurdy and pipe playing of Maurizio Giraudo. As a result, Gai Saber sound alternately Italian and French without being able to be pigeonholed as one or the other. Esprit de Frontiera is a compelling statement of cultural survival and border crossing that meets modern technology on its own terms. - Lee Blackstone
Visit their web site to learn more
Gai Saber's CDs are available at cdRoots
Audio: © 1999 Gai Saber and Ousitanio Vivo
Comment on this music or the web site.
Write a Letter to the Editor