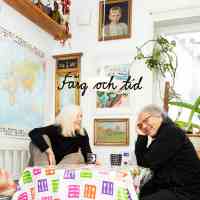 T
he
lurching, wiggling rhythms of Swedish fiddle polskas, particularly those from the region of Dalarna, can be hard for the listener to grasp, though easier if one learns to dance them. The fiddler's foot-tap can be a clue, but here, explored by the duo of leading fiddler Ellika Frisell and Mexican-born percussionist Rafael Sida, there's much more help than that: a window on polska's subtle internal rhythms and their possibilities.
This is no short-term fusion-type project; over the years that they've lived and played together, Sida has found ways to interpret and accompany Frisell that draw on his wide experience of the rhythms of the world, with his battery of hand and stick-hit percussion. Frisell, too, has connected polska with traditions from elsewhere, from her time with the mighty Filarfolket in the 1980s and her partnership with Senegalese griot kora-master and singer, the late Solo Cissokho (which won the Boundary Crossing category in 2005's BBC Radio 3 Awards for World Music).
Virtually all the tunes are polskas, most from the repertoires of legendary Dalarna fiddlers Hjort Anders, Pekkos Per, Päkkos Gustaf and Gossa Anders, plus three of her own (including "Polska till Shivakumar / Nya Indiska" that reflects her time in Mumbai learning from violinist K. Shivakumar). But having deeply absorbed and lived with their music Frisell takes them on far-reaching excursions that go far beyond standard polska form while still having a mighty rhythmic swing.
And Sida, while amazingly in tune with the directions that Frisell takes the melodies, is no mere accompanist; this is a conversation and joint exploration. When he takes a percussion break, such as during Frisell's light, dancing "Snabbis," where his shouts punctuate his thrilling hand-percussion, and his kit workout in "Blekingepolskan" recorded live back in 2012, it's clear that he hasn't lost contact with the core tune, and Frisell is able to jump back in even when he's in full flow. His sounds are an inventive, constantly varied panoply of boom, wop, bop, slither, swish, rattle, moan, patter and click, making a full sound with no sense that a pitched instrument other than the fiddle is needed; indeed it would restrict the fiddle's melodic, rhythmic and harmonic freedom.
Färg Och Tid is a splendid work from the second ground-breaking, boundary-crossing duo partnership in Ellika Frisell's ever-questing musical career.