Ethiopiques—Revolt of the Soul
A documentary directed by Maciek Bochniak
HBO Europe
Review by Carolina Amoruso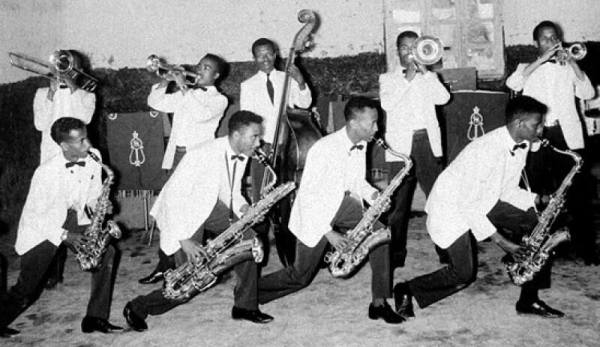 For the first fleeting seconds, Ethiopiques—Revolt of the Soul entices us with a bar or two of intriguing piano tones that seem both western and eastern, familiar and new. Immediately and incongruously thereafter, we're on a train bulleting through what we're sure is a European town. Cut now to a marvelous painted image of a black-tied orchestra fronted by a vocalist and 2 back-up singers having a swell time of it. And, yes, we realize that the music is Ethiopian, sophisticated, mysterious, pentatonic, and penetrating.
The lush sound lingers in the background as we return to small-town Europe, Poitiers, France, invited by an intent and reflective silver-haired gentleman to his studio replete with books, a reel-to-reel recorder, 33 RPM records and much more. Journalist Francis Falceto begins,"All, every one, is to do with Ethiopia." Falceto is enamored of Ethiopian music. So there's the link and now our story can unfold.
Francis Falceto
The film illustrates Falceto's mission to catalog, remix, and release on disc a trove of remarkable music played by remarkable musicians, the best of the golden age of Ethiopian jazz-funk-R and B, running generally from the late nineteen sixties until the mid-seventies when a newly installed military dictatorship, the Derg, wrecked havoc and terror upon the country and its cultural riches.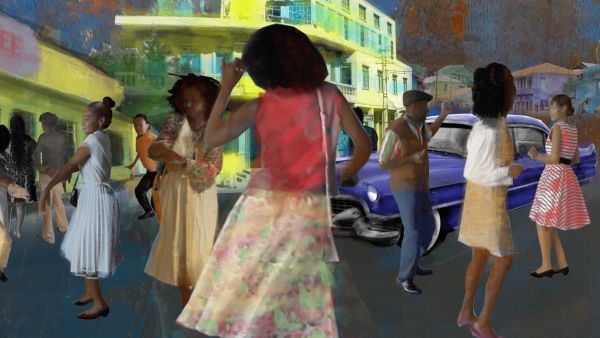 The scene shifts to evocative black and white archival footage of Addis Ababa in 1969. Filmmaker and cinematographer, Maciek Bochniak and Tomasz Bochniak's animation crew depict street revelers pulsing with staccato yet rhythmic effect under hand-painted garments and faces from black and white photos. Lifted perhaps from newspaper accounts or film reels, their pleasing cut-out shapes seem slapped 2-dimensionally against hand-painted background settings.
Addis in the late 60s and early 70s was a bustling metropolis, recovering from its snippet of colonialism, with a middle class accustomed to the good things in life; music, dance and nightlife were flourishing. The funky soul-jazz dance music of the day, while influenced by African American giants like James Brown, Wilson Pickett and King Curtis, sacrificed none of the warm, saxophone-driven five-tone signature of the late 20th century Ethiopian sound and surprisingly profited under the dictatorship of Haile Selassie, willing to look the other way when local culture was pursued. The good life would be torpedoed in 1974 by a Marxist-Leninist coup that would become a thirteen year lockdown of terror.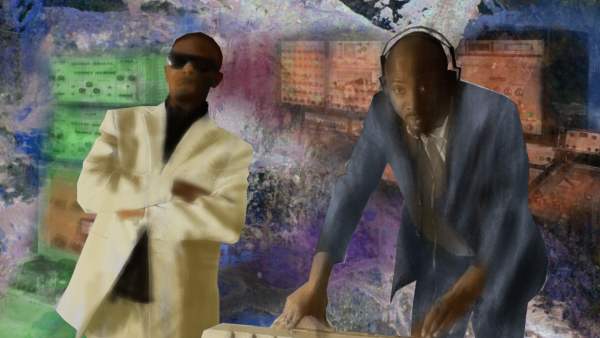 Having broken away from the Euro- and American punk scene of the 80s, Falceto cast about, visiting Ethiopia shortly before the Derg were routed, and came up with a plum: the great vocalist, Mahmoud Ahmed, whom Falceto was able to sign for two concerts in France; the second was triumphal for Ahmed and pivotal for Falceto: he'd taken the first giant step of his mission, which would take over 10 years to complete, as the first of 30 Ethiopiques CDs was released in 1997.
By way of Ahmed and other players of the era, Falceto found the ultimate partner in his quest, the storied Amha Eshete. Eshete founded Ethiopia's first record label, and  was the first Ethiopian to own a record shop, Harambee Music Store, where he offered local and pan-African fare and a sizable imported catalog of US artists, like Elvis and James Brown. Eshete also put together a traveling troupe, the Walias Band, to take the Ethiopian jazz-funk sound world-wide.
With the Derg at his heels, Eshete fled to the U.S. Conditions at home forced band members to choose whether to stay or flee, too, and a number defected during a US tour, joining the exiled Eshete in Washington D.C., the locus of the Ethiopian diaspora.
What brings energy and engagement to this film, aside from the music, and sets it apart from a dryer journalistic account, is the integration of animation with the more familiar devices of documentary filmmaking, like clips from archival vaults, stills pulled from attic trunks, and the rest. The plucky conceit of this doc, putting real photographic faces onto generic animated bodies, invites you to its heart. The depiction of a young, exiled Eshete, trying to promote the music that he loves in the name of his homeland is an example. With a lighted cigarette affixed to his animated hand that protrudes from what seems a hand-painted oversized sport jacket, we're drawn to the transparent expression on Eshete's black and white "footage face," and deduce immediately from the expression, the only real feature of the image, how apprehensive and dejected the young impresario must have felt when confronted with the news that his Walias Band was breaking up.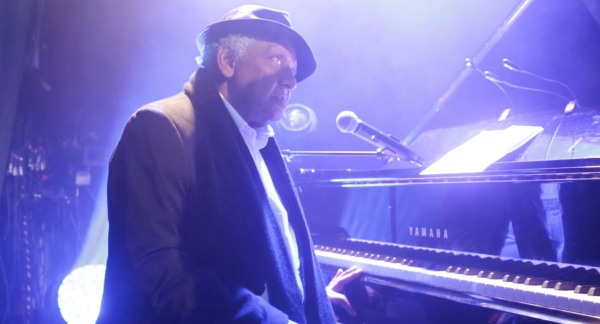 Girma Bèyènè
There is another episode, also poignant, dovetailing into the film's ending, a brief, immensely rewarding character study of Girma Bèyènè, pianist, composer, a lead singer in the original Walias Band, whom we find scruffy and bedraggled, pumping gas in the nation's capital. Expressive in his reticence to speak, Girma's body language tells his story. His head is tucked under a peaked cap that shades his face as he gazes into his lap, onto the floor; he chews absent-mindedly on his tongue, ruminating, and seems at times at the point of tears when telling his tale. His world fell apart with the death of his "girl," his long-time partner, and theme of many of his compositions. Now, after 30 years, he has accepted Falceto's offer to return to the stage and will headline a new band, Akelé Wubé. Ethiopiques—Revolt of the Soul ends in a Parisian concert hall in 2016, packed with Ethiopians and Europeans enrapt by Girma Bèyènè and his bemused happiness as he shares his inner and outer voices. This tribute will be everlasting as it will become Ethiopique's 30th and last CD, "Mistakes on Purpose."
Says Falceto of the bounteous 30 discs that have been released, they're just "the tip of the iceberg," and, "It's a musical goldmine." It's as if each disc, with its legacy of jazz- and funksters from the US, Ethiopia's own rich musical heritage, and influences from the Arabian Gulf and further east, and from much of the rest of the African continent, were wrapped in one of that country's precious parchment scrolls, magnificently scripted and yellowed from history and ancient wisdom.
While laudatory and memorable, I've come away from Ethiopiques—Revolt of the Soul with a burning question: Mulatu Astetke, composer, arranger, vibraphonist and innovator, and recognized by many as the father of the golden age of Ethiopian music is barely mentioned. He appears on but 2 of the 30 CDs, and I'm puzzled. Even if he spent little time with Eshete's Walias Band, his genius and his verve must live within all of the musicians and within Eshete himself and this should be noted. Astetke's absence leaves a vacuum within an otherwise comprehensive study. I'm also puzzled by the subtitle of the film: rather than a soul in revolt, an often times noble but self-limiting endeavor, in this film I see and hear instead a soul growing, becoming more expansive, proud and profound. - Carolina Amoruso
© 2019 RootsWorld. No reproduction of any part of this page or its associated files is permitted without express written permission.