J

erry Jeff Walker, the late, great singer-songwriter, wasn't a Texan.

That's a surprise in itself; his music seems organically entwined with the Lone Star state and it did become his home for many years, but he was born in New York state. Steve Earle, who was born in Texas but now ironically lives in New York, is an unabashed fan who worked with Walker back in the 1970s. This, like his albums Townes and Guy, is Earle's way of paying homage to a man who was a huge influence on him.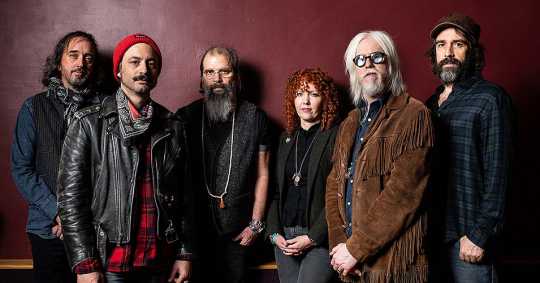 Walker's best-known song is definitely a stone classic. The wonderful, tender "Mr. Bojangles" seems to have been covered by everyone. It's a perfect, loving portrait of someone from an era that was almost over when Walker documented it. Now, more than 50 years later, it's a glimpse into Southern history, and Earle treats it with compassion. His beat-up voice is gloriously cracked, completely lived-in, the ideal vehicle to do the material justice.
| | |
| --- | --- |
| | |
At least in his early days, Walker epitomized Progressive Country, the hippie predecessor of what became known as Outlaw Country, and the ramshackle swagger Earle and his band, the Dukes, bring to a two-step like "Gypsy Songman" (a piece that could have been Walker's theme tune) or "I Makes Money (It Don't Make Me)" capture the colourful, eager attitude of the period. It all sounds anarchic, recorded on the fly and barely holding together, but of course it's not. These are all top-class professionals; they wouldn't turn in any performance that wasn't top-notch. Nor, really, would Earle accept less than the best of something so close to his heart.
| | |
| --- | --- |
| | |
This is all about Jerry Jeff Walker, a man who wrote outstanding songs that didn't find the huge audience they deserved. In Earle's hands, pieces like "Hill Country Rain," "My Old Man" and "Little Bird" carry a pain and ache that still resonate years later. But closing with the road anthem "Old Road" is an inspired touch. Spare, just harmonica and voice, it's powerful. You can almost imagine Walker's ghost standing by the side of the Texas highway and trying to hitch a ride. His spirit should be proud of this loving tribute.
More about the artists:
Steve Earle
Jerry Jeff Walker
The editor says: Jerry Jeff Walker was one of the artists that made me love music outside of the radio hits of my youth. His strange mix of 60s popular music, country and folk was just what I needed when his self-titled first album came out in 1968. So as excited as I was when Jerry Jeff was released, I feel like Steve Earle missed a great opportunity to show the less-country side of Walker's song writing. So I give you "The Ballad of The Hulk." - CF