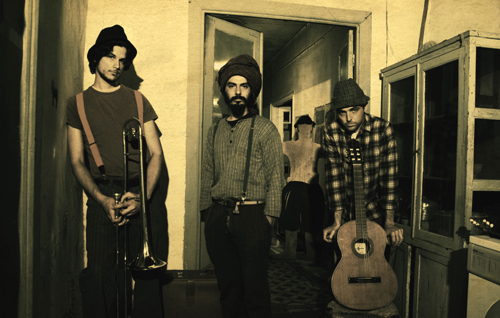 By now we are all familiar with the growing new roots movement around the world. Just in the last year, we have seen Kristi Stassinopoulou & Stathis Kalyviotis dub their latsest work Greekadelia; Thanasis Papakonstantinou for many years has been playin what he calls laikadelica; Canzoniere Grecanico Salentino have been revitalizng the Griko music of southern Italy and carrying it around the world.
The Cypriot band Monsieur Doumani has been making quite a name for itself both at home and abroad in the last 6 months, with their CD Grippy Grappa and performances around Europe. They take the sounds of their native Cyprus and put it through a similar blender - making the music both more accessible to a new audience, while also respecting the roots, keeping them healthy and growing. They blend a serious sense of tradition with a cutting social satire and a playful wit. Founded in 2011 in Nicosia by Antonis Antoniou (tzouras), Angelos Ionas (guitar) and Demetris Yiasemides (wind instruments), these musical bandits steal whatever they can and forge it into something all their own, enveloped in a smoky haze of poetry and sharp musical arrangements.
I recently had the pleasure of talking with the trio and here's what they have to say about themselves. - Cliff Furnald
Listen!

Here's more details about some of the songs we talked about in the interview:
Ahaparos / Out-of-touch Guy
"Ahaparos" is a satirical song with music and lyrics by Antonis Antoniou that was inspired by an unfortunate incident that the group experienced at a festival in Cyprus last year. The band was performing on one of Nicosia's main streets, participating in the first Nicosia Buskers Festival, when two policemen approached them and insisted on arresting them. After a long dispute, the band was given a fine for allegedly violating a colonial law against begging. After all attention the incident received in social media, the government finally apologized to the band, and changed the law with regards to begging so that street artists are no longer anymore included. This song humorously describes the thoughts of the chief policeman, moments before he and his colleague decided to approach the band.
I can't stand these tramps any longer, holding those things that look like tins
They open their mouths and begin to murmur things, I think I've seen this before
but I've forgotten what it's called.
Oh man, are these people normal?
Just sitting here on the street, instead of going to a football match or a brothel,
or to a betting shop, or even show off their macho selves at the horse races.
This is unacceptable, I am going to arrest them,
and then I will be praised and promoted, for putting these tramps behind bars.
No one's going to call me chicken again!
Mother and Mistress Of Us All
This song was written in support of the campaign against the construction of a golf course in the area of Limni, in the Paphos district in Cyprus. The site includes a highly sensitive ecosystem where the sea turtles Caretta caretta are breeding. This unique ecosystem is located next to the larger "Natura 2000" area of the Akamas peninsula and the Laona plateau, one of the very few areas in Cyprus left mostly unaffected by the menace of growth, despite the fact that there are continuous efforts by the business sector to promote rampant land development projects here. The crisis is just the excuse for businessmen who are once again seeking relaxations of the rules protecting this area.
Oh mother, they sucked you dry, dug you up and burnt you out,
Like a drove of asses they tear you down.
Why do asses get a bad name?
When it's those hustlers who are to blame?
They'd sell their mother for a buck
And if nature suffers it's her bad luck.
And now the crisis is their excuse
They are digging holes but it's of no use
Since the great mother will tie their noose.
---
Listen to a full song that we excerpted in the interview:

The band says:
This is a love song about a very beautiful dark girl from Morfou. A married man falls in love with a married woman from Morfou, a small town in Cyprus. A sensitive and risky situation back in the old days in Cyprus, but nowadays as well! The man says that he will get rid of his previous love because he is so excited about the Morfou girl and he expresses his love in a humorous way: he says that he lost his mind as soon as he saw her breasts! Hearing songs about breasts must have been a very shocking experience for the listeners of that time.
© 2013 RootsWorld. No reproduction of any part of this page or its associated files is permitted without express written permission.