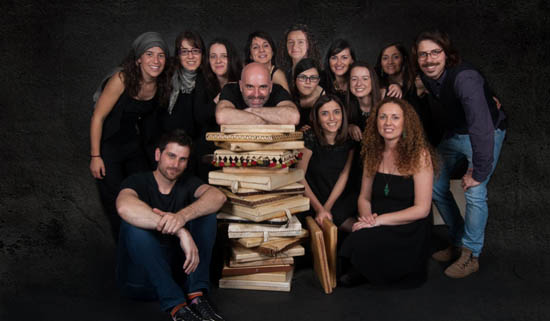 Xabier Diaz e Adufeiras de Salitre
The Tambourine Man
Musicas De Salitre
| | | |
| --- | --- | --- |
| | | "Pasadobre de Beo" |
The music of Galicia, the rocky, Celtic-influenced coastal area of North Western Iberia, is one of the better-known musical exports within the Spanish state. Groups such as Milladoiro, Berrogüetto, Luar na Lubre and Os Cempes have exemplified the trend that each generation features a pre-eminent Galician folk-roots ensemble.

Most recently, the Basque diatonic accordion master Kepa Junkera recorded a Galician anthology featuring a representative sampling of local artists. One such was vocalist/percussionist Xabier Diaz and Adufeiras de Salitre, a group consisting of a dozen female vocalists/percussionists who sing close harmony in the Galician tradition.

Diaz, who has been connected with many of the above-named groups, has also explored the folklore of Galicia through a number of solo projects over the past decade.

Advancing on the mood achieved by Junkera in Galiza (2013), Diaz and Adufeiras here present twelve pieces that expand on tradition Galician song repertoire. Along with the aforementioned, Gutier Álvarez (hurdy-gurdy and violin) and Javier Álvarez (diatonic accordion) are the core musicians, with participation by a number of guests including Xose Manuel Budiño (gaita), and Junkera on accordion and percussion.

The emphasis, as the title indicates, is on percussion and specifically the tambourine, as Diaz guides the listener through this strong recording with his smooth effortless vocals and a rhythm section based on the traditional pandeiras.
| | | |
| --- | --- | --- |
| | | "Xota Delira" (excerpt) |
The CD opens with "Xota Delira," Diaz's easy vocals and a tambourine solo "Este que teno a meu lado/cante moito o cate pouco," and then followed by Adufeiras and their close harmonies. "Pedra de Sal" begins with some nice percussion and some lovely playing by Javier Álvarez on the accordion, a Leonese-sounding melody.
| | | |
| --- | --- | --- |
| | | "Capra Aegadas Hircus" (excerpt) |
"Capra Aegadas Hircus" is the first real showpiece for Adufeiras vocals as well as the hurdy-gurdy. On "Jostunen Pasodoblea" (given a Basque title) the inimitable Kepa Junkera features on both trikitixa (accordion) and percussion, along with Alfonso Merino on violin. While it calls itself a pasodoble it is a fairly quirky one with a pleasant, catchy tune.
| | | |
| --- | --- | --- |
| | | "Cantares de Toroia" (excerpt) |
In "Cantares de Toroia (Mordor II)" Adufeiras provide a haunting soundscape accompanied by the hurdy and percussion: "Marmura marmuradura, marmuro de min e doutro; xa tes un canto no inferno, para descansar un pouco." From the Val de Soneira area comes "Langueron" sung by Diaz, with Gutier Alvarez on the hurdy-gurdy is reminiscent of Maria Salgado's approach to a neighboring musical tradition on Abrecaminos (2006).
Of the twelve tracks, none distract from the recording as a whole. However, the lively "Pasadobre de Beo" might be the finest track, as the evocative vocals of Diaz and Adufeiras, the violin, accordion and lively tambourine work together to build drama, then stop before moving to a lovely finale. - David Cox
Visit the artist online at www.xabierdiaz.com
© 2016 RootsWorld. No reproduction of any part of this page or its associated files is permitted without express written permission.