dálava
dálava
Sanasar Records (www.dalavamusic.com)
Hailing from New York, the band dálava are edging out into music with a particularly rich backstory. Vocalist Julia Úlehla and guitarist Aram Bajakian, childhood friends, found themselves reunited in a musical project probing the texts and tunes transcribed by Vladimir Úlehla, Ms. Úlehla's great-grandfather and a biologist and an ethnomusicologist. Mr. Úlehla was taken by the folk music of the Moravian village of Strážnice, and he painstakingly transcribed the songs and tunes of this community (located in the eastern part of the Czech Republic, and bordering on the Carpathians).
Over a century ago, Vladimir Úlehla realized one of the essential aspects of folk music: that the community has a role in shaping their songs, and that the songs are therefore rooted in a specific environment. Hence, folk song would take on its 'anonymous' character; perhaps there had once been a single author of a song, but over time that individual creator was elided into the communal work that altered (or preserved) the song down the ages. Perhaps Vladimir Úlehla saw this process as a mirror of his interest in biological organisms and organic science: the slow burning evolution songs seemed to lead to complex lyric texts and wildly veering rhythms, appropriate to the context of Strážnice.
Armed with Úlehla's transcriptions, but coming from a different time and place in cosmopolitan New York, Julia Úlehla and Aram Bajakian wondered how they could make these folkloric tunes breathe again. Obviously, any adherence to the original context or performance style of the Strážnice songbook would be out of the question for these modern musicians. In their hands, the songs were transplanted to an American context, and subject to their diverse influences. Ms. Úlehla, for instance, had been classically trained at the Eastman School of Music, and one can hear her operatic experience occasionally burst through in her singing. Mr. Bajakian is a guitarist steeped in the downtown New York scene, having learned his instrument from Marc Ribot, and worked with Lou Reed and John Zorn. The two invited John Zorn's bassist (and member of Yo-Yo Ma's Silk Road Ensemble) Shanir Blumenkrantz, as well as two violinists, Tom Swafford and Skye Steele, to further round out dálava's sound.
The results are often beautiful re-castings of material. Since the group was not too concerned with an historical accuracy, they were able to open up a sound-world for the songs to inhabit. While much is made of the avant-garde treatments of the songs on the album, what I heard and experienced more was the ghost of a village's past searching for new homes to inhabit. Solely in terms of the aesthetic choices being made to bring these Moravian songs to life, my mind was drawn back to the marvelous singer Lhasa, and her atmospheric album La Llorona.
Dálava's music often hovers in a melancholy, experimental zone. Hence, on the opening "Ach, bože mùj," the strings positively weep to lyrics that describe a 'wronged' person who cannot complain to her parents (they are both dead). "Ej, lásko lásko" features a funky percussive rhythm around which the violins entwine, while Úlehla's voice is faded back into the mix and provided with a tinny echo. "A ty moja najmilijši" has an Eastern European folk cadence, slightly slowed down to a Carpathian blues (on which Bajakian solos), as Úlehla – from a male perspective – implores his love to consider his merits, despite her mother's complaints. The soundscape again reminds me of Lhasa, but also of the group Snakefarm and their alterations of American song. Elsewhere, dálava utilize ambient drone ("Aj, Jurenko"), and sheer outbursts of noise ("Hory huèᔠis a dissonant fuzz colossus), while traditional elements poke shoots through the modern haze (the waltz time of "Vyšla devèina" happily coexists with Ennio Morricone-ish flourishes from Bajakian's guitar).
Interestingly enough, dálava's sound is what I would imagine downtown New York musicians might do with ancient songs. (Is it 'avant-garde' anymore when one expects the unpredictable, and a myriad of styles?) Nonetheless, the performances are full of conviction, and Julia Úlehla's fabulous voice is a marvel. Dálava's debut is a fully realized work, and a new, organically sown branch for the original music; the band successfully makes the case that what is authentic, for these folk songs, is the here and now. - Lee Blackstone
CD available from cdRoots
© 2014 RootsWorld. No reproduction of any part of this page or its associated files is permitted without express written permission.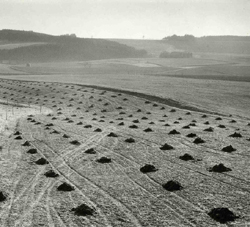 Dálava was our Novemeber 2014
Music of the Month offer.
Join now.
Or buy the CD
and support RootsWorld