Ry Cooder and Corridos Famosos
Live in San Francisco
Nonesuch Records (www.nonesuch.com)
Ry Cooder has delivered two topical, protest-laced albums in the past two years, so on his first live album in 36 years he steps back a bit, reveling in some of the great tunes he's known for, aided by a bunch of old friends. He's backed by his usual band, billed as Corridos Famosos, which includes his son, Joachim, on drums, Joachim's wife, Juliette Commagere, on vocals (she delivers a smoking version of the mariachi classic "Volver Volver"), and her brother, Robert Francis, on bass. In the "almost family" category is Flaco Jimenez on accordion, who has worked with Cooder since the '70s. He's a presence throughout, and is featured, along with some jaunty sousaphone from the brass band, on a polka version of Woody Guthrie's "Do Re Mi," one of several favorites included.
Other Cooder classics include a wistful, reflective reading of "Boomer's Story" and the opener "Crazy 'Bout an Automobile," with a rocking bass sax solo. The set also includes a couple of Cooder's witty protest songs from his 2011 album, Pull Up Some Dust and Sit Down. "Lord Tell Me Why," with its chorus of "white man ain't worth nothin' in the world no more," is both scrappy and satiric, and "El Corrido de Jesse James" tells how James returns from heaven to take care of Wall Street bankers. From way out in left field comes a rollicking cover of Sam the Sham and the Pharaohs' garage-band classic "Wooly Bully" that's driven by Jimenez's accordion. Then Cooder really cuts loose on electric slide guitar for an eight-minute stomp through Guthrie's "Vigilante Man."
Although this is a live album, the overall sound brings to mind the crisply produced studio albums Cooder crafted for Warner Brothers Records back in his (and their) '70s heyday. Kudos to Martin Pradler for the recording and mixing. Everything is clear and distinct, and you get a real sense of the room in which they were performing. With headphones, you can hear the various singers and instruments in different spots in your head, all blending into fulsome harmonies mid-brain. Recorded at the Great American Music Hall, the same venue where he made his 1977 live album Showtime, Live in San Francisco is a great return visit for old fans and offers a sparkling showcase of quite a few of Cooder's many talents for the newbies. The only thing missing is some liner notes to introduce us to all of the great musicians on the disk. - Jeffery R. Lindholm
© 2013 RootsWorld. No reproduction of any part of this page or its associated files is permitted without express written permission.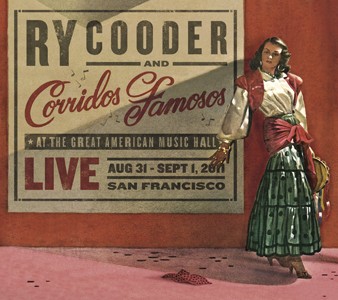 Listen