The mere concept of a bunch of white folks from the states or Europe deciding it would be a great idea to collaborate with the Black musicians who inspired them is worrisome. From white-boy "blues" musicians such as Clapton playing with Howlin' Wolf to Jon Spencer's party record with RL Burnside, these collabs might have helped the aging bluesmen gain a larger audience, but they couldn't help but come off as patronizing. A better world would have seen no need for Burnside or Wolf to hook-up with these folks in the first place. But that's just it. It's that damn colonizer/colonized/slavery thing. There's no escaping the dilemmas this inequality places on such pairings. Globally, there was the well-intentioned but problematic Real World records run by Peter Gabriel, which, while introducing African musicians to the west, also seemed to sonically flatten what many of them had on offer, suggesting western production values were somehow more palatable.

Yet, anyone doing more than a surface dig into music knows we've been borrowing from each other around the globe for longer than the technology has been around to document the cross-pollination. How these things happen often comes with troubles too. But sometimes we simply hear something and like it, finding familiarity and letting the influences wash over us. And that's precisely what happened when Belgium's Crammed Discs started releasing records in the West by raw, Congolese tradi-modern, electric ensembles who jacked their instruments into homemade-out-of-necessity amplification for a sound teetering on punk-rock sensibilities. While Belgium was guilty of some of the most brutal colonialism in all Africa in what is now the Democratic Republic of Congo, Crammed Discs gave bands such Konono #1 and the Kasai All-Stars global attention. Musicians such as Bjork, Questlove, and Dirty Projectors sung their praises and listed them as influences. World tours followed.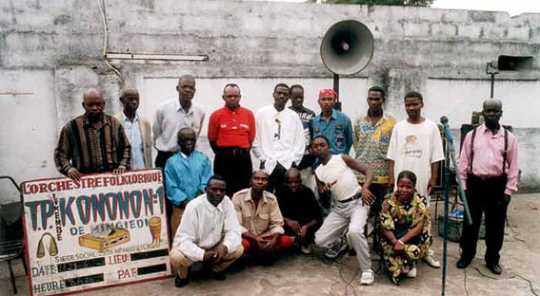 Konono #1
So, the fact that this record, some 10 years in the making, happened isn't that surprising. And what sets it apart from the troubling white/Black collabs of the past is that Western artists featured here- Deerhoof, Juana Molina, Skeletons, Wildbirds & Peacedrums aren't enlisted by the label to give Konono, who reunited for these sessions, or Kasai All-Stars any larger audience. Instead, they're here to work their way into the Congolese bands' tonal and rhythmic spaces out of sheer love. As a result, Where's the One? truly feels like a more global celebration, as the artists mentioned above come from Sweden, Argentina, and in the case of Deerhoof's singer/bassist Satomi Matsuzaki, the USA by way of Japan.
The album's title itself gives away the fact that the Westerners weren't always sure where the rhythm was, though it certainly seems as if they figured it out. The results here are often transportive reminders of how natural the connections seemed, even if the musicians sometimes struggled at first to mesh.
The album's first track gives a solid example of how intertwined the artists were. "Where's the One?"- credited to members of Deerhoof, Kasai All-Stars, and Molina - bounces with joy until it explodes. But there are plenty of tunes here that harken back to label's introductory Congotronics 2 compilation from 17 years ago. "Kule Kule Redux" is classic Konono #1, featuring their signature riff played on distorted likembes as this 20-piece, international version of the band slays all in its path. The fact that both Konono and Kasai have grooves specific to their particular regions of Congo allows everyone a certain direction.
And the energy they kick up is impressive. "The Chief Enters Again" is a sustained, suspended party over a hammering riff, perhaps more delightfully brutal due to Deerhoof's presence. Elsewhere, there are thicket-deep instrumentals ("Chateau Rouge") and show-ending celebrations ("Guiyome").
At 21 songs (plus 2 digital-only bonus tracks), this is a brilliant, spirited carnival of sonic bliss. It's not only a welcome addition to the Congotronics series, it's a convincing anecdote to what separates us in a world increasingly fucked up on fascism and other forms of destructive nonsense. This here's the real deal. -Bruce Miller
Live at at Roskilde Festival, Denmark