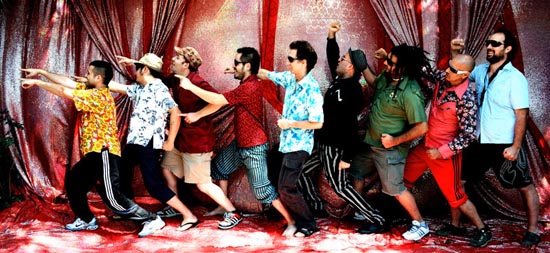 Chico Trujillo
La Reina De Todas Las Fiestas
Barbčs Records (www.barbesrecords.com)
Review by Dylan McDonnell

Falling somewhere between an EP and a full-length, Chico Trujillo's 2016 release charges through numerous sonic worlds and apparently, performance settings, bent on an atmosphere of play and healing. The album's concept is driven by the eponymous Reina, an allegorical feminine figure of latinidad or "Latinness" that symbolizes Latin American celebration and community across "race, age, and class," according to the album's liner notes. Begun in 1999 in Villa Alemana, Chile by lead singer Aldo Enrique Asenjo Cobillos aka "Macha," the group draws on a propulsive synthesis of styles including cumbia, rock, rap, and Mexican ranchera. Consequently, La Reina positions the band at the center of an imagined street-based festival, constantly progressing and picking up different musical elements along the way.

"Abajo del Bote" wastes no time in bringing us into the street with snares and scrapers, very portable instruments. The call-and-response verses, claps, and repetitive brass parts challenge us to break the distance between performer and audience, to join in. Sometimes, this street festival soundscape is even more prominent, as on "La Cura del Espanto," which features the charango and quena flutes amidst the blaring brass and chorus.

As the album goes on, this live-sounding arrangement transitions through more nuanced textures and feels: "Malgeniosa" features melodic conversations between piano and guitar in a very son montuno mood but inside a cumbia rhythmic framework, while "Los Nervios Que Te Di" The aptly-titled "Alturas" (Heights) shifts the metropolitan procession to an aurally Andean environment, drawing on the flute-heavy folkloric repertoire of the area. Accordion is sparsely but effectively implemented on this record (credit absent), specifically on the ranchera/polka-esque "Se Nota En El Ambiente Que Tenemos Que Partir" and the lushly yearning "Playas Marinas."

Chico Trujillo's guests, though few in number, contribute their own distinct pieces to a fairly dense puzzle. The lead and harmony vocal work of Chilean rocker Alvaro Enriquez permeates "Playas Marinas," and the subdued guitar lines of Argentine-American Kevin Johansen punctuate the rapid-fire vocals on "Los Nervios Que Te Di." However, possibly the most memorable confluence is the meeting of Macha's rapped verses with the rollicking Farfisa organ on "Chatito."

The final track, which shares the album's name, reinforces what our ears told us all along: that the stark invitation to participate through use of percussion, brass, and/or voice is the basis of music- and community-making in this moment, Spanish-speaking or not. Chico Trujillo's aspirations to celebration across musical and contextual boundaries, in spite of all implied struggle and frustration, make for a truly enjoyable and immersive experience. - Dylan McDonnell

© 2016 RootsWorld. No reproduction of any part of this page or its associated files is permitted without express written permission.