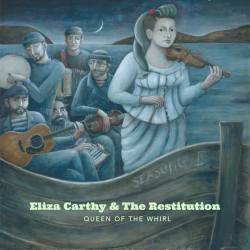 H

ard to imagine that Eliza Carthy is celebrating her 30th anniversary as a professional musician. It feels like no time at all since she began, and yet it's also as if she's always been there, relentlessly experimental as she kicks at the tradition and writes her own material to sit alongside it. Folk music, maybe, but like her parents, Martin and the late Norma Waterson, her definition of the term has been very elastic and full of surprises.

She pulls more than a few here, with a collection partly selected by Twitter. Right from the beginning she wrong foots the listener with a vocal melody on "Whirly Whorl" that works across the instruments. For a moment it's discombobulating, but makes it apparent that this isn't an album of reprises. It's a radical reworking by Carthy and her outstanding band, The Restitution.

Her voice has developed into a monumental instrument, and that's nowhere more obvious than on "The Company Of Men," her own revelatory composition that's presented here as a torch song, with drama and pathos, a view looking back over the shoulder at her younger self. Compassionate, sympathetic, but still with the undercurrent of bile that powered the original. "Mr Magnifico" seems to have marched straight out of the circus ring, while her take on Pete's Seeger's "My Father's Mansions" (which she originally sang on a Seeger tribute) brings an epic, looming quality to the performance.

The version of "Pretty Ploughboy" that pops up here probably hews closest to the standard idea of a traditional folk song and her superb fiddle work gets an all too brief airing. Soon enough, though, that straightforwardness is upended by the brooding, lengthy "In London So Fair," a tightrope of emotion that's exquisite for the way she keeps the tension and edge in her voice throughout.

After all that, it's fair to close things with the joyful "Good Morning, Mr Walker," a Caribbean bounce of a track that drags several folk luminaries into the chorus. Part tribute to her mother, who lived in the West Indies in the late 1960s, the cover of the Mighty Sparrow calypso piece a few minutes pure party, guaranteed to put a smile on the face smile and get the feet moving on a dreary winter day.

Originally released as four EPs and now as an album, Eliza Carthy has done something fascinating here: looked back and reinvented her own past. It's worth sticking around for the future. After all, she's likely to be doing this for another 30 years, at least.