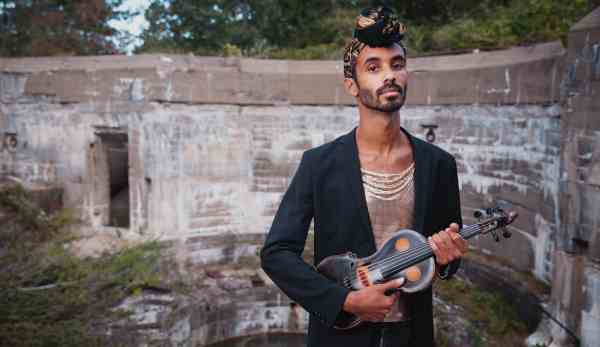 Jake Blount
The New Faith
Smithsonian Folkways
Review by Michael Stone
Jake Blount lays out a basic paradox at the core of The New Faith, a dystopic premonition that tangles with burgeoning climate devastation, unchecked human avarice and folly, and an indifference to any sense of common humanity, spiritual communion, or collective ecological destiny. Like many before him,
I have long felt a powerful draw to the old spirituals… An unlikely devotee; I only rarely attended church, declared myself an atheist at the tender age of eight, and developed a strong antipathy toward Christianity when I began to understand my queerness… While I have never reconciled fully with Christianity, I have come to appreciate the Black Church and its music for their secular functions… Black folk music is one of the strongest connections between present-day Black people and our lost ancestors; strong enough, in fact, that studying it broke me of my atheism.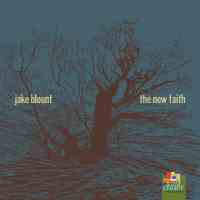 Singer, fiddler, banjoist, percussionist, scholar, and exponent of Black roots music and dance, Blount presents a searing album alive with Old Testament fury, gospel revelation, and topical prophecy, an unsentimental tale of earthly destruction, suffering, and resilience set at the end of days. Drawing upon what W.E.B. DuBois dubbed "The Sorrow Songs," Southern ring shouts, African descendants enslaved in colonial Jamaica, Gullah-Geechee tradition, the blues, and sundry Lomax field recordings, Blount shares inspiration with Black Americana revivalists including Ranky Tanky, Jaimeo Brown, Indra Rios-Moore, René Marie, Our Native Daughters, The Carolina Chocolate Drops, and many more.
The New Faith is best taken in as an operatic whole from start to finish. It opens by reimagining the Georgia Sea Islands spiritual "Take Me to the Water," from a 1966 Lomax recording of singer Bessie Jones. Over an acapella harmony arrangement of hope for baptismal redemption before a roiling climate of ruin, Blount's homily of retribution intones:
Our forefathers took without giving, took without need…
They covered the face of the ancient planet in newborn desert.
They melted ice at the ends of the earth, drowned the coast,
Emptied seas and forests of life,
Filled the very oceans with fire,
And were judged.
You see the verdict there, in yonder drowned city.
We, their children, are cursed to wander,
Deprived of land that can sustain us by our own ancestors.
But we keep the stories.
We remember what set man on the downward road.
"The Downward Road" tells all in a percussive banjo-fiddle setting drawn upon a 1930s Lomax field recording of singer Jim Williams. Blount imagines a desperate stream of climate refugees fleeing the inexorable damnation visited upon a planet driven to its material limits by insatiable capitalism and its corresponding consumer psychosis:
Now look at us, my wicked brothers
We think we're doing mighty well,
But then we come to find out
We done made up a bed in…


Children, the downward road is
Crowded, crowded, crowded
Crowded, Lord, believe it's so

With due homage to Mahalia Jackson and Sister Rosetta Tharp's seminal interpretations, Blount shapes "Didn't It Rain" as a driving antediluvian call-and-response lament of vocal harmonies, hand percussion, and slashing electric guitar, a parable of worldwide flooding catastrophes now routinely attributed to global warming. Humanity has been here before; there is no Planet B: "Well, it rained forty days, it rained forty nights/ Wasn't no land nowhere in sight." If you had to be there to believe, time is already too late.
There is more to unpack in The New Faith. Throughout, Blount brings into contemporary focus folk voices familiar to anyone versed in Black Americana and Civil Rights history, among them Fannie Lou Hamer, Vera Hall, prisoners of Louisiana's infamous Parchman Farm, and bluesmen Skip James and Blind Willie McTell.
His vision is of another country nascent within a decaying "America 'tis of Thee," that protests innocence before its own brutal racist history, able neither to see nor acknowledge the beaten yet unbroken lives of survivors who, out of their shared anguish, loss, and destitution, may yet build, if not the prophesied City Upon a Hill, the foundations of a way of life rooted in human and ecological wisdom. Blount lays out his faith plainly in "Psalms," a sermon for those who somehow, miraculously, have kept on keeping on, and may yet "[turn] their minds to the preservation of that wisdom, that their progeny might survive and know the truths of the world."
Further reading:
Ranky Tanky / Jaimeo Brown Transcendence
Jimetta Rose & The Voices of Creation
Leyla McCalla