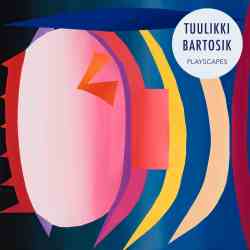 P

layscapes is the third solo album from Tuulikki Bartosik and it marks something of a departure from her earlier releases. Although the accordion remains at the centre of things she has extended the possibilities it offers by using various pedals to alter the tone and also to loop short melodic motifs, which gives many of the tracks a repetitive, minimalist quality. Bartosik also plays piano, harmonium and an Estonian zither, similar to the Finnish kantele, as well as singing on some tracks. Other instruments are played by Sander Mölder who shared with her the production of the album.

Having gained a degree in classical music in her home country of Estonia, Tuulikki Bartosik moved to Finland and then to Sweden where she became the first student to choose to study accordion at the Royal College of Music in Stockholm. The experience of moving from one place to another and the shifting sense of space this has brought her has informed Bartosik's recent work and is reflected in some of the titles on Playscapes: "Reval" (the former name of Tallin), "Helsinki," "Stockholm," "London," "Robertsfors" and "Sundbyberg" (the latter two being towns in Sweden.) Some of these places make a literal appearance here when environmental recordings made on Bartosik's travels are mixed into certain tracks. On "London," for example, we hear the sound of an Underground train braking as it reaches a station, and the voice from a station announcement.
| | | |
| --- | --- | --- |
| | | "Reval" (excerpt) |
As the album title implies, each of the tracks creates a different soundscape, an electro-acoustic mix of natural, manipulated and synthesized instrumental sounds along with found, 'unmusical' material. Part of the pleasure of listening to Playscapes, and much of it is delightful, is trying to unpack what is being presented: an accordion that doesn't sound like an accordion, a steady beat that could be electronic, but then again might just be the top of an instrument being tapped. Yet despite its experimental approach, the music remains tonal throughout and Tuulikki herself acknowledges that folk music remains at the heart of what she does:
| | | |
| --- | --- | --- |
| | | "Sundbyberg" (excerpt) |
Years ago the late Achim Bergmann, who ran the Trikont record label in Germany, used to refer to the accordion as "the people's synthesizer" and its range of tones, produced by different combinations of reeds, the use of the bellows and extended playing techniques make it one of the most versatile of acoustic instruments. Tuulikki Bartosik has clearly explored these possibilities and has taken it a step further by manipulating the instrument's natural qualities through the use of her pedals. Along with all the other sounds she has brought into the mix - and this certainly feels like a studio album, with the compositions taking form during the mix - she has used her accordion to produce a rich and varied album of modern music. Rather strangely the tracks that work less well are actually the ones where the accordion is heard recorded closely in its natural state. From being part of a mysterious ambient mix it is suddenly up front and in our face. This may have been an intended contrast, but it doesn't quite come off. Otherwise this is an innovative and commendable album with plenty of hidden depths.
Note: Playscapes is available as a limited edition vinyl LP in Sweden and Estonia only. Elsewhere it will be available digitally.
Find the artist online. Further reading:
Tuulikki Bartosik - Tempest In A Teapot
Mari Kalkun - Ilmamõtsan
Puuluup - Viimane Suusataja
Eva Väljaots - Hundinuiaõis - Bulrush Bloom