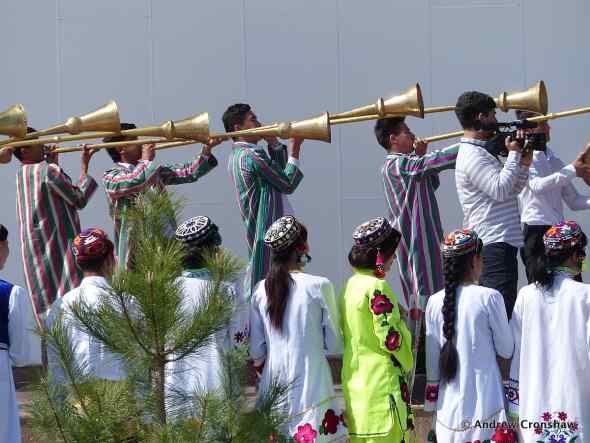 A message from Uzbek musician and animateur Husniddin Ato in Uzbekistan: "Hi Andrew, here's your invitation to the epic-storytelling festival in Termez." The attached official invite read, "I have the honour to invite you to the first Bakhshi International Art Festival, which will be held under the patronage and support of UNESCO from 5 to 10 April, 2019 in the city of Termez, Uzbekistan".
Googling found that Termez is at the southern tip of the country, on the river Amu Darya that forms the border with Afghanistan, with the extremities of Turkmenistan and Tajikistan not far west and east respectively. In fact it's pretty much at a confluence of Central Asia's -stans. Founded over 2,500 years ago, in 1220 the original city was destroyed by Genghis Khan. Under Russian rule from the end of the 19th century, Termez became a military base until the end of the Soviet-Afghan war, and Uzbekistan's independence in 1991, and today it's a fast-modernising, spread-out city.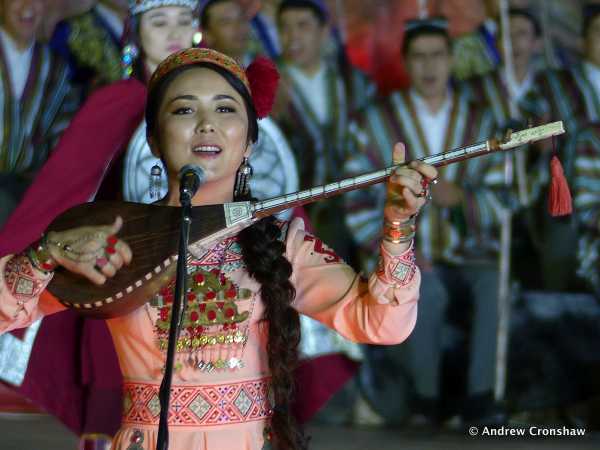 A bakhshi is a singer of epic ballads that can last, Homeric-like, for many hours or even days, self-accompanying usually on dutar, the thin-necked two-string lute. So I was prepared for small, intimate performances with – given that I don't speak Uzbek or the region's lingua franca, Russian – perhaps some periods of longueur. I couldn't have been more wrong.
I was one of the international delegates – researchers, journalists, event directors and more. For me, as one of the only two Brits, it was a flight from London to Tashkent, then a specially laid on plane to Termez for invited, be-suited ambassadors of many countries and we more informally clad delegates. Outside Termez's brand new airport we were greeted by an astonishing reception: rows of players of 2-metre brass trumpets, shawms and circular hand-drums with ring-jingles, silk-dressed damsels proffering trays of dried fruit and nuts, and TV cameras.
Buses, preceded as always by police-car escorts, took us to our various hotels in the traffic-excluded cordoned zone around the festival site. Student volunteer guide/interpreters wearing traditional hats and the festival's yellow jackets were assigned to each of us to became our enthusiastic and likeable escorts throughout our week in Termez.
The festival opening, delayed from the previous day because of rain, took place in a vast outdoor arena of flower-arrangement patterns and PA-disguising artificial rocks. Preceded by a speech from Shavkat Mirziyoyev, Uzbekistan's president since 2016 and the festival's initiator, it was a huge spectacular, based on the song-cycle "Alpomish", which involves forty epics (dostons). Compressed from the epic's several days to an hour or so, it was dramatised in a non-stop flow of songs, music and dance, fronted by leading bakhshis, with an enormous, colourfully-costumed, perfectly amplified cast of musicians and dancers. It was The large audience, of exclusively invited guests, was seated on chairs with velvet covers each bearing the festival logo embroidered in gold, the whole seating area was carpeted, and the whole thing was televised. Clearly this festival was a very big-budget event indeed.
A central part of the festival was the competition, with hefty prizes in US dollars, for bakhshis and other epic-story-song performers from the neighbouring countries and wider world, including some from Europe. These performances, over several nights with a prize-giving in the festival's closing ceremony, took place on the main arena, so the artists, solo or in small groups, on the platform in the middle of its circle were a dauntingly long way from the audience. And as only half an hour was available for each contestant, they could usually only do a part of an epic.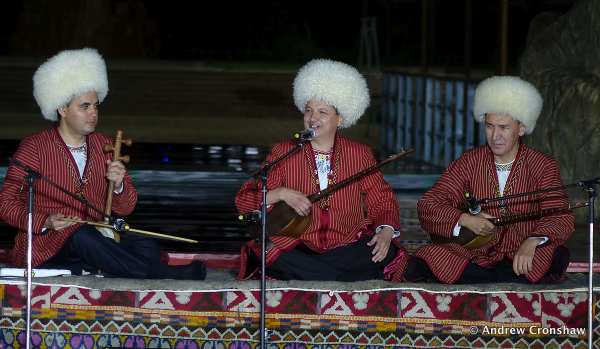 Each day in the park next to the arena there was a big assembly of craftwork stalls, yurts and other colourful constructions, and stages presenting music and dance performances by regional musicians and dancers; an abiding impression of my time in Uzbekistan was of an exuberant use of colour, and this was a delight of colours, fabrics, faces and sounds. Each of the many stages in this 'festival garden' was equipped with a high-quality PA system, though the large number of performing groups, with no sound-check time between, seems to have been a reason why some weren't mic'd but mimed, with impeccable lip-sync, to playback of themselves.
During the daytimes the international delegates gathered for a conference. There were trips out too, to historic sites on the outskirts of present-day Termez or further beyond, which was a chance to get a wider sense of the country; I missed the whole first day of the conference because the trip I was offered, to a waterfall, turned out to be a four-hour drive each way, northward from the fertile green plain around Termez, past massive sand-dunes to high mountains, snow-capped despite the pleasant April warmth of the plain and valleys.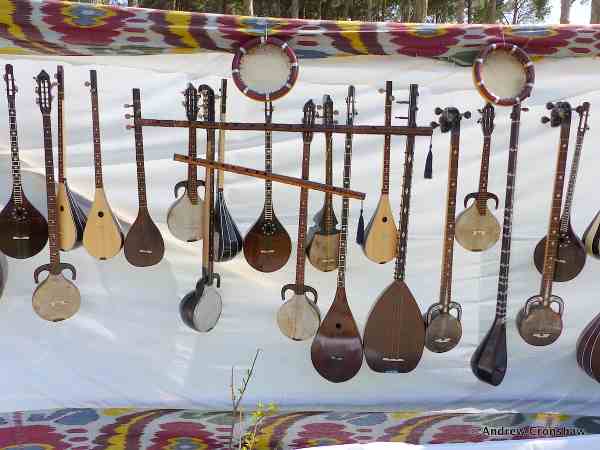 A high point for me was a completely chance one. During dinner one night, a woman at a neighbouring table delivered a few verses of a song that moved me to the verge of tears; it felt like a first hearing of a truly great singer. Very unlike the declamatory styles of the bakhshis, her quiet control, and the pentatonic melody, sounded like a dream of the greatest Scottish Gaelic singing. I rushed over to thank her, and arranged to meet and talk to her later at the hotel. (Thanks to Jarmila Vlcková for the Russian-English translating, neither of them her native tongue).
Nafisa Tulybaeva

acc. on kurai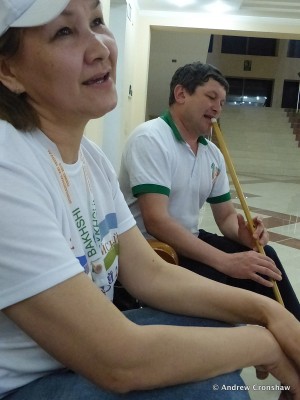 She's Nafisa Tulybaeva, a Bashkir with a traditional music background who is director of Bashkortostan's national centre for folk art in Ufa. She told us the Bashkirs have a very much living song tradition; singing is a normal part of life, and some epics last several days. She sang the restaurant song again; it's part of a ballad about two friends hunting a fox, and the one accidentally shooting the other. Hearing her singing, her Bashkir colleague Ilgam Baybuldin, second-prize winner in the competition, emerged in hotel slippers from his room and accompanied her on kurai, the Bashkir form of end-blown flute (played, as the ney in Iran, the lovely breathy way with the edge between the front teeth), in a glorious soaring duet in a very different, wide-pitch-range song-style. We were joined by a fascinated young Japanese traditional flautist, to whom Ilgam demonstrated the difficult embouchure. He produced from his bag a hollow stem of the umbelliferous plant pleurospermum uralense from which a quray is traditionally made, and there and then cut it into an instrument, measuring the hole distances with his fingers (and only slightly daunted when his knife slipped and drew blood). He gave it to his delighted new pupil, later following with a gift of one of his own wooden qurays. Ain't international communication grand? - Andrew Cronshaw
A video of the above audio is on Andrew's Facebook
Visit the festival's web site.
All photos ©2019 Andrew Cronshaw
© 2019 RootsWorld. No reproduction of any part of this page or its associated files is permitted without express written permission.