Anima
Espiral do Tempo
Especiarias
both titles MCD/Sony Brazil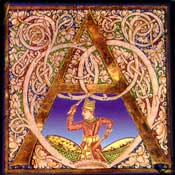 The seven-piece Brazilian consort Anima have been compelled to remember and honor the tattered maps of ancient music while tracing new easements between its many fragmented roads where none were theorized to exist before. They do this by playing an eclectic but appropriate mixture of European early music and an orally-transmitted traditional Brazilian music, side by side. In so doing they have dreamed a landscape only possible today. This soundworld maintains astonishing integrity and cohesion by preserving the instrumentation that performs both. The splendidly selected 'organ' that does this includes Brazilian rabecas (fiddles), the 10-string Brazilian guitar, hand drums from Arabia, an 18th century German-copied harpsichord and Baroque & Renaissance recorders plus feminine Portuguese vocals. With plangent, sun-toned timbres and virtuoso faculty Anima effortlessly blend the rustic with pinnacle refinement. The repertoire has uncommon depth and range, from original homage by the group's fiddler Jose Eduardo ("Ze") Gramani to retooled pieces by 12th-16th century figures like Peire Cardenal, Guillaume de Machaut or Martin Codax, minus any authenticity fuss, to popular domain discoveries from living Brazilian folk.

Espiral do Tempo ("Spiral of Time") leans closer to the side of earnest early music recital while Especiarias ("Spices") has a more hybridized feel with fewer early European selections conveyed through a distinctly Brazilian filter. While the former presents generally slower tempi and formality, the latter is overall faster-metered and more impassioned. The late Ze Gramani was an apparently large influence on the group's sonic character up until his passing, prior to the recording of Especiarias which features the surviving six members. The new sextet has freed itself entirely from the very idea of "musicological value" and uses early music material as a mere element in their bold syllabus.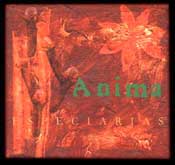 Indeed, on Especiarias, the group occasionally combines European compositions and Brazilian folk melodies in the same track as a suite. The contributing performances on each are all notable but especially those of rhythmatist J.C. Dalgalarrondo and vocalist Isa Taube; the former for his mercurial technique and superb tone, Taube for her unique approach to the pitches. From "Spiral of Time" to "Spices," we see a natural progression from old classic recipes to new innovative ones, from the faded and burnished to the vividly-colored, from a familiar but dusty echo of the past to a unique contemporary voice. Out of each, the music of then and now, Anima have identified a common vitality and directness, which, among their many gifts, may be the most significant of all.

If all this were not sublime in itself, engineer Plinio Hessel immerses the listener in true binaural (spaced microphone pair) recordings; first, from the Benedictine Monastery in Vinhulo, S�o Paolo of natural, crystalline, and deep ambience, and second, from the less dynamic but still quite good sounding Alfa Theatre. These CDs include 40-page & 60-page book-bound sleeves respectively, and come littered with essays, notes, photos and art. Both represent a satisfyingly novel listening experience by classical or world music standards. Anima is a rare, breathing case of colorful, connecting ideas that fearlessly evolve. - Steve Taylor

Songs in Real Audio:
"Deodora" from Espiral do Tempo
"Craiao" from Especiarias
Audio (c)2000 Anima and used by permission

Comment on this music or the web site.
Write a Letter to the Editor