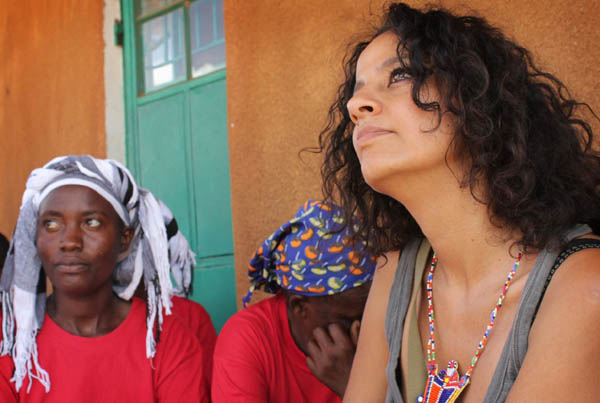 Saba Anglana
Ye Katama Hod (The Belly of the City)
Felmay (www.felmay.it)
| | |
| --- | --- |
| | "Zaraaf" |
Cultural hybridity "gives rise to something different, something new and unrecognizable, a new area of meaning and representation," according to literary critic and postcolonial theorist Homi K. Bbabha. Saba Anglana, born in Somalia to an Ethiopian mother and an Italian father, is a living embodiment of Bbabha's concept. Since the 2008 release of Jidka (The Line), her first album, the 45-year-old singer and songwriter has articulated and refined a self-described "italoafricana" cultural identity that indeed is something new and, as her fourth and latest release attests, powerful and compelling.

Ye Katama Hod (The Belly of the City), recorded in Turin and Addis Ababa, with Italian and African musicians, comprises nine tracks written by Anglana and her producer, arranger, and band member Fabio Barovero. The songs are based in Ethiopian pentatonic scales (modes with five notes per octave) and the lyrics are in Amharic (Ethiopian) and Somali, and, on one track ("Zarraf"), English. But the instrumentation is (mostly) "Western" —acoustic double-bass, violin and viola, guitar, drum kit, and Barovero's accordion, which hints of southern Italian folk music and southern Louisiana's zydeco.

Anglana, born in Mogadishu, Somalia's capital, went into exile with her parents when she was a child; the Siad Barre regime regarded her father, a former Italian military commander and colonial administrator who had remained in Somalia after World War II, as a possible spy. Raised in Italy, she studied at La Sapienza University in Rome, receiving a degree in art history, and, in the early 90s, embarked on an acting career in television. But she retained a connection to her African roots, visiting her mother's relatives in Ethiopia and studying the Somali language. She put aside acting to concentrate on music, recording the albums Jidka, Biyo (2010) and Life Changanyisha (2012).
| | |
| --- | --- |
| | "Tariken" (excerpt) |
Like Anglana's previous releases, Ye Katama Hod has a theme: urban life. As the CD notes explain, the "belly" of a city is "the place where all transformations occur most authentically." But "belly" is not synonymous with a city's center; rather, it is the part that "contains the visceral aspect of its existence, such as in its ghettoes, its suburbs, its most vulnerable groups. There, as well, the disease of the city shows up, and from there its discomforts, its contradictions, its sufferings are taking form, catalyzing big historic and social changes." On her new album, Anglana has one particular city in mind: Addis Ababa, "a place of great musical production and tenacious Ethiopization of foreign influences by constant references to the traditional structure of pentatonic scales." By composing songs in those scales but performing them on Western instruments, Anglana aims to create a "balanced" structure between cultures, an "intimate personal soundtrack for this global era of deep changes." Her method also reverses the familiar paradigm of cultural exchange in which the West appropriates aspects of non-Western cultures for its own ends.
| | |
| --- | --- |
| | "Tizita" (excerpt) |
With every selection composed in Ethiopian modes like the anchihoye, the tizita and the ambassel, the album has a sonic unity, as well as a consistent emotional valence (mostly moody, even somber). The modes impose some limitations, and a lesser singer than Anglana might have been hemmed in by them. But she never is. Anglana has a voice of remarkable range, flexibility, and emotional potency; her style, though rooted in Ethiopia, also incorporates blues and jazz. She can go from a low, sultry moan to upper-register bird cries and ululations that might remind you of an avant-gardist like Yoko Ono. Anglana, in short, is a superb singer, and in Fabio Baravero, she has an ideal collaborator. Baravero's arrangements foreground his accordion and Federico Marchesano's double bass (on every track), with brief but well-placed flourishes from violin, electric guitar, piano, and two Ethiopian instruments, the krar, a type of lyre, and the single-string masingo. Mattia Barbieri's drumming, on six of the nine tracks, always is finely calibrated, propulsive when needed ("Zarraf"), elsewhere a steady but unobtrusive pulse.

"Gabriel" (excerpt)

"Abebech" (excerpt)

Most of Anglana's lyrics express painful emotions, born from the dislocations of war and exile and the stresses of life in metropolises undergoing the rapid and disorienting transformations of globalization. The dominant mood is one of sorrow and alienation, and of pain that is social in origin but felt in the body (the women of "Gabriel" and "Ma Celin Karo" somatize their suffering in their bellies). Nostalgia provides some comfort ("Tizita"), cultural tradition some consolation, even joy ("Roob"). And though despair is present and acknowledged, there also is resistance and resilience (the upbeat "Zarraf," one the album's best tracks). The "belly of the city" may be beset by ills (social, psychological, political) but Saba Anglana's thrilling music, like the blues, anatomizes suffering but doesn't become mired in it. Ye Katama Hod is a pleasure to experience. - George de Stefano
The artist online: www.sabaanglana.com
Ye Ketama Hod is RootsWorld's Music of the Month selection for March, 2016.
© 2016 RootsWorld. No reproduction of any part of this page or its associated files is permitted without express written permission.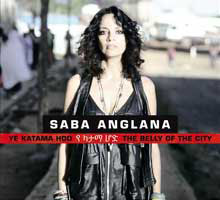 Make a one time contribution of 21.00 (postage included) and get the album.