Various Artists
Violin, Sing the Blues for Me: African-American Fiddlers 1926-1949
Old Hat (www.oldhatrecords.com)
Various Artists
The Classic Louisiana Recordings: Cajun and Creole Music 1934/1937, Vols. I-II
Rounder (www.rounder.com)
Various Artists
Deep River of Song: Mississippi: Saints and Sinners from before Blues and Gospel
Rounder
Various Artists
Deep River of Song: Mississippi: The Blues Lineage
Rounder
Various Artists
The Library of Congress Archive of Folk Culture: Negro Work Songs and Calls
Rounder
Lead Belly
Bridging Lead Belly
Rounder
Dr. John
Medical School: The Early Sessions of Mac "Dr. John" Rebennack
Music Club (www.musicclub.com)
In the early days of recording, African American string band music, rooted in the plantation culture of the antebellum south, never garnered the same attention as the blues. But if the industry sought to commercially exploit the popularity of the blues, recordists could hardly ignore the artistic vitality of black fiddlers and string bands. Now, thanks to an avid cadre of 78 collectors, Violin Sing the Blues for Me offers two dozen examples of an underrepresented but influential genre. Included are blues, rags, stomps, ballads and waltzes from Lonnie Johnson (better known as a guitarist, he was also a nimble fiddler, as the title track reveals), Louie Bluie, Bo Chatmon, Henry "Son" Sims (an early Muddy Waters collaborator) and Charlie Patton, Will Batts and Frank Stokes, Lonnie Chatmon and Walter Vinson (the Mississippi Sheiks), Leroy Pickett and Cow Cow Davenport, "Peg Leg" Howell and His Gang, "Dad" Tracy (on one-string violin) and Big Joe Williams (his classic, "Baby, Please Don't Go"), the Booker Orchestra, and the Memphis Jug Band. This thoroughly engaging, generously documented compilation, with many rare illustrations and historic photographs, is an essential title for diehard aficionados and newcomers to blues roots.
The Classic Louisiana Recordings: Cajun and Creole Music explores the documentary work of John Lomax and Alan Lomax in Louisiana in the 1930s and the 1980s. Volume I offers 1930s African-European fiddle and accordion-accompanied blues, waltzes and two-steps, and testifies to the music's early crossover power, given that the musicians are white Cajuns playing what is often essentially black Creole music. Volume I also presents several previously unreleased examples of the plaintive Cajun a cappella balladry of Julian Hoffpauir and his three daughters, and Hoffpauir tracks originally appearing in the historic Library of Congress series. Volume II offers a dozen more Cajun ballads, laments and drinking songs, and ten early examples of zydeco (indeed, the first-known recordings, which include a socio-linguistic clue to the origin of the term itself), the spiritually rooted juré (related to the African and Caribbean American ring shout) and Creole blues. If the Lomax duo underplayed the more popular emergent genres of the 1930s, musicians and music scholars today can thank them for documenting the oldest forms, which now represent a vital source of inspiration for contemporary Louisiana roots-influenced music.
Deep River of Song: Mississippi: Saints and Sinners (recorded 1933-1942) offers one example of African American fiddle, blind Sid Hemphill's "Hog Hunt," embellished with a rollicking mix of vocal sound effects. (Black Appalachia, another series title, presents several more examples of Hemphill's fiddling, along with two tracks each by fiddlers Blind Pete and John Lusk.) Other highlights include the ragtime styling of Clarksdale red-light-district pianist Thomas "Jaybird" Jones, and several prison songs from the notorious Parchman Penitentiary. Closing the album, nine tracks from the Mt. Ararat Missionary Baptist Church include an interview with Rev. C.H. Savage on the roots of shouting songs, a conversion testimony and seven sanctified shouts, spirituals and jubilee tunes, one a church-rocking version of the well-known "If I Had My Way, I'd Tear the Building Down."
Alan Lomax selected the preceding tracks to illustrate the musical foundations of gospel and blues. The companion volume, Deep River of Song: Mississippi: The Blues Lineage (1936-1942), comprises early recordings of Son House ("County Farm Blues," "The Jinx Blues," and "Walking Blues"), and the earliest of Lomax discoveries Muddy Waters ("I Be Bound to Write You," "You Gonna Miss Me When I'm Gone") and David "Honeyboy" Edwards ("Wind Howlin' Blues"). These artists would help to define the classic Delta blues, of course, but also presented are equally talented if lesser-known bluesmen Frank Evans, Willie Ford, Lucious Curtis and William (not to be confused with Willie) Brown. Curtis and Brown were never recorded before or since, but William Brown's "Mississippi Blues" remains a classic challenge for serious guitar pickers. The compilation represents an early effort to trace a Delta blues lineage that extends from Charlie Patton and Son House to Robert Johnson, Muddy Waters and "Honeyboy" Edwards. It also shows stylistic connections with such key artists as Big Bill Broonzy, Bo Carter, Sleepy John Estes, Blind Lemon Jefferson, Blind Willie Johnson, Tommy Johnson, Buddy Moss, Eugene Powell, Henry "Son" Sims, Big Joe Williams and Sonny Boy Williamson. If you missed the original, this is essential.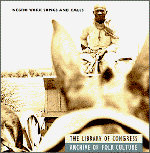 Negro Work Songs and Calls continues Rounder's Library of Congress Archive of Folk Song reissue series. These field recordings (1933-1940), edited by Alan Lomax and B.A. Botkin, present the a cappella songs of African American working men. These are the raw, rhythmic call-and-response blues, rags and hollers of railroad workers, levee builders, riverboat deck hands, cotton pickers, wood cutters and hunters of the plantation south, along with an exemplary Bahamian boat-launching song (cf. Lomax's Deep River of Song: Bahamas 1935). Eight of the 19 tracks are prison songs from Texas, Arkansas, Mississippi, Tennessee and Virginia, including the classics "Go Down, Old Hannah," "Lining Track" and Kelly Pace's original "Rock Island Line" (cf. Lomax's Prison Songs Vols. 1-2).
A half century after Huddue Ledbetter's death, Bridging Lead Belly comprises 17 newly unearthed sides recorded in New York (a 1938 BBC studio effort) and Salt Lake City (live, 1946), all first-time releases. It offers two new examples of "Good Night, Irene," along with such Lead Belly classics as "Boll Weevil," "(Baby) Take a Whiff on Me," "St. Louis Blues" (thought by some to be a tribute to jazz pianist Mary Lou Williams), "Frankie and Albert" and "Governor O.K. Allen" (a.k.a. "Angola Blues," the song that won his release from the Louisiana state prison system in 1933). The 1938 tracks mark the end of Lead Belly's time as a busker in the South, as his career assumed the national perspective conditioned by radio appearances, studio sessions, and his many club, college campus and concert hall dates. The album brackets the most prolific period of his career, as the Salt Lake City tracks were logged just three years before his death in December 1949. The album also includes the only recorded examples of Lead Belly's little-known yodeling talents (e.g., "I'm Goin' Mother"), reflecting the popular countrified influence of Gene Autry and Jimmie Rodgers on singers of the era.

Another Louisiana native son, Malcolm John Rebennack, Jr. was immersed in Crescent City musical culture from the get go, as Medical School reveals. Various family members played piano, while his father ran a record shop, serviced jukeboxes and repaired sound systems in local clubs. Mac started lessons at age seven with Fats Domino's guitarist, and he dropped out of high school to write and make music full time, quickly carving out a name as a sessions musician. Still a teen, in 1957 he signed on as a producer, songwriter and musician with Ace Records, a wide-open R&B training ground in a city whose musical influences defy easy categorization. From that freewheeling era, this album offers eighteen tracks in which Mac had a hand, several featuring the gris-gris doctor's own early work as a singer, guitarist and pianist, in a fascinating glimpse of a New Orleans great in his formative period. - Michael Stone
---