Manu Gojenola Onaindia
Albokaren Alde Batzuk - Some aspects of the alboka (Book)
Herri Musika Bilduma (2004; ISBN: 84-88917-13-9)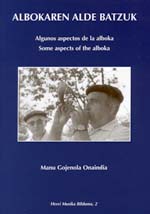 The alboka, a hornpipe with two single reeds and two pipes, is one of three musical instruments considered purely Basque. Along with the txistu (a flute) and the dultzaina (a shawm), the alboka's origins are in the rural countryside of Euskal Herria, the Basque country.
This new trilingual book by Basque writer Onaindia is about 350 pages altogether. The original Basque text is followed by a Spanish translation and then by the English, so it is accessible to a wide audience. The English translation is a touch awkward at times but does not impede understanding.
Written for folklorists with a specific interest in Basque instruments, this book presents some recent history of the alboka, where it has been played in recent years, the lives of famous albokaris, and how the alboka has been incorporated into modern music.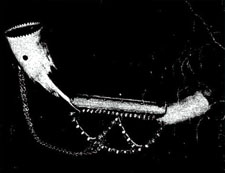 We read that the alboka comes from the more mountainous areas of Biscaia and Gipuzkoa, including the Arratia valley south of Bilbao (villages of Artea, Lemoa, Zeanuri and area), and the Goerri, above Tolosa. The alboka was played at local dances, and wherever rural people gathered. The first reference to the alboka is 1443, when it was reportedly played with other instruments at Mondragon (Arrasate).
In the 1920s it was possible to write of the supposed "last alboka player" in a news article, but in recent years the instrument has regained popularity. Leon Bilbao (1916-90) and Silbestre Elezkano "Txilibrin" (1912-2003) were the most famous albokaris in the twentieth century. These men were not only great players, they also made the albokas themselves from the horns of a cow or ox, with the yoke made from local wood. Both were members of families with a long tradition of connection with the alboka.
In recent years, Ibon Koteron has become the leading Basque alboka player, but there are many others such as Josu Salbide (Oskorri), who continue the tradition. The book is full of reminiscences of the older players, and has an excellent bibliography on the alboka, including mass media references. - David Cox