W

hile Albaluna hail from Portugal, and Els Berros de la Cort from Catalonia in northeastern Spain, both bands share a similar philosophy towards music-making. Albaluna began a decade ago, with research into medieval instruments, tunes and songs from Portugal; in essence, the group were initiates into historical re-enactment. Fifteen years ago, Els Berros de la Cort also rooted themselves in arcane musical instrumentation and medieval street theater. Both bands have evolved in remarkable ways.

Which brings us to 'metal'/rock music. I would not describe either band as a 'metal' band (although, in this latest iteration of Albaluna, the band leans on a lot of electricity), but rather as groups informed by how rock dynamics can be applied to acoustic, medieval instrumentation. We are faced with two paths…First, the brand of folk-rock that has seen ethnic instruments express a form of nationalism by drinking at the wellspring of folk song (i.e., Finland's Korpiklaani, Japan's Wagakki Band, Estonia's Metsatöll), or fantasy (Switzerland's Celtic/Gaulish influenced Eluveitie). A hint of approaching or impending battle licks around the heels of many such bands. The second path is that of a group such as Germany's Corvus Corax, or In Extremo: a sound built around medieval music, particularly bagpipes and other wind instruments, undergird with percussion. While Corvus Corax often takes a mostly acoustic approach and the racks of percussion instruments can rival Japan's Kodo drummers, they have also dipped into rock, metal music and electronica; In Extremo, on the other hand, are mostly a metal band with medieval trimmings. Albaluna and Els Berros de la Cort remind me very much of the DiY ethos of the German medieval metal scene – with Els Berros de la Cort's sound especially being a direct descendent of Corvus Corax's experimentation.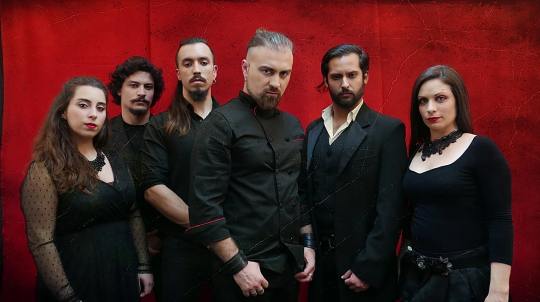 Albaluna's Amor, Ira & Desgosta (Love, Wrath, & Grief) immediately impresses with its album cover – thin statues foregrounded against a stark landscape. The artwork brings to mind a form of paganism, tinged with modernism. In fact, the title track of the album wears its metal influence clearly – brief spoken-word; a bottom-heavy groove; crashing percussion. But something different is also clearly afoot, as while the vocals occasionally veer towards screaming (thankfully, not the 'cookie monster' vocals of black metal), the song itself is very melodic. And the percussive foundation is based on ethnic rhythms as well as rock; a break emerges in the song, whereby the hurdy-gurdy and the percussion take center stage, before returning to some growling bass work. One way to characterize Albaluna's direction on this album would be a form of prog-rock-folk fusion, with a metal/gothic sensibility.
| | |
| --- | --- |
| | |
What is really striking about Amor, Ira & Desgosta are the several strong instrumental tracks that grace the program. "Cascata Trofica" once again lets the hurdy-gurdy take the lead. And there are plenty of nods towards Turkish and Mediterranean music: "Kizim Icin," "Udan," Hajduk," and "Katabasis Zeybek" show a band ready to wield its world music chops and, again, progressive rock metal inspiration.
The lovely "Chiaroscuro" and "Penedo da Saudade" nod more explicitly towards the band's Portuguese heritage, the 'light and dark' of the Italian term 'chiaroscuro' fitting the element of the Portuguese culture infatuated with fado music. Altogether, Albaluna have crafted a surprising album that does not need a single electric guitar to make its metal-plated soul heard.
*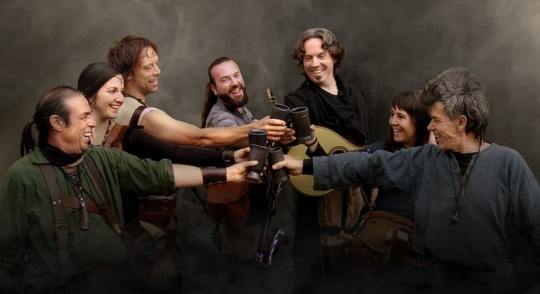 Els Berros de la Cort's Torb is a different beast. As with Albaluna, an arsenal of unique instruments is on display. The Catalonian group builds a massive wall of sound reminiscent not only of Corvus Corax, but also occasionally that of Blowzabella. The band thunders and crashes through all of their original compositions for this album; the word 'torb' means 'blizzard' in Catalonian, and one can get buried under the layers of sound on display.
| | | |
| --- | --- | --- |
| | | "Jazzri" |
The opening track "Jazri" sets up a taste of what is to come: dulcimer strings peel out, and there is a ringing that persists through the bell-like rhythm section. Hurdy-gurdy, too, gets the tune going, and then the wind instruments kick in with a forceful, strident rhythm. It's a terrific maelstrom, pinned down by a snapping snare and a deep clarinet tone. "Torb" itself is a fascinating piece, the wind instruments practically climbing over each other at times, and space left for the hurdy-gurdy to navigate through the heart of the composition.
| | | |
| --- | --- | --- |
| | | "Torb" (excerpt) |
Els Berros de la Cort appear comfortable with forging pan-ethnic soundscapes that take in Mediterranean, Middle Eastern, and even Indian influences. "Jamazin" manages to bring all of these diverse landscapes together in a track laden with exoticism. "Hàlit" is also thrilling, its extraordinarily catchy melody evoking a host of places and then opening up to let the percussion rain in, the band sounding like some long-lost fest-noz group run aground on a foreign shore.
| | | |
| --- | --- | --- |
| | | "Numen" (excerpt) |
"Numen" evokes the kind of prog-folk that we have explored with Albaluna, the fast bouzouki runs and wailing horns offset by a solid wooden undertone as the track builds…and builds. And so it goes, right through the whirling send-off of the closing "Simun." Heavy on punkish attitude, Torb is a breathtaking album.
Both Els Berros de la Cort and Albaluna are worthy of your attention, as they are producing music that serves to extend medieval music's language while carefully avoiding clichés. The music is exciting, with each band's gauntlet thrown: squarely in-your-face. – Lee Blackstone