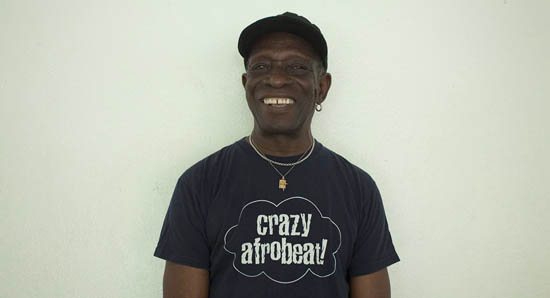 Afro-Haitian Experimental Orchestra
AHEO
Glitter Beat
| | | |
| --- | --- | --- |
| | | "Bade Zile" |
We might be able to thank failure to document this band's 2014 one-off live gig in Port-au-Prince for this stunning record. When director of the French Institute of Haiti Corinne Micaeli had the idea to get drummer and Afro-Beat inventor Tony Allen to come play La Fete de la Musique with some local Haitians, an LP wasn't necessarily what anyone initially had in mind. Percussionists from all over Haiti were brought in, as were a number of the country's top vocalists, such as Marc-Harold Pierre and Erol Josue. Mark Mulholland, a globe-trotting multi-instrumentalist hailing from Glasgow but then living in Port-au-Prince, ended up on guitar, and Olaf Hund was drafted in on keyboards and electronics. The stew of West African roots, local Haitian rhythms and voodoo chants, as well as bits of electronica, and other western elements were free to steep during a five-day rehearsal period for the gig. And it's the basic tracks from those sessions that make up the bulk of this record, which manages to spill over with grooves that, thanks as much to the players' ability as the tight reigns on production, will likely age quite well.
| | | |
| --- | --- | --- |
| | | "Salilento" |
76- year- old Tony Allen is unquestionably the record's pulse. If anything, his playing here is more dominant than it had been on his work with Fela Kuti. Anyone who has never heard him would do fine to start with this LP. Allen skates with precision, while Mulholland uncorks jagged guitar runs and Hund whizzes around on a bed of whooshes and squeaks, punctuating the beat when Allen drops out. Meanwhile the vocalists sing as if in a cloud, their phrasing determining bass runs. Here Can meets the Poly-Ritmo Orchestra's heaviest grooves with Allen steering the whole thing over waves. "Salilento" is an excellent example of this, but then so is "Chay La Lou," or "Poze." The entire affair is 21st century, multi-cultural funk of the highest order.
| | | |
| --- | --- | --- |
| | | "Poze" |
Mulholland left Haiti not long after the gig, which started late due to a tear gas grenade, and ended up in Bamako, where he connected with Glitter Beat label founder Chris Eckman, and mentioned that in lieu of a live recording, he'd re-recorded and mixed some tracks from the rehearsals, hence this LP. There are a number of logistical challenges to these musicians making this ensemble a regular thing, but the record that came together from a mixture of Haitian folktales, relentless polyrhythms, fever-dream vocals, and riffs that conjure the Sahara as much as they might Jimmy Nolan is a percolating cauldron of celebration. It's the perfect contagion. - Bruce Miller

© 2016 RootsWorld. No reproduction of any part of this page or its associated files is permitted without express written permission.