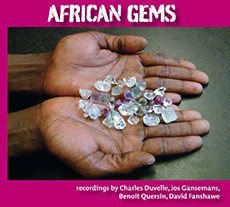 Various Artists
African Gems:
Recordings by Charles Duvelle, Jos Gansemans, Benoit Quersin, David Fanshawe
Sharp Wood Productions (www.swp-records.com)
There was a time when the best place to discover otherworldly musical sound avenues was a well-stocked public or University Library. Filed away by number, musty with disuse, were records that promised an antidote to the radio and whatever indie band was being hyped from magazine racks and record store new arrivals bins. The great ethnic labels- Folkways, Lyrichord, Nonesuch, Ocora- occupied these shelves, their covers often depicting rural peoples from West Africa to SE Asia plucking what appeared to be string and gourd instruments heretofore unknown, their titles promising ritual, guaranteeing inclusion.
For those of us who dug deep and used our library cards as a means of rescuing these sounds, if only temporarily, from neglect, the world got larger. Notions of what constituted modern, primitive, Avant, poly-rhythmic, psychedelic, or dissonant got tangled and ultimately discarded. For there was no question that a trumpet ensemble from Southern Sudan had a sense of groove as deep as anything Elvin Jones could play or Pete Rock could concoct from a stack of vinyl, a turntable and a mixer. They could ring variety from harmonizing various pitches to a degree no conservatory training could have bested. For anyone in the West with more than a passing interest in music, the recordings these labels housed dared us to hear the familiar as the odd, the seemingly strange as music your neighbor might have made. It changed everything. But who were these people? And who managed to find them, much less get them to agree to perform for the outsider with the microphone? African Gems, a compilation sourced from some of the most prolific ethno-musicological work this side of Hugh Tracey, is one answer to that question.
Percussionist and SWP label owner Michael Baird, who has not only reissued over 20 CDs of Tracey's mid-20th century recordings, but also released some of his own fantastic work along the Zambia/Zimbabwe border, Lesotho and elsewhere, has curated 73 minutes of rural Central African musical hypnosis. From ensembles to duets to one solo piece, this collection is as varied as it is stellar, and it does a fantastic job of reminding listeners of the work Duvelle, Gansemans, Quersin and Fanshawe did.
In fact, Fanshawe, whose name adorned a number of Nonesuch LPs, as well as many film scores, is represented here by a single amazing track, featuring an Alur horn ensemble from Uganda. Similar to the ensemble mentioned above from Sudan, this track is 6 plus minutes of intense, festive trance, with players positioned in a particular order to achieve harmony on single-note instruments.
"Alur horns"
And then there is Charles Duvelle's work in the Central African Republic and Chad. Duvelle, who founded Ocora's ethnic music series of LPs, managed to record sounds unlike anything ever heard before. "Sirlehe" recorded in Daoua, Chad circa 1966, is a harvest ritual tune performed by a 10-piece horn ensemble. To anyone whose ears have been attuned to the purposeful oddities found on the Ultra Eczema label or from members of the LA Free Music Society, one could be fooled into believing this was intentional experimentation by Westerners making a social statement. Yet, its hardcore, forever modern call and response, and slightly warped execution are nothing of the sort. This may be among the most unusual tracks to come from the African continent.
"Sirlehe"
Finally, we get "Eshidi," recorded in the Democratic Republic of Congo in 1975 by Benoit Quersin. For 14 minutes Okonda Olonge accompanies himself on a homemade guitar while his accompanist plays a soda bottle and provides call and response vocals, as they weave a tale of a man who was ostracized from a community for murdering his wife. It is at once playful, nimble and deeply hypnotic.
"Eshidi"
Elsewhere, there are further horn ensembles, xylophone players and drummers, making this collection a belated gateway into modern, stereo recordings of what is easily some of the best traditional sub-Saharan African music ever put on tape. While it alone doesn't replace the riches once found in library vinyl bins, it's a fantastically distilled aural glimpse of why categories, hype or concerns with what may be hip at any given time are truly useless. It's the love of music itself that ultimately matters. - Bruce Miller
Read more about African field recordings of the past in a series of articles about the Hugh Tracey archives.
Some Sharp Wood recordings are available by special order from www.cdRoots.com
© 2014 RootsWorld. No reproduction of any part of this page or its associated files is permitted without express written permission.