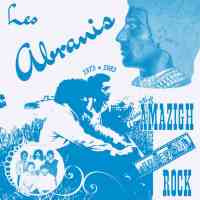 A
quick video search for "Les Abranis" reveals a
dailymotion
clip showing a fairly typical-for-the times rock quartet of bass, guitar, organ, bass, and drums, hair and beards coiffed, jackets blindingly shiny, playing what were then their latest records, "El Mossika" and "Athedjaladde." The performances, which appear to be taken from an unknown television program where the group lip synced, also feature scantily clad women swiveling and grinding behind them with a number of crotch and ass close-ups. The effect is incredibly dated and cheesy, and reeks of the type of thing one might have seen on an episode of
Laugh In
five years earlier in the US. So a bit of context would help.
Les Abranis were made up of Kabyle Berber French Algerians, featuring two members, Shamy El Baz and Karim Abdenour, who met in Paris in the 1960s and bonded over a mutual love of rock and roll. So when they left France to play in the 1973 Algiers-based Festival of Modern Algerian Song (FMAS), they shocked the conservative country's television and live audience by cranking out some seriously primitive garage-based rock antics and, more crucially, by singing in their native Kabyle, identifying themselves as belonging to a group that the Algerian government had discriminated heavily against since the country's 1962 independence from France. So that TV appearance mentioned above shows a group that pushed at the boundaries of what Algerian music was at the time, and used their love of everything from Fela to James Brown to Hendrix, as well as their membership of a cosmopolitan North African diaspora in Paris to record music that still seems radical.
And in the wake of the current attention being paid to North Africa's musical influence on both France and Algeria, the timing is perfect for bringing Les Abranis some belated attention. This collection spans the band's decade of recordings, and demonstrates their effortless ability to tap into music that has connections to disco, garage rock, and reggae without ever hardening into any of it. In fact, the best tracks here show a band creating sounds that chipped away at the edges of any given style.
When "Chenar Le Blues" first appeared in 1977, it must have melted brains. It's still a musical UFO today. With its stop/start organ and guitar riffs and a bass line that tries to hijack the tempo, as well as vocal lines that trash the groove altogether, literally stopping the music periodically, it would have blown the members of Pere Ubu's minds had they had access to it when it came out. There is no precedent for it and nothing else quite like it now.
But then there's "Thilelli," a track driven by a primitive drum machine, wah-wah and acoustic guitar chords, and a keyboard line that might have made Irmin Schmidt blush. The track seems perhaps more otherworldly now than it did some 42 years ago, when it first appeared.
Elsewhere, the collection features dubbed-out bass-driven madness ("Akoudar") and reggae-like pulse kidnapped for ulterior purposes ("Avehri"). Some of it most certainly sounds dated, especially mullet-and-head-band 1980s-era tracks such as "Id Ed Was," but even this tune becomes a hypnotic dance track given a minute or so. After a decade of chaotic touring, personnel changes and Algerian Rai replacing the more experimental pop from the previous decade, Les Albranis called it a day, a 1993 reunion LP notwithstanding. But what they left behind clearly shows a band inventing tributaries for North African music to follow for years to come.