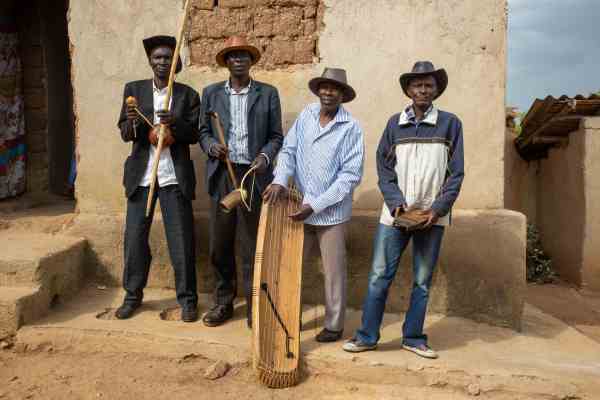 Ababeramuco Ensemble
Made in Gatagara
Antonovka Records
Review by Mike Adcock
Rwanda has a rich musical heritage but one which is less widely know than those of some other African countries. One notable exception has been the music of Adrien Kazigira and his band The Good Ones who play acoustically but in a contemporary style with guitar, percussion and vocals. Ababeramuco's album Made in Gatagara has a much closer connection with the traditional music of Rwanda, both musically and in the instruments used, the band's name translating as "The Traditionalists." There are four musicians: Gerard Rusatsi on the umuduri, a one-string bow played with sticks; Silvain Mutabaruks plays the iningiri, a one-string fiddle; Jean Marie Vianey, the inanga, a type of zither and Godefroid Ayirwanda, who plays a lamellophone known in Rwanda as an ikembe. All four contribute vocals and several tracks also feature unspecified percussion. Gatagara, named in the album title, is the village in whose neighborhood the four musicians live and play together.
The tracks are presented in two sections, the first half featuring ensemble pieces, the second with mainly solo performances, a somewhat unusual way of doing things but it actually works. The group tracks typically have a main vocalist delivering in a proclamatory style, sometimes more fast talking than singing, interspersed with ensemble responses, with instrumental combinations which vary from track to track. "Umuhigo" ("Hunting") has an insistent riff playing while a two-way vocal interaction takes place subsequently joined by a repeated vocal line supplied by the other two musicians.
"Nyiramajamiro", a song about a girl to whom the title refers, has more restrained call and response vocals with instrumental accompaniment provided by the zither and one-string fiddle plus percussion.
The fine ikembe (lamellophone) playing of Godefroid Ayirwanda is featured on Kiramujyanye accompanying a song apparently telling of how his loved one left in a Ford car. The ikembe plays in unison with the vocal line and then echoes it. The majority of tracks on the album have vocals but there are four instrumentals, two of them showcasing more of Ayirwanda's playing.
Another solo instrumental track here has Silvain Mutabaruks playing his iningiri, the one-string fiddle, but he also uses it to accompany himself on solo renditions of three songs. On "Agasiga" (Eagle) he plays, like Ayirwanda, in unison with his vocal.
This is a fine, well-recorded collection of Rwandan rural music with plenty of variety between tracks, both instrumentally and vocally. And just when you think you've learned what to expect from the singing, the final track, "Bigabo bya Njyanama Bigabo" (Bigabo son of Njyanama) is delivered with a sort of growled whisper by Jean Marie Vianey accompanying himself on the inanga zither.
Further reading:
The Good Ones - Rwanda, You Should Be Loved
Iyakaremye & Iyamuremye - Umuduri & Ikinyuguri: Songs from Rwanda
Staffsergent Justin - Rya Joro: Unforgettable Night: Music in memory
"Minorities But Not Minor!" - An interview with Antonovka Records' Anton Apostol
Here's a live performance of the ensemble from a local TV production