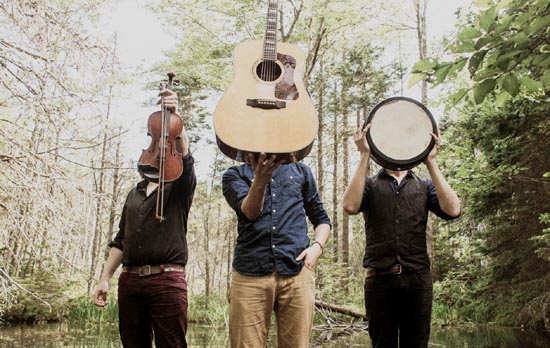 Ten Strings and a Goat Skin
Auprès du Poêle
Artist release (www.tenstringsandagoatskin.com)
Review by Paul-Emile Comeau
| | | |
| --- | --- | --- |
| | | "Shoot The Moon" (Full song) |
Ten Strings and a Goat Skin, an Acadian bilingual folk trio from Prince Edward Island, has a clever name, the band's moniker referring to a fiddle, a guitar, and a bodhràn. Although the press release and virtually all the media coverage refer to this album as the band's second there was in fact an earlier one that the musicians recorded when they were just teenagers. That self-titled debut consisted mostly of traditional material and it can best be described as promising.

By the time the band came out with Corbeau in 2013 the improvement was obvious. The album's producer, acclaimed singer-songwriter Lennie Gallant (an uncle to band members Rowen and Caleb Gallant) brought more variety and refinement to the band's sound. Although Corbeau was a big step forward the trio format still imposed limitations on the breadth of the band's sound and some of the vocal tracks, which made up half the album, were weak. However, with each passing year the band's live performances became more compelling.

The latest album, Auprès du Poêle (Around the Woodstove), was produced by Leonard Podolak (of Duhks fame) and he also shares credit for most of the arrangements with the band. The album is another leap forward in quality. In fact, one could say that the group has arrived. The band has been playing some of the best folk festivals both in North America and abroad and they've been getting good coverage in the European press.
| | | |
| --- | --- | --- |
| | | "The Ukrainian Expedition" (extract) |
Half the tracks on Auprès du Poêle are traditional but the approach is modern, albeit still acoustic. Some of the original tunes could also pass for traditional. The two Gallant brothers have now added banjo to their fiddle and bodhràn skills and Jesse Périard is an adept guitarist. Podolak also added his own banjo and vocals on four tracks and Les Poules à Colin, a young folk band from Québec, also contribute to a couple of tracks. Acadian music from Prince Edward Island often draws from the Irish and Scottish traditions and this trio is no exception.
| | | |
| --- | --- | --- |
| | | "Maluron Lurette" (extract) |
Auprès du Poêle features a good mix of instrumental medleys as well as French and English songs. They're still young and they don't fit strictly in an Acadian niche but they're already on the way to garnering the same kind of respect accorded such internationally known Acadian bands from P.E.I. as the still vital Vishtèn and the long defunct Barachois. - Paul-Emile Comeau
Find the band online: www.tenstringsandagoatskin.com
Auprès du Poêle is RootsWorld's Music of the Month selection for August, 2016.
Find out how to subscribe and get great music all year long.
© 2016 RootsWorld. No reproduction of any part of this page or its associated files is permitted without express written permission.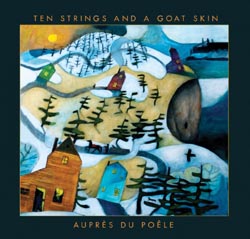 This is our Music of the Month
selection for August, 2016. Find out more and subscribe.
Make a one time contribution of 21.00 (postage included, world-wide) and get a copy of Auprès Du Poêle.