<!!!column 1>

Sign up for Music of the Month with a 20.00 monthly donation: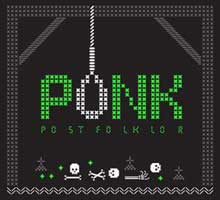 PONK
Central Europe influenced by jazz, rock, pop and rhythm and blues.
100-year-old songs with a contemporary feeling.
Old lyrics with a new groove.
Traditional instruments with a modern sound.
| | |
| --- | --- |
| | "Göding" |
Ponk's new recording brings together Czech, Slovak and Moravian folk lore with a contemporary touch. At the heart of the band is the hammered dulcimer or zither known as the cimbalom, a tool common to many eastern European traditions. But musician Eduard Tomaštík pushes the instrument into a new range of more modern sounds, carried by the vocals, bass and violin of bandmates Michal Krystýnek and Jakub Nožička. - Cliff Furnald

This CD was donated by the artist, so all proceeds go to support the magazine and radio program. We thank them for the generous support. Subscribe before February 7th and you will also get a copy of Three Cane Whale's Palimpsest, our January selection.

The band writes:
Ponk, an innovative new trio from Moravia in the Czech Republic, came together in 2013. Moravia, and especially the Czech/Slovak border region, has one of the richest living folklore traditions in Europe, with diverse dialects spoken and customs, traditional costumes, dances and musical styles that vary greatly from village to village. Postfolklor, Ponk's debut album, draws heavily on these traditional musical motifs, yet the band manage to give these traditional sounds exciting new life with their unconventional modern treatment.
"Okolo Staznice" (excerpt)

"Mezi Horama" (excerpt)

"Sibenicky" (excerpt)

"Bude Vecer" (excerpt)

"Javorove Drevo" (excerpt)
The unique texture of Ponk's music is largely down to the sound of the traditional Hungarian Cimbalom. Unlike traditional folk musicians, however, Ponk make use of the instrument's entire sonic and rhythmic potential, often producing sounds reminiscent of some strange new rock guitar. Likewise, the double bass has abandoned its traditional folk sound to follow new melodic, rhythmic and percussive paths. Ponk's overall sound is complemented by an instantly recognisable "dirty" violin sound, with intentionally non-folk, rock phrasing. Add to this, distinctive lead-vocals layered over creatively constructed harmonies and you have a unique and distinctly post-folklore sound grounded in pop, rock, blues, metal, hip hop and RnB that breaks all boundaries of the genre.
Ponk are Michal Krystýnek – vocals & violin
Eduard Tomaštík – cimbalom & vocals
Jakub Nožička - double bass & vocals.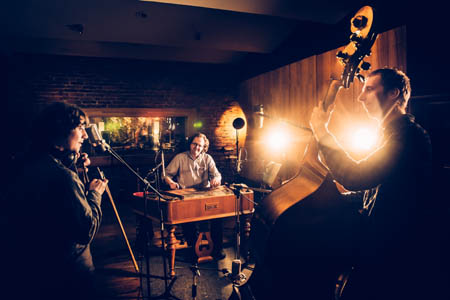 Sign up for Music of the Month with a 20.00 monthly donation (includes postage):
---
Or make a one time contribution of 21.00 (postage included) and get only Postfolklor.
---
You can also make a subscription by US check or US Postal Money Order payable to:
RootsWorld
Box 1285
New Haven, CT 06505