<!!!column 1>

Sign up for Music of the Month with a 20.00 monthly donation: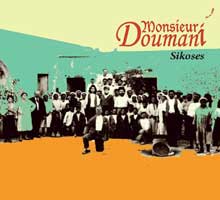 Monsieur Doumani
Sikoses (artist release)

The wonderful second release by this Cypriot trio is musically punchy and politically lyrical. A brilliant mix of acoustic folk music and modern sensibilities, peppered with musical humor. Your editor liked this band's first recording so much that we made it one of our first "Music of the Month' selections over a year ago, and their second deserves as much attention as the first, so I am please to offer it as this month's selection, for June, 2015
This CD was donated by the artists and we thank them for their generous support!.
Listen:

"Sikoses"

"The Bland"

"Black-eyed Girl"

"That's what the kitten wants"

"Gongs"

"Mandra"
The band writes:
Monsieur Doumani was formed in 2011 in Nicosia by Antonis Antoniou (tzouras), Angelos Ionas (guitar) and Demetris Yiasemides (wind instruments). Although each member of Monsieur Doumani comes from a different musical background all three are influenced by Cypriot folklore on various levels. They focus on rearranging Cypriot traditional songs adding their own particular color to the sound and feeling of the songs. They also compose their own songs in the Cypriot dialect, which are inspired by contemporary Cypriot society, as for example the recent financial crisis that hit the island and the corrupted political system.
Even though their musical education was mainly oriented towards Western musical paths, neither of them has ever ignored the simplicity, the beauty and the unique melodies of their land's traditional music. It is this uniqueness that Monsieur Doumani has focused upon, enriching traditional songs with new arrangements, melodies, rhythms and sounds and crafting a style distinctively their own. The traditional element is highlighted through the diversity of musical styles echoed in the group's fresh and daring approach to Cypriot folklore.
In March 2015, Monsieur Doumani released their second full-length album, 'Sikoses', an album that consists mainly of their own compositions, inspired by tradition, but reflecting on the Cypriot contemporary society. The album was awarded 'Top of the World" in Songlines magazine issue #108 and received outstanding reviews from other media internationally.
---
Sign up for Music of the Month with a 20.00 monthly donation:
Monthly subscribers will get a bonus or two during the year.
Sign up for Music of the Month with a 20.00 monthly donation:
---
Or make a one time contribution of 25.00 (postage included) and get only this album.
---
You can also make a subscription by US check or US Postal Money Order payable to:
RootsWorld
Box 1285
New Haven, CT 06505