<!!!column 1>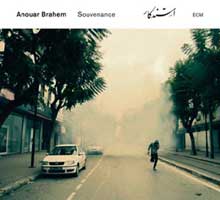 This 2 CD set was donated by
ECM
.
We thank them for their generous support of RootsWorld.
Sign up for Music of the Month with a 20.00 monthly donation:
---
Sign up for Music of the Month with a 20.00 monthly donation:
Monthly subscribers will get a bonus or two during the year.
About the recording:
The music of Souvenance, by turns graceful, hypnotic, and taut and starkly dramatic, was recorded in 2014 – six years after oud-master Anouar Brahem's last ECM album, The Astounding Eyes of Rita. "It took a long time to write this music," he acknowledges, noting that his emotional world had been usurped by the unfolding story of political upheaval sweeping first through Tunisia then through the neighbouring countries. Extraordinary waves of change, accompanied by great hopes and fears. "I don't claim a direct link between my compositions and the events taking place in Tunisia," says Anouar, "but I have been deeply affected by them." New directions for the music find Fran?ois Couturier returning to the Brahem group, frequently supported by subtle string orchestration. The strings have a glowing transparency and fragility in these pieces, often providing shimmering texture against which the contributions of the quartet members – and, above all, Anouar Brahem's unique oud-playing – stand out in bold relief. This double album was recorded at the Lugano studio in May 2014, and produced by Manfred Eicher.
About the artist:
Born in 1957 in Halfaouine, in the heart of the Medina in Tunis, Anouar Brahem was ten when he began studying the oud at the National Conservatory in Tunis, and later pursued his apprenticeship with the great master Ali Sriti.In an Arab musical environment where popular songs and crowded orchestras dominated – the oud was reserved for accompaniment – Brahem revealed his many facets in undertaking a mission to restore the oud to the status of an emblematic solo instrument in Arab music, and at the same time breaking with tradition in his work as a composer by integrating elements of jazz and other musical traditions from the Orient and the Mediterranean.In 1981 he moved to Paris for four years, where he collaborated with Maurice Béjart and composed numerous original works, notably in Tunisian films and theatre. On his return to Tunisia in 1985, he spent the next five years composing and giving concerts which established his reputation.In 1989 he met producer Manfred Eicher, who gave Brahem the opportunity to record his first album for the highly prestigious ECM label. Barzakh marked the beginning of a particularly fruitful association which, in the space of twenty years, has seen Anouar Brahem in the company of some of the world's most talented musicians, whatever the genre or tradition : Barbarose Erköse, Jan Garbarek, Dave Holland, John Surman and Richard Galliano to name only a few.
In 2014, after six years of silence on record, Anouar Brahem has recorded Souvenance (ECM), an ambitious double-album whose sound is at once a sumptuous aesthetic synthesis of 15 years of experiment in his quest for an authentic "common understanding" between Orient and Occident, and an offbeat, personal and reflective response to the events in Tunisia early in 2011.
Sign up for Music of the Month with a 20.00 monthly donation:
---
Or make a one time contribution of 25.00 (postage included) and get only the album Souvenance.
---
Make an annual subscription now and get all the 2015 CDs for 230.00 (save 10.00)


You can also make an annual subscription by US check or US Postal Money Order payable to:
RootsWorld
Box 1285
New Haven, CT 06505