African Reggae
An overview by Wayne Whitwam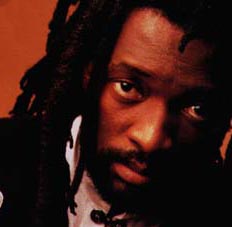 Lucky Dube

At one point when I first began preparing this article, I formulated a controversial, and dare I say, bold statement about the state of Jamaican reggae. It sucked. Reggae music, the music associated with irie feelings, dreadlocks and sunsplash, was dried up and gone, replaced by dancehall techno drivel that had no place on home stereo equipment. Unfortunately, my bold opinion has been shared others, millions of others, namely the record buying public that swallowed up Israel Vibration, The Meditations, Aswad, Burning Spear, Luciano and Michael Rose. And continues to purchase the timeless music of Bob Marley in any shape or form.

The record producing industry, through the effort of countless meetings and research consultants, began to realize that this dancehall style reggae had outlived its novelty. The reggae rap was a crazy kick for awhile. But soon the Shaba Ranks started sounding like the Nardo Ranks. Who could tell the difference? And did anyone really care?

The result of this singular realization was to produce more "roots" reggae. The results of which have burst forth onto the American market, top-quality albums from The Mystic Revealers, Luciano, Michael Rose, Kreyol Syndikat, Nadine Sutherland, and many more. The second, less expensive alternative, was to re-release classic records on CD, a slurry of which have been produced by Heartbeat, Island, Blood and Fire, all big sellers, and good returns for the investment. Unfortunately, the sound production remains very primitive compared to today's standards. The third alternative has been to license in America previously recorded material produced by African reggae artists.

Africans have been making real "roots" reggae for 20 years, and it's fantastic stuff, largely unnoticed by an international market. Reggae has always been big in Africa. But the musical genre really took off sometime after Bob Marley's concert on Zimbabwe's independence. Africans still talk about that 1980 concert in Harare, much like Americans talk about the 1964 Beatles' tour of this country. Today, reggae bands play in every region, with most of the activity in South Africa, Ivory Coast or Nigeria. Although it may seem like there is little difference in the African versus the Jamaican sound, when you listen to a lot of reggae music, the difference is considerable.

For one, reggae exported from Jamaica often identifies with the American sound. In the 1970's, Bob Marley tried desperately to capture the American R&B market. These days, Kingston artists shadow their Urban music counterparts here in the States. Slack-ness (obscenity) is the key, and the ragga (rap) style permeates into every song. Lyrics glamorize sex and violence, while the roots sound had, until recently, been left to the dinosaurs. The Jamaican studios are a highly prolific lot, but turn out more garbage than gold. This industry is primarily a singles market, with many of the "good" singles---the ones that have made it big at dancehalls---thrown together as part of collections. You have no doubt seen the CDs. The covers sport some dancehall queen, with the music on the inside produced by an electronic sequencer---often just a simple rhythm track. The DJ toasts in the raggamuffin style. And that's it. You may even hear the same rhythm track used two or three times with a different DJ.

Whereas, the Africans have carried on the tradition that was planted in Harare by Bob Marley, although it would be unfair to say that ragga has not increased in popularity. The overall result is a fresher, livelier, and innocent sound, yet embracing controversial topics, such as Alpha Blondy's "Abortion is a Crime," that one cannot help but admire their idealism. The sound identifies less with American music and more with the current trends in popular African music. For example, Côte d'Ivoire (Ivory Coast) native, Alpha Blondy incorporated West African rhythms in his album "Apartheid is Nazism," an album that launched his international career in the early 1980's. More recently, Malian native Askia Modibo,

took on a very traditional approach, melding reggae with the pentatonic music of the Wassoulou on "Wass-Reggae," released in 1995. Even the more Jamaican sound of the Nigerian band The Mandators, and later of their lead guitarist Majek Fashek (pronounced "ma-JEEK fa-SHEEK") still emotes an African ambiance. Besides better quality production, the songwriting is clearly superior.
With the obvious differences in lyrical sound and crisp production, African reggae stands out as a refreshing alternative to what has become Big Business in Kingston. - Wayne Whitwam
While many African artists have incorporated some reggae into their material, here are some reviews of some recordings by African artists who make reggae their main music. See the Reggae Pages for more.

Alpha Blondy Jerusalem
Alpha Blondy Dieu
Alpha Blondy Apartheid is Nazism
Manu Dibango Gone Clear
Lucky Dube Taxman
Majek Fashek Spirit of Love
Majek Fashek Rainmaker
Ismaël Isaac Treich Feeling
Askia Modibo Wass Reggae
Various Artists Reggae Africa (Hemisphere compilation)
Various Artists Fly African Eagle (Shanachie compilation)

See also: reggae, Caribbean, Africa
Search RootsWorld