Listen to your head,
Listen to your spirit inside,
There's a friend,
It's called melody
Hey! Mr. Music
Come dance with me.
~ From "Mizike" on Adventures in Afropea 1
Eleven years ago Zap Mama began with a handful of women's voices (Marie Daulne, Sabine Kabongo, Cécilia Kankonda, Sylvie Nawasadio, Céline 'T Hooft) layered over simple percussion instruments and the occasional woodwind. Led by Daulne's powerful, smoky voice and trademark yodel, their first recording, Adventures in Afropea 1, announced the arrival of a band of polyglot muses. True to its name, Adventures was like a playful tour on a musical lorry. It wound listeners through the lush wilderness of Central Africa, detoured through medieval Spain and the Middle East, rounding out the voyage in Cuba and South Africa. Songs like "Guzophela, "Din Din" and "Mupepe" demonstrated their ability to glide easily from Zulu to Latin to Kibudu, a language of the Pygmies.

Daulne, Kabongo and Nawasadio were the only ones from the original ensemble who returned for the follow-up, Sabslyma, adding newcomer Sally Nyolo. Sabslyma was like the preceding disc in that it was largely a cappella, but distinct in its use of Indian, Moroccan and Australian instruments and melodies.
Daulne, the group's principal songwriter, arranger, choreographer and spokesperson, put music making on hold for a few years to birth and mother her daughter Kesia. By this time she had become the lone Zap Mama, and recorded the album Seven (to which Sabine Kabongo added some background vocals) in 1997. She says she chose the title because the pygmies, with whom she feels unfaltering kinship, believe that some human beings a have seventh sense that allows them to heal others. Out of her medicine bag Zap Mama produced songs like the irresistible dance tune "Belgo Zaïroise" that was part Tabu Ley, part Bob Marley; the haunting "Nostalgie Amoreuse" and "Jogging a Tombouctou," inspired by her long stay in Northwestern Africa to absorb the sounds of the nomadic Tauregs. What was most evident on Seven was the number of songs done in English; inclusion of male musicians and vocalists and the increased number of instruments, both acoustic and electric. The Seven formula was also infused with a good dose of urban-styled punch; there were collaborations with Michael Franti of Spearhead on both "Baaba Hooker" and the remake of Phoebe Snow's "Poetry Man," and "New World" with reggae sound system legend U-Roy.

This transition would lead Daulne to move to the United States as well as collaborate with hip-hop artists The Roots and Speech on the most recent album A Ma Zone. It adds drum and bass to the ever-growing mélange and shows the way her fascination with reggae and hip-hop has fully bloomed. Daulne says, "A lot of people say to me, 'Now you do American music?' I say, 'No, I share.' These musicians created beats for us and we loved what we heard, so Zap Mama added our voices. I am very happy any time I can come together with other musicians [whom] I appreciate, who are creative and willing to share."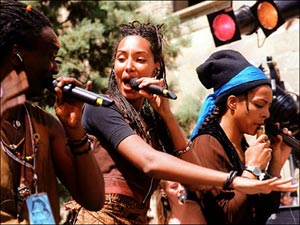 Photo:
Sitoh
Cameroonian saxophonist Manu Dibango also participated on A Ma Zone and in the past Daulne has paired her voice with MPB singer Maria Bethania and percussionist Vinx. But, don't call her a world music artist. It's too separatist. "When people say 'world music,' it's an attempt to categorize. They say 'world music' is that (gesturing right) and everything else is this (gesturing left). When I describe my music, I say I do music. Often when you sound like rock and roll or what is played on the radio you're called 'pop.' Then maybe Zap Mama should be called pop. My dream is for African groups like Femi Kuti and Positive Force and my group to be recognized in the same way that Michael Jackson and Madonna are."

If the energy they display during their live shows is any has any bearing on gaining the recognition Daulne desires, then Zap Mama is well on its way. "Whenever Zap Mama does a show something magic has to happen. All of the energy should come together to make one and explode with the audience." That weighty responsibility is in the hands of capable new recruits like Congolese guitar veteran Dizzy Mandjeku; Manou N'Guessan-Gallo, a female bass player and singer from the Ivory Coast and a host of others from Haiti, Denmark, England and Belgium. "Everybody infuses something from their own country. When I engage people in my work I am as much concerned with us sharing good thoughts and good energy as I am with their technical ability."

To understand Daulne's obsession with hybrids it helps to know something of Marie Daulne's past. She was born in Isiro, Zaire at a time just after it had attained its independence from Belgium. Simba rebels killed her Walloon father and imprisoned her Bantu mother. Marie was less than a month old and remained in the care of her mother throughout the ordeal. The Daulne's three oldest children had been deposited in the hands of pygmies who hid the youngsters in the forest until their mother was released, after which the family was airlifted to Brussels.
In the candid documentary Mizike Mama, Marie recalls that her mother sang some Zairean songs around the house but did not teach them to the children; she instead stressed mastery of French. Ironically, it was the recordings of ethnomusicologists that prompted Marie to reconnect with her roots. Because of these recordings she went to Zaire for an extended stay in 1984. This type of field research remains an important part of Zap Mama's creative process. "I go all around Africa. I started where I was born, in the forest of Zaire. After that I branched out to West Africa, South Africa, East Africa. It [is] very easy for me to learn because all African cultures seem to have something in common the music and the voices."
Regardless of what corner of the world Zap Mama turns to next, we can be sure that they will continue trying to tear down barriers with the gravity of their intentions and the force of their groove. "I am not here to fight for war," says Marie. "I am here to fight for peace. I grew up in a country where there were mostly white people and they always pointed out that I was different, that I was black. We shouldn't ignore the problems. But always shouting, 'There is a problem! There is a problem!' will not help us to arrive at a solution. I think about what I can do to bring an end to it, then I face the problem and attack it one step at a time."
---
Jené Watson is a freelance writer who lives in Atlanta.

Zap Mama Discography (includes sound samples at cdroots.com)
Adventures in Afropea
A Ma Zone
Seven
Sabsylma