"I've heard that Miles Davis would only be upset with his musicians when they played it safe and didn't try something new—something you don't often hear while working within traditional Japanese music! For this album, I wanted the sound of the music to be Japanese, but the rhythms and compositional structures and heavy use of improvisation to come from a very non-Japanese place." - Kaoru Watanabe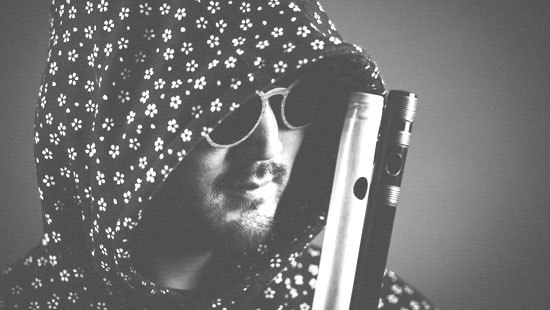 "Prism" (excerpt)


"Together Alone" (excerpt)

"Bloodlines" (excerpt)
Born in St. Louis and now based in Brooklyn, multi-instrumentalist Kaoru Watanabe is a percussionist and virtuoso of the shinobue, a Japanese transverse bamboo flute associated with secular and sacred activities alike. Watanabe blends its antique sound across a canvas primed with jazz, in which he was trained at the Manhattan School of Music. All the more remarkable, then, that he should have stumbled upon the music of his Japanese heritage later in life. After earning his degree in flute and saxophone, he would join the internationally renowned taiko ensemble Kodo, with whom he lived and played in Japan from 1997 to 2007. Over the course of that decade, he brought his bi-continental interests together into a sound that was nonetheless far apart from Kodo, and on Néo he renders his most expressive self-portrait to date. In addition to naming the ensemble, the title means both "sound" and "cord," evoking a search for the essence of natsukashisa or nostalgia/yearning. With a feeling that is ritualistic and down to earth, he combines precise rhythmic structures with improvisational seeking throughout an album that occupies its own category—one that is both "world" and "local" music in its own fashion.
For this project, he is joined by three percussionists and koto player Sumie Kaneko. Working with them, Watanabe tells me in a recent interview, was a seamless process.
"There are four criteria that I look for in musicians who play taiko in my ensemble: the ability to improvise, an understanding of complex polyrhythms and odd time signatures, the physical strength and stamina to play the taiko to fullest potential, and an understanding of traditional Japanese ritual and theater music. All the taiko drummers are longtime students of mine and it was great having the opportunity to document the result of many years of working together. Sumie Kaneko is a wonderful musician I've worked with frequently over the last few years as well."
Aside from "Reverse," a tune drawn from traditional music of the small island of Miyake, located due south of Tokyo, the album is made up of original compositions. Nearly all of these feature the shrill shinobue, an instrument to which Watanabe was drawn by sound alone. "I grew up playing both western classical and jazz music on flute," he recalls. "It was a natural progression for me to pick up Japanese flutes as my learning progressed. The first time I heard the shinobue, I was floored by how foreign yet somehow familiar it was to me. I was immediately taken and knew I had to study it when I moved to Japan."
The flute's adaptive sound is explored to the fullest in "Bloodlines," which sets precedent for the album's remainder with its earthy texture. The music is meant to evoke a Japanese street festival, only here with far more room for adlibbing. I ask Watanabe about the role of improvisation in traditional Japanese music compared to his own, and whether he is consciously drawing on extra-Asian influences in the interest of a more global sound.
"I've heard that Miles Davis would only be upset with his musicians when they played it safe and didn't try something new—something you don't often hear while working within traditional Japanese music! For this album, I wanted the sound of the music to be Japanese, but the rhythms and compositional structures and heavy use of improvisation to come from a very non-Japanese place."
Rootedness in tradition is obvious in "Dreams," which evokes the mood of Japanese court music, or gagaku, even as it sounds like an American minimalist composition in the manner of Steve Reich. Programmatic touches of birds and insects in the final section lend an eco-friendly touch. Intensity of tradition prevails elsewhere, as in three iterations of "Kagura Gurui." Watanabe's polyrhythmic interpretation of a music intended to praise the Shinto gods is filled with surprises.
Like so much of his work, Néo draws from life itself:
"I think most creative musicians allow their experiences to shape their music, especially when composing. I'm very aware of the political and cultural connotations of my performance. I try to avoid clichés or stereotypes when presenting, for example, Japanese music. I wanted to incorporate traditional musical melodies and rhythms much like jazz musicians who have historically borrowed from pop and Broadway to create sublime works of art. Ultimately, I want to make statements on things that are important to me."
Knowing it, it may not be so surprising that a piece like "Iki" should be included. The title means "breath," as echoed by the musicians, who intone the phrase "I can't breathe" in different languages, referring to the brutal murder of Eric Garner, who was strangled to to death by police in 2014. This "meditation for peace" is all the more powerful for its activist qualities. "Chiru," on the other hand, dates back to Watanabe's days with Kodo. This exercise in scattering (the title's meaning) is a daring foray into improvised tangents. Such tracks emphasize the relationship between Watanabe and his musicians.
"I wanted to record as much of the music live in order to re-create that same feeling. I rehearsed with my ensemble quite a bit leading up to the recording and had been doing many of the songs for years anyway. Quite a few pieces feature singing while drumming, switching quickly from one instrument to another and even playing the flute while drumming."
To ensure the integrity of this live sound, Watanabe enlisted the talents of Grammy award-winning producer and engineer Marc Urselli, who gave the record just the sound he was looking for: "In their traditional settings, these flutes and rums are heard from a slight distance, whether outdoors at a festival or in a large theater unamplified, which is why we know how to play them so loud. I wanted to capture that feeling and essence. Urselli intuitively understood this and knew exactly how to capture it."
One may notice Urselli's fingerprint on "Prism," which features the nohkan, a flute used in traditional Japanese theatre. Contrasting this drama are two songs for family. "Together Alone," which features koto, was written for Watanabe's wife, while "Shinobu" is a lullaby written for his daughter. Such messages of love and regeneration reach their zenith in "One," an epic, 10-minute solo piece showcasing Watanabe on nine different instruments, and which puts his life-affirming philosophies into sonorous practice. - Tyran Grillo
Find the artist online: www.watanabekaoru.com
© 2016 RootsWorld. No reproduction of any part of this page or its associated files is permitted without express written permission.