Valravn
A unique musical meeting of past, present and future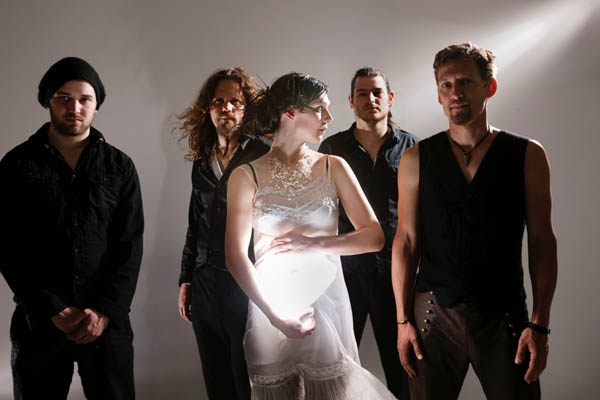 Morten Alfred Høirup talks with Juan Pino, percussionist with Valravn.
"Valravn is testing the extremes of Nordic roots music and its application here and now; in that process we are open to outside influences. The point of departure is on the cusp of something very ancient and something brand new." – Juan Pino, Valravn
The Danish folktronica band Valravn grew out of the acoustic medieval music ensemble Virelai which had specialised in performing traditional music at medieval festivals. Valravn, updating old Faroese ballads sung in the original language, accompanied on hurdy-gurdy, flutes, hand drums, viola, mandola and electronic samples, have no equals on the Danish music scene. Ask Valravn percussionist, Juan Pino, and he will tell of an explosive development from the band's first album of mainly traditional material to their second, Koder på snor, which relies more on their own compositions.
"First we played traditional Danish and Faroese medieval ballads, we worked on the imagery and narrative sides of the ballads, and the rhythms and energy in the tunes, interpreting them in new ways using electronics. Now a fresh chapter in Valravn's history has opened with this second album, mainly of our own compositions. Working on this album has led us to explore different ways of exploiting roots music, perhaps more abstract but still with close focus on the atmosphere and power of the primitive. In the beginning we worked with traditional material sourced from other musicians, gleaned from heavy old tomes or learned from our grandparents. But these new numbers can arise from an informal session with other musicians, or originate in an ancient legend which inspires us to compose a tune. This new material is in fact something of an experiment for us, since we had no idea where it would lead us once we started. But even though we are breaking new ground, we are learning all the time and we have always the crossroads of past, present and future as our starting point!"
Valravn's performance incorporates conscious and skilful use of scenic effects like lighting, dry ice, sound, appearance and costume. The band's Faroese singer, Anna Katrin Egilstrød, delivers the old Faroese ballads with feeling, tenderness and energy, and the many authentic instruments embedded in sampled sounds and rhythms create a musical ambience that is sometimes enfolding, sometimes liberating, creating an almost intoxicating mood. The auditorium fills with the aura of Nordic myth, of European mystique encompassing the known and the unknown between heaven and earth. Valravn weaves its audience into an atmospheric web of raw, primitive power. But who are the audience for Valravn's musical universe?
"We meet all kinds of people, young and old, huge Nordic Vikings, Arabic hip-hoppers, break-dancing teenagers, even old hippies who seem to hover round the room. It is a great source of satisfaction for us, since we feel that the whole point of focussing on our roots in the way we do is to give our audience the experience of meeting at the crossroads of age, culture, time and space. We love the thought that our music bears within it the sound of the world 1000 years ago, alongside the sound of the world right now and in the future. The music expresses feelings that have always been with us, and will always be with us in the future."
Last year, Valravn played for thousands of people at the Korrö Festival in Sweden, at the Tønder Festival and Roskilde Festival in Denmark, and at festivals in Norway, Finland, Belgium and Switzerland. In 2009 Valravn are bound for the enormous German Rudolstadt Tanz & Folk Fest, with over 70,000 of an audience, one of the most important folk, roots and world music festivals in Europe. In September 2009, Valravn release their second album on the German Westpark label. This is the album comprising largely new music composed by the band's members. Valravn are increasingly busy, not least in Germany, a part of the world that many Danish musicians are turning to, not only because of its proximity, but also because of the large, well-informed audience showing an interest, and the economic potential there. Juan Pino and the band are naturally interested in Germany as an exciting market, and they are convinced that the German audience will continue to appreciate their music, as they have on Valravn's first German visits.
"My impression", says Juan, with a laugh, "is that the German audience has an open mind about new music and wild experiments firmly anchored on solid ground. Now we are off to show the world our new album, we must spend some time developing our stage presentation to give our audiences even better sound and even more exciting stage performances. Our plan is for the whole world to know Valravn, and we are starting with Europe!"
---
Article by Morten Alfred Høirup
Translation from the Danish by Rod Sinclair
The members of Valravn are:
Anna Katrin Egilstrød: vocal & percussion
Martin Seeberg: viola & flutes
Søren Hammarlund: hurdy-gurdy & mandola
Juan Pino: percussion & samples
Christopher Jull: samples & electronics
Links:
The band's home page: www.valravn.net
Valravn on MySpace
Danish Roots
Danish Folk Council
Valravn CDs are available from cdRoots