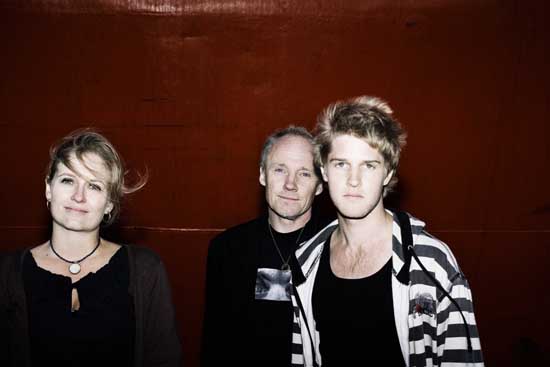 Morten Alfred Høirup talks with the three unique personalities that make up the even more unique Trio Mio.
This is the first of a series of articles written by Danish musician Morten Alfred Høirup, wherein he interviews Danish artists he knows and loves. So these may be a little more personal and a little less "journalisitic" than usual. These articles were made with the support of the non-profit organization "Danish Roots," which promotes Danish folk music to the world. I hope you enjoy them! - the editor

Listen!

Take a look at the Danish folk music scene and you will find a wide variety of subspecies. Folk musicians throughout the country specialize in many different types of folk music, so, though it's a small country, an unusually broad selection of musical styles is represented. Some musicians travel around with bands designed specifically to play concert series in Danish schools, others are so knowledgeable about the many musical traditions in Denmark that they can offer precisely the right drinking song or dance tune to weddings or harvest parties in any given region . And of course there are a good many bands that specialize in playing the clubs and little venues round the country and abroad, actively spreading the word about Danish music and culture.

The Danish-Swedish group Trio Mio falls into this latter category. The trio began in 2004 when violinist Kristine Heebøll recorded her first solo album, Trio Mio - the album title simply became the band name. Trio Mio play mainly their own compositions, giving a Scandinavian sound to their traditional Danish and Swedish, jazz and classical inspired music. Five years on, the three musicians can look back on three critically-praised albums featuring an imposing list of Danish and Swedish guest musicians, six Danish Music Award statuettes and a long series of concerts in Denmark, Sweden, Germany, Holland, Italy, England, Ireland and Canada.

The musicians in Trio Mio are the Danish violinist Kristine Heebøll, pianist and accordionist Nikolaj Busk, also from Denmark, and the Swedish guitarist, bouzouki player and singer, Jens Ulvsand. The three have such widely differing backgrounds that it was a stroke of good fortune that they found each other at all. Previously, Heebøll has played traditional music with the Danish band Phoenix, and still plays on occasion with the all-women ensemble Folkbits. Busk has played jazz and folk/pop, has sidelines with the duo Hal & Nikolaj, and with singer Laura Mo. Jens Ulvsand has years of experience on the Swedish folk music scene, and combines his work with Trio Mio with membership in Avadå Band (Sweden), Færd (Denmark) and the Scandinavian String Alliance.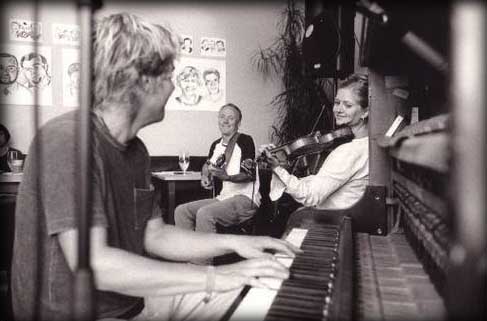 Trio Mio and the Tradition
Trio Mio differ from most other bands on the Danish and international folk music scene in that they have a recognizably Scandinavian sound but center their music on their own compositions, while most other comparable bands base their music on traditional tunes and songs. It is an interesting observation that a band's sound can be strongly influenced by traditional music, indeed the music and culture of one particular part of the country, yet still work exclusively with newly composed music.
When I phoned the three musicians during the Danish and Swedish winter break to ask about their attitudes to traditional music, I caught them in three very different situations. Kristine Heebøll was visiting her mother-in-law in Jutland with her year-old daughter. Nikolaj was out walking in the sun somewhere near Copenhagen, and Jens Ulvsand was on his back on a sofa in a mountain hut at a ski resort in northern Sweden, nursing a painful strain while his wife and children and friends skied the snow-clad slopes outside. In short, all three had time to talk.
"The tradition is not really a big part of my musical consciousness," says Nikolaj Busk. "For me, it is enough to be aware of the style we are playing as long as I feel I can contribute something personal within an understanding of the music. I love all good music - jazz, electronic, classical, rock - and I love traditional music. I lean on various sources when I'm composing. The music I compose reflects what I am listening to at any given moment. It's a periodic thing."
Jens Ulvsand has a slightly different view of the tradition, for though he did not grow up with it, he has a clear attitude to traditional music. "If, for example, I'm composing a waltz, it is important to me that people can actually dance a waltz to my tune. And the same goes for other types of dance tune. I play a lot of traditional music too, so it means a great deal to me, even though I did not pick up the music from my own family members. On the contrary, I began playing music because I liked rock n' roll. When I was 25, I thought folk music sounded pretty corny, but that changed."
Kristine Heebøll has roots in traditional music, and, as she puts it, "I grew up with the tradition in my backpack, so to speak, so it is always with me to some extent. I don't necessarily think of the tradition when I'm composing, but it tends to define the tune structures and their contexts - whether they come out as a waltz, a polska, a march or something completely different. In recent years I have been composing very different things, more soundscapes and atmospherics, experiments that seem to rub off on everything else I do."
Trio Mio and the Future
Together, the members of Trio Mio have composed enough material for several albums, and they plan to continue working together - their fourth effort will be appearing in the course of the next year or so. The winter of 2008 - 2009 has been quiet, while Kristine has been busy with her little daughter, and Jens and Nikolaj have been composing and playing with their other bands. Now that spring is here, we can expect to hear Trio Mio and their unique blend in concerts around the world, including stages and festivals in Denmark, Germany, Sweden, Norway and Italy. - Morten Alfred Høirup
Translated from the Danish by Rod Sinclair
See a live Trio Mio concert online
More info:
Danish Roots: www.danishroots.eu
Danish Folk Council: www.folkemusik.dk
Trio Mio website: www.triomio.dk
Trio Mio Myspace: www.myspace.com/triomio
FolkBALTICA: www.folkbaltica.de
Trio Mio CDs are available from cdRoots
More on RootsWorld:
Trio Mio
Pigeon Folk Pieces
Stories Around a Holy Goat