Dancing With A Two-headed Snake
Todd Dominey talks with Quique Rangel of Cafe Tacuba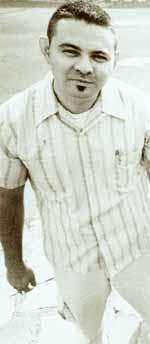 Quique Rangel

Perched high in the snow-capped mountains of Boulder, Colorado, Enrique "Quique" Rangel, bass player for the Mexican rock quartet Cafe Tacuba, is feeling estranged by his surroundings. "Do you know if there's a Latin community in Colorado?," he asks sheepishly, "because we have no idea who's going to come to our show tonight (laughs)."

It's a question that typifies the crossroads, both artistically and geographically, that the acclaimed Mexico City rock group has found itself in lately. Since their 1994 release Re sent music critics scrambling for a thesaurus, a masterpiece of metal, punk, disco-pop and boleros that's been compared to The Beatles' White Album, Cafe Tacuba has been distinguished as the one Latin group with the greatest chance of breaking American soil.

Joselo Rangel

Avalancha De Exitos ("Avalanche of Hits"), a collection of radically reworked popular Latin American songs, followed Re, along with an extensive tour that left the group bemused and exhausted. Ironically, while critics and audiences were trying to figure out who or what they were, they were asking themselves the same question.

A number of new songs had been written, but the group was unsatisfied. "We were asking 'What's the next step for Cafe Tacuba,'" explained Quique, "and we didn't want to go back to those [old] songs. So we started from scratch with no preconceived ideas. We took sounds and noises from the streets of Mexico City, changed the instruments we're used to playing, and held jam sessions."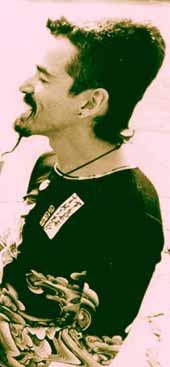 Ruben Albarran

Vocalist Ruben Albarran, whose sandpaper yelp defined their previous material, shut his mouth and plugged in a guitar. The resulting songs were cinematic, repetitive instrumentals with mysterious textures a world away from everything else they'd done. A recording of a folkloric dance company's stomping feet segued into a soft clarinet concerto; electric surf guitar and marimba segued into Kronos Quartet performing a classical composition, and each "song" was encoded with arbitrary numbers like "5.1" and "13."

"We weren't thinking about releasing it, for it was more group therapy than an album," laughed Quique. "We told our producer [Gustavo Santaolalla] that it was only a demo, but he said 'there's nothing wrong with this." A little extra mixing and the album, entitled Reves ("Backwards"), was sent to the record company.

Enrique Rangel

"They wanted songs with lyrics," said Quique, "but we felt Reves was complete on it's own." A compromise with the corporate suits was reached with an additional disc YoSoy ("I Am") attached containing the more mainstream pop and rock songs they'd been working on before Reves. "When we saw the records together, we realized they were complimentary," stated Quique. The double CD's title is a subtle, crafty play on words, for the Spanish words for "I Am" (YoSoy) can be read "Backwards" (Reves) without losing their meaning.

Together, the two-headed snake has earned considerable acclaim (even hailed by mainstream news publications like Newsweek as "the deepest, most ambitious...collection of popular music in a generation"), and in the wake of Martin, Lopez and Anthony the time couldn't be more perfect. Their US distributor Warner Brothers is pulling out all the stops marketing them to both Latin audiences and Anglo audiences with adventurous ears unfettered by Spanish lyrics. They were most recently the first rock en español band on American late night television when they performed the up-tempo "La Locomotora" on Late Night with Conan O'Brian.

American soil has never been as fertile as it is now for a Latin rock band to break through. Quique however is more inquisitive than opportunistic. "The media attention is towards artists or actors who happen to be Latin, live in the States, and sing mostly in English. We feel that music should be an expression of one person living in their place and in their time, so I don't know if people are really interested in what we're doing. We're not going to sing in English."

The four members of Cafe Tacuba, vocalist Ruben Albarran (who changes his name with every album… now he's "Nru"), Joselo Rangel, Enrique Rangel and Emmanuel del Real, met in the northern suburbs of Mexico City while attending graphic design school in 1989, and like other students of the time had rather conventional musical taste. "We [got together] and copied British and American musicians, like The Smiths, The Cure, The Pixies...but we realized that even with our original material we were still copying that sound. We didn't have the sensibility to try and play as people from another culture with different weather, different food, etc. We were trying not to show our roots. But with Cafe Tacuba we decided we must be who we are." - Todd Dominey

Reves/YoSoy
---