"Ireland is a very small place," says Mary. "So musicians know one another. It's like one big family." She was born into a musical family. Her father was a fiddler and her mother still plays accordion. Her mother's mother was also an accordion player. "(Music) was in the house the whole time. So we just fell into it - my brother, Pat, plays mandocello and my sister, Kate, she's a fiddle player and a whistle player."

Mary began learning accordion initially from her father. "I started on an old accordion that belonged to my grandmother. It was a B/C but I was playing on the one row. Just the inside row, what they call the melodeon style, the press and draw system." When she started taking formal lessons, "you change over and go to the B/C style - that's using two rows." The instrument becomes almost chromatic and so can be used in more keys.

"Now I play both (styles), but I prefer to play the old melodeon way. I find there's more life in it."

Around the same time she took up accordion, she started learning songs from her school teacher and from her grandmother. Living in Tourmakeady, a gaeltacht in County Mayo, all her schooling was in Irish, right up to Leaving Certificate (at age 18). So she learned to sing in both Irish and English.

After studying in Dublin, she returned to the west to teach primary school and now lives in Galway. She continued to play until eventually she reached the state where she wanted to stop teaching for a while and play more.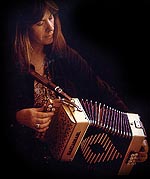 "I was playing a lot of sessions in Mayo from the age of 13. And then I played a lot in Dublin too. So, there was a gradual progression. It wasn't something I set out to do, it just happened." She had already met up with and played with some of the best musicians in Ireland, including singing with fellow accordionist Sharon Shannon. "It was through her encouragement that I finally got to make my album. I decided to put down some songs and tunes that I'd been doing for a long time."
The album consists of a fascinating mix of material. "It's a kind of photograph, if you like. I like playing all kinds of music, not just traditional stuff all the time." The title track is a Pete Seeger song; she learnt another song from the singing of Emmylou Harris; another dates back to the 1930s, while others come from the traditional repertoire. The tunes have equally diverse origins - from Ireland to America.
Mary stamps each performance with her distinctive imprint: a strong but light and airy accordion dancing through the melodies, often accompanied by a bubbling guitar or bouzouki, touches of percussion, the occasional sweeping dobro, and driving fiddles. Her singing is in the old style, interpreting the songs with emotion and power.
The album has climbed the folk and traditional charts throughout Ireland and in the summer of 1999, Mary will be promoting it in the United States, when she will make a short tour to the East Coast, accompanied by Frankie Lane on guitar and fiddler Mary Custy.
Music started as a family affair for her and has continued that way over the years. "I still get together with my brother and sister as often as we can. Jerry, my husband, is a banjo player and Kate's husband is a guitar player, so sometime we also meet up and play tunes. It's great fun." That element of enjoyment carries over into her recording and live music. Since Bright Early Morning was released, more and more people have discovered Mary Staunton in Ireland. And now it's time for America.
---
Photos: Frank O'Reilly
Sound file: "Caillach an Airgid/An Rogaire Dubh" (traditional jigs) from the album Bright Early Morning (© 1998 Fuschia Music, Ireland)
Used by express permission of the artist.

See also: Ireland, Accordions