A Happy Reunion
Helene Dunbar talks with Seamus Egan about 10 years of Solas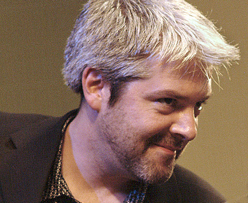 Solas hit the traditional music seen in 1996 with a bang. Formed, almost by chance, to play a few festivals, the group found themselves with an instant fan-base and critical acclaim that was unusual for an untried band. Now, ten years later, playing their own brand of musically-tight, often lightening-fast, and always uniquely well-crafted traditional music, Solas has proven itself as a supergroup on the Celtic scene.

The band that began with Seamus Egan (flute, tenor banjo, mandolin, tin whistle, low whistle, guitars, bodhran), Winifred Horan (fiddle), John Doyle (guitar), John Williams (accordion) and Karan Casey (lead vocals) has had its share of line-up changes with Williams, Doyle and Casey leaving to pursue solo careers and being replaced by Mick McAuley (button accordion, concertina, piano accordion, low whistle, backing vocal), Eamon McElholm (guitars, vocals, keyboards) - and Donal Clancy before him - and Deirdre Scanlan (lead vocals) respectively, has weathered the type of line-up changes that might have felled lesser bands. Nevertheless, they've ridden the changes with grace and after a decade, they've retained their reputation as one of the best live bands on the scene. To celebrate their entrance to the ranks of Celtic music's elder-statesmen, they've released the CD/DVD Reunion: A Decade of Solas. Recorded during a live show in Philadelphia on September 13th, 2005 that miraculously brought together past and present members of the group, Reunion is a joyous celebration and includes enough breath-taking playing to make any Solas fan giddy.

Egan said that the band simply didn't want to replay their "greatest hits." So they mixed up line-ups from the past and present; had Casey sing back up on songs recorded by Scanlon and vice versa. They also brought in support musicians, Ben Wittman, Chico Huff, John Anthony and Michael Aharon, who had appeared on their albums over the years. The only unfortunate thing is that this amazing show was a one-off. "As much as we'd love to be able to do the full show every night, the reality is entirely something else," Egan laughs. After all, it took months just to be able to find one date that fit into everyone's schedule. "There are too many moving parts to something like that and it would be prohibitively expensive. So while we'd love, at some point, to do a show with everyone again, for the most part, it's the current line-up and the setlist (of the current tour) is trying to reflect the last 10 years of the band."

"We'd been talking about doing a live recording for a number of years and never really got around to it for one reason or another," continues Egan. "As time went on, we found ourselves realizing 'you know, we're coming up on our 10th year, if we're ever going to one, this would be a really good time to do it.' The more we talked about it, we realized that it would be really great to get the former band members back together for the one night. When that looked like it could happen, we decided to expand it to not only be a live recording from the concert but also to do a bit of a movie so it isn't just the concert footage but there are interviews and rehearsal footage and that kind of stuff. So it took on a life of its own."

First formed to fulfill requests to play "a few festivals," Solas' early line-up launched the band members' solo careers as well. Many predicted that they wouldn't survive the loss of such unique talents as Williams, Doyle and Casey but Solas has proved them wrong and has even used the personnel changes to their musical advantage. Egan says, "It allowed us to have a natural evolution. You don't like to have lineup changes and you'd like things to stay as steady as possible. But we'd always tried to expand with new ideas and sounds and when new people come into the band, we never wanted them to be clones or copies of the people who had left. Our natural inclination to evolve and the experience of having new people in the band kind-of met up on a parallel course at some point and we were able to naturally try new things."

One new thing that the band is trying out is a new record company. Their six previous albums were recorded on Shanachie but Reunion begins the band's relationship with Nashville-based Compass, who seems to be signing the current "who's who" of Celtic artists these days. "We had come to the end of our contract with Shanachie," explains Egan. "It was symbolic of ending one chapter and hopefully starting a new chapter. All the pieces seemed to make sense in light of that."

One thing that hasn't changed is that the members of Solas are still spread across the US and Ireland. "I think it's just one of these things you deal with," says Egan. "We tour so much that in some respects it doesn't have a huge impact where anyone lives. We just build it into the schedule. It would be easier if we were all in the same general time zone but it's something we've always dealt with so it's never been a huge issue."

This geographical separation has also allowed the band members to pursue successful solo careers while also devoting themselves to Solas. All of the members have either recorded solo albums or been featured on the albums of others, Egan has written film and stage scores and somehow they manage to keep it all afloat. "Obviously in a band, you're not able to do everything you want to do," Egan explains. "So it's good for everyone to have those other outlets to try other things. It only adds to the mental health of the band. It's probably detrimental if there's only one avenue available to you. The more than anyone of us can try and dip our toes into different ponds; it keeps the band more focused when we're in the band situation."
Solas' success has been most impressive when put into the context of their place in time. The music industry as a whole isn't particularly strong, particularly in the U.S. "It's a little scary," admits Egan, "but hopefully things will settle down. It's been a rough couple of years in the music industry in the States and it has an impact on all types of music. People don't have the disposable income that they had five years ago and I think there's a certain degree of uncertainty. If you do have a little money, you want to be really careful how you spend it because you might be spending $10 a gallon to fill your car in a couple of months."
However, it's clear that Solas will ride these obstacles as they've ridden others in their past. Still, even ten years' of perspective hasn't shed much light on the question of why Solas found such an instant niche in the Celtic landscape. "A lot of it was the time that we got together," Egan muses. "There was openness and a willingness on the part of people to listen. We probably had a certain energy that may not have been around at the time."
Whatever the answer, Solas is happy with the result and isn't about it stop now. "We want to continue on as long as we still enjoy this," says Egan. "Hopefully making good records and trying new things and following a similar path to what we've been on for the last 10 years." And for that, we as listeners can only be grateful. - Helene Dunbar
Buy their CD/DVD at cdRoots
A different version of this article originally appeared in Irish Music Magazine
Article (c) and (p) 2006 Helene Dunbar and RootsWorld
Images © 2006 Solas/Compass Records; Used by permission.
Please do not distribute or copy without permission!