Sharon Shannon: Then, and Now
The Irish accordionist talks with RootsWorld's Marty Lipp about her music, new and old.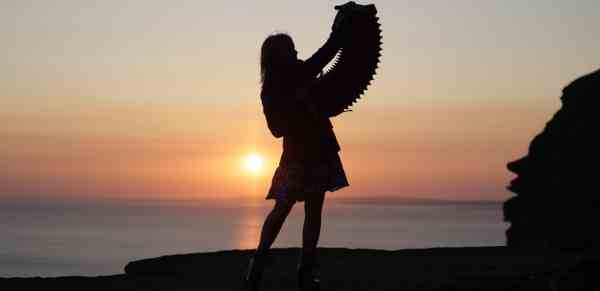 U.S. fans of Sharon Shannon's lively and lovely music will have just one more chance to see her perform stateside - she recently announced that her upcoming tour of the United States will be her last, though she will continue to release albums and tour elsewhere.
The tour also coincides with the release of Now and Then (Daisy Label), a boxed set of Shannon's catalogue, which began in 1991 with the release of her eponymous debut, the biggest selling album of Irish traditional music in history. Since then, Shannon has stayed rooted in the tradition while collaborating with an international array of musicians—from Jackson Browne to Sinead O'Connor to British dub-poet Linton Kwesi Johnson to Galician piper Carlos Nunez—and incorporated other cultures into her repertoire.
Shannon said she is no longer going to perform in America because of the high costs of mounting a tour, but it will not mean her musicmaking is at a coda. "I love making albums," she said in a recent interview. "I've no notion of stopping making new music and recording new music. I love that." In fact, Shannon said, she continues to write tunes all the time, more than she can record. "I have loads, I actually have hundreds of tunes to be recorded. I probably won't even get them all done in a lifetime. Bit by bit I'm hoping to keep recording them."
Shannon's new album, Now, will be mostly instrumental tunes and will be released in 2024, though an early version on vinyl is included in her new boxed set. The first single from the forthcoming album is "The Diddley Doo," which features the Dublin-based band The Scratch.
Shannon said she first saw the band—an Irish-flavored acoustic take on speed metal—serendipitously, on television. "I was really impressed with them," she said. "I really loved what they were doing and it sounded very fresh and very new to me. I ended up looking them up on YouTube and watching them for ages. I met them a couple of months later at the Doolin Folk Festival and got chatting with them. They knew my music and they invited me to play with them. So you know, it's just a friendship we've developed."
Two of the new album's tunes are particularly close to her heart: one a tribute to her mother and one to the late traditional musician Seamus Begley, who died earlier this year.
After he had passed, she said, "It really shocked everybody—he was hugely loved in Irish music circles." She recalled the accordionist Máirtín O'Connor saying to her, "It's like a whole chunk of the map of Ireland has just fallen off into the sea."
"He was just so full of culture and tradition and really as Irish as could be," she said. "And really put it forward in such a great way."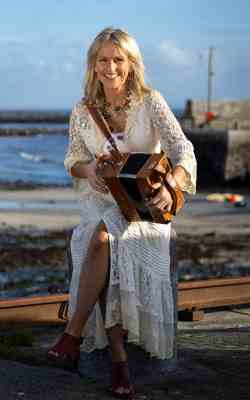 Another new project for Shannon is collaborating on is a musical tour of western Ireland called the Wild Atlantic Way. Led in part by Shannon this coming November, the group will go by bus throughout Ireland with performances each day.
"I think we've reached a compromise that hopefully people will be happy with," she said. "I'll be joined by a busload of tourists for a musical trip around the west of Ireland over a seven-day period. So I'm hoping that the U.S. supporters can come to us instead."
Putting the boxed set together was time-consuming but a labor of love, Shannon said, including sifting through thousands of photos, beginning with those of her earliest days growing up in a music-loving family in a small town in County Clare.
"They really nurtured the music in us," she said of her parents. "They were big, big music lovers themselves and loved dancing. Any time any music came on the radio they used to just turn up the music really loud and they'd be dancing around the kitchen."
Shannon recalled that an older brother, Gary, took tin whistle lessons first, and then suggested the rest of the siblings take up instruments and Shannon announced she wanted a go at the accordion.
"I loved the fact that when you play the accordion the sound is there straightaway," she said. "Whereas with a fiddle or some other instruments you have to really work hard to even get a good tone. It's a bit of work, whereas the accordion you press a button and pull the bellows out or in and there you have your note. It's easy to get going. It's a quick starter."
Shannon made the transition from listener to player at local Friday night ceili dances, where she learned many of the jigs and reels that are part of the traditional repertoire. "So you could either dance or go up on stage and play with the band. So we used to do a bit of both."
She began playing in the western town of Doolin, which is well-known for its nightly music sessions and she gained a reputation among Irish musicians. Shannon eventually began a solo project, but shelved it when she was asked to tour with the popular group The Waterboys for 18 months.
"By the time I came back to doing my own album," she recalled. "I had a very different attitude and ideas of what I wanted my first album to sound like because I had all this experience behind me."
Her debut quickly became ubiquitous, fueled in part by her time with The Waterboys, as well as the appearance of two of her songs on a hugely popular compilation album of contemporary Irish women called A Woman's Heart.
"It was really, really fantastic," she remembered of her debut's enormous popularity. "You're walking down the street in Galway and the tunes are hopping out the doors and windows of the various different shops. That was amazing."
Now and Then includes remastered CDs of her 11 albums as well as new colored vinyl versions of her first album and her new album. It will also have a 100-plus page photo book and a single vinyl remix of "Galway Girl" by DJ/producer Jen Payne and featuring singer-songwriter Mundy.
"It was my first time ever hearing most of those albums since they were recorded," Shannon said. "Because like most people, when you record a new album, you play every track over and over and over again….By the time it's [completed], you have no, for me anyway, no reason to listen."
"Of course," she said brightly. "Each one brought up lots of memories of the recording process and all the fun we had. The mad times and other times we had touring each album with the various different musicians."
Anyone who has followed Shannon on social media knows that she is a lover—and keeper—of animals. She also is a strong supporter of a Galway dog rescue group MADRA, which is Gaelic for "dog" and stands for Mutts Anonymous Dog Rescue and Adoption. "I'm very proud of them. They do fantastic work and they've rescued thousands and thousands of dogs over the last 13 years."
Viewers on Facebook know Shannon has rescued a number herself. In her live feeds, she often is on a couch surrounded by dogs and cats. "I have 15 animals living in the house with me," she said. "It's a lot of work. An awful lot of cleaning. The amount of hair that they shed as well is ridiculous. But all the same, I love them all."
Sharon Shannon's Farewell U.S. tour began on September 8th, 2023 in Chicago.
Find out more.