Norwegian Wind
Greg Harness listens to the music of Trygve Seim and Frode Haltli.
(Photos by Fran Kaufman)
Air flowed through the bellows of the accordion.
There were no melodies, no chords, no reeds vibrating.
Simply wind.
It was unexpected and riveting.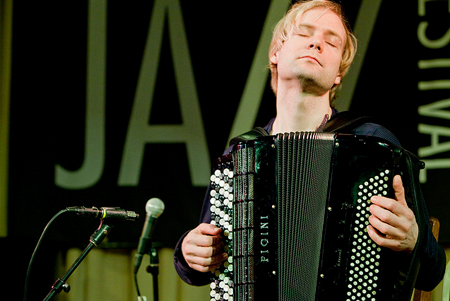 Thus began the live performance by accordionist Frode Haltli and saxophonist Trygve Seim. I had the pleasure of both hearing and speaking with these two Norwegian musicians at the 2010 Portland Jazz Festival in Portland, Oregon. They played an afternoon show in the Norse Hall, home of the local chapter of the Sons of Norway, in a room festooned with the flags of the Nordic countries. After about 80 minutes, they ended and were called back for an encore. In those first 80 minutes they played four pieces, the first piece lasting nearly 40 minutes. I was so lost in it I had no sense of elapsed time.
The first time he heard a jazz recording, one by Jan Garbarek, Trygve Seim decided to play the saxophone. He was also greatly influenced by the music of Miles Davis and soon put aside Garbarek in favor of learning jazz standards. He attended the jazz studies program at the Trondheim Conservatory of Music where he worked out composition problems with the composer Terje Bjørklund who was teaching jazz piano at the Conservatory at that time. Soon after graduation, the four members of that class of the jazz studies program - Seim, Christian Wallumrød on piano, Johannes Eick on bass, and Per Oddvar Johansen on drums - put out a record under the name Airamero with Seim and Wallumrød sharing the composition duties when the quartet wasn't embracing free improvisation.
Meanwhile on the other side of Norway, Frode Haltli studied the accordion from the age of seven, learning both classical and Norwegian traditional music. He first encountered jazz at a public library, and although most of the music he plays today is improvised, Haltli states clearly, "I don't see myself as a jazz musician."
Both Haltli and Seim were carving out their separate musical careers, and only began playing together a few years ago. Seim was looking for a substitute keyboard player in his large ensemble and a mutual friend recommended Haltli. Haltli had been playing in a duo with a violinist, and the idea of playing with a tenor saxophonist intrigued them both. It's not a combination that seems workable. As Seim told me, "The tenor is right in the middle of the accordion's range." Two reed instruments in the same register have the potential of getting in each other's way and making awkward, muddy sounds. Seim continued, "With the tenor's full-bodied sound it forced us into very clear roles." They worked out the compatibility of these two instruments, and later Seim added soprano saxophone to the duo recordings. Now he normally switches between those two instruments in concert settings.
Their duo engagements began as very short appearances of 10 minutes or so. Both Haltli and Seim like the 90-minute format best, and agree that 30-minute slots are the most difficult. According to Haltli, "Some things have to be said through searching," and in a 30-minute time frame there isn't time to get lost in the search. With 90 minutes the two musicians fully trust each other to find their way through to a satisfying end point.
Seim's large ensemble at its core is a nine-piece band which includes Haltli and a number of other well-known Norwegian jazz musicians, including Håvard Lund on clarinets, Nils Jansen on bass saxophone, trumpeter Arve Henriksen, and Seim's former classmate Johansen. The ensemble debuted on ECM Records in 1999 (sans Haltli) with Different Rivers and the follow-up, Sangam, was released in 2004. Sangam highlights Seim, Lund, and Henriksen as soloists, but it is in the arrangements where this band really shines. Many of the tunes follow slow, lyrical pathways, which veer off into unexplored territory.
Lund's solo clarinet begins the album, and Haltli's accordion solo closes it. In between is some truly fine ensemble work, crossing and mixing musical genres along the way. In various places, this music sounds like a classical woodwind quintet, a Sousa-like brass group, a German oom-pah band, and a spinoff from Ornette Coleman's The Shape of Jazz to Come.
The four-part suite "Himmelrand i Tidevand" is the showcase here with exquisite ensemble passages and intricate backgrounds for the soloists. There are big unisons in some passages and detailed counterpoint in others, many slow buildups juxtaposed against a few powerful shouts. Even as the compositions move into unexpected territory, the ensemble retains a powerful sense of shared purpose and direction.
In 2008, Seim and Haltli released their first saxophone-accordion duo record, Yeraz. Where Sangam showcases Seim the composer and arranger, Yeraz shows off the improvisation skills of these two players. In a simplistic view, Sangam is more like classical chamber music and Yeraz is more like jazz. But just as Sangam pushed the boundaries of a single genres, Yeraz explores music from diverse sources, including a number of Seim's compositions. Whether starting from Armenian music (traditional music or compositions by G. I. Gurdjieff), pieces from Seim's days with Airamero, or a song from Bob Marley & The Wailers, Seim and Haltli arrange the work in such a way that it gives them the opportunity to explore in detail the melodies and harmonies, to stretch out, to give each piece a personal stamp.
There is a lot of room for improvisation on Yeraz. Tunes like "MmBall" and "Redemption Song" have long preludes before the melody is first heard. Seim's composition "L'Altra Storia" has only three lines of music written, and the remainder was improvised in the studio. They also spend time in solo performance; while the focus of this record is on the duo, both players find plenty of opportunity to play alone. The transitions from a single instrument to the two playing together make for some of the most satisfying musical moments on these disks. Haltli and Seim share an intuition, knowing exactly when to be together and when to move apart.
Although I spent time listening to recordings by both Seim and Haltli prior to the Portland Jazz Festival, those recordings did not prepare me for the fluid, dynamic, enticing, and utterly enthralling live show. Based on what I'd heard both live and on disc, I assumed that Seim had written a number of compositions for duo. When I asked later how much of what they play was written with saxophone and accordion in mind, Seim screwed up his face and turned to Haltli. "Have I ever written anything for duo?" "No, nothing," replied Haltli. "Not even a beginning or an ending." Instead they base their performances on compositions Seim has written for various ensembles, folk music from both Norway and the Middle East, and songs they both enjoy, all with a heavy dose of free improvisation. I was further surprised to learn they rarely plan their concerts ahead of time. At the Portland Jazz Festival, the only agreement they had was that they would conclude with the medley of the Armenian folk song "Yeraz" and "L'Altra Storia."
In the middle of their concert, there was a long drone on the accordion. It must have lasted two minutes. Nothing but one note on the accordion that did not rise or fall. Seim used the opportunity to switch from tenor to soprano saxophone, but I didn't notice the action on stage. As Haltli noted later, "The drone is about total non-action. There's no showing off." When Seim resumed the duet, Haltli continued with the drone while the saxophone moved slowly around it. The result was emotionally moving, and affected some listeners in different ways than the musicians expected. Haltli says he doesn't understand when listeners tell him the music is beautiful. "Lyrical doesn't mean beautiful." Seim quipped, "I wonder if they went to a different concert."
Drones are not uncommon in Seim's compositions. For example, "Himmelrand i Tidevand - Part II" begins with an accordion drone which first Seim and then Lund play over, first independently, then jointly, other voices in the ensemble adding to either the drone or the intertwining melodies.
After the Portland performance I talked with another concert-goer who had a long story, with specific details, about what that drone meant to her. I asked Seim if he had a story in mind with that drone or with other compositions. He said that after concerts, "Many people tell me the stories. I wish I could hear so much."
The live show opened my ears, helping me find music on the recordings I hadn't noticed before. I am eager to hear even more. Both Seim and Haltli are signed to ECM Records and have plans to issue new recordings. Seim is currently working on another project for the large ensemble; most of the players from Sangam, including Haltli, will be returning.
For listeners who have not yet heard either of these players, Yeraz is a great place to start. The back catalogs of both these artists contain some gems that are worth exploring too, and I hope you spend some time wandering through them. And if the opportunity arises to hear them live, do not let it pass by. - Greg Harness

Selected releases:
Airamero: Airamero (Curling Legs, 1994)
Trygve Seim: Different Rivers (ECM, 1999)
Trygve Seim: The Source and Different Cikadas (ECM, 2000)
Frode Haltli: Passing Images (ECM, 2004)
Trygve Seim: Sangam (ECM, 2004)
Photos by Fran Kaufman